If you've been on tik tok or Youtube lately, you may have the new 'soft life' trend that has been making rounds on social platforms. What exactly is a soft life? Is it worth your time or just a phase? Will it actually benefit you? Today we're talking all things related to living a soft and elegant life.
In the early 2000's, hustle culture was everything. Everyone was working a regular job and had side jobs in order to pay the bills and save money. This is the way things were for as long as I could remember.
This lifestyle often comes with a lot of stress, little to no time for rest, and the urge to always be working. "I'll sleep when I'm dead" was a very popular quote.
My experience with soft living.
Last month was a very busy month for me. I had appointments, work, social activities amongst everything else that I already manage on a daily basis. I realized that I don't like having a full schedule.
I don't like having appointments all the time, I don't like having plans every weekend, I like to spend most of my time relaxing at home.
When I looked at my calendar and saw how busy I was I realized that I prefer to live a soft life.
I'm writing this post for all the ladies who also prefer low-stress, soft living instead of a fast paced life.
What is a soft life?
A soft life is defined as A lifestyle of comfort and relaxation with minimal challenges or stress. It can be hard to live a soft life when it seems like you are always so busy, but there are ways to make your life easier and less stressful. It might take some work, but it's definitely worth it.
What I've learned is that soft living and modern elegance go hand in hand.
I believe that one of the reasons why I live a soft life now and why I crave soft living is because I already live an elegant lifestyle.
I see the stress and pressure other people live under and I don't want that to be my life. I don't want that to be your life either. I want us all to live soft and dreamy lives. I'm here to show you how you can achieve it.
Here are 8 ways to live a soft and classy life
1. Identify the causes of your stress
When was the last time you sat down with a pen and paper and actively analyzed your stress?
If you work a lot and/or have a family, chances are you are busy and have a lot of stress even if it isn't severe stress.
*Also I must note that sometimes we have a hard time admitting that we are under stress because every day life in the U.S. is naturally stressful for many people, so we just accept it and move on.
It is important to identify your stress and be specific.
Does your job stress you out?
Why?
Rude customers?
Rude managers?
Too physically demanding?
Be specific about the sources of your stress. You won't know how to move forward without identifying the sources of your stress.
Now what can you do about your stress?
Sometimes work can be the biggest source of stress, which can make things complicated because it's not easy to find another job.
If your stress is work related and you have no control over it, you would then focus on how to create a soft environment at home to offset that stress.
2. Create an elegant morning and evening routine
One of the biggest mistakes we are making is not giving ourselves the grace of waking up and falling asleep with elegance.
Do you check your phone as soon as you wake up? Find yourself scrolling social media until you fall asleep? These are not healthy ways to start and end your day.
One of the things that I worked on for soft living is creating a soft and classy morning and evening routine.
3. Take an elegance course
Elegance taught me more than I ever thought it would. At first, I thought it was all about wearing nice clothes and being polite.
Modern elegance is multi dimensional and really helped me fall in love with myself, achieve my goals, set healthy boundaries, master modern etiquette, become softer and more kind, and so much more.
I teach all of these things in my affordable elegance course and you're cordially invited to join me there.
If you have been wanting to take your life to the next level and you aren't sure where to start, this course is perfect for you!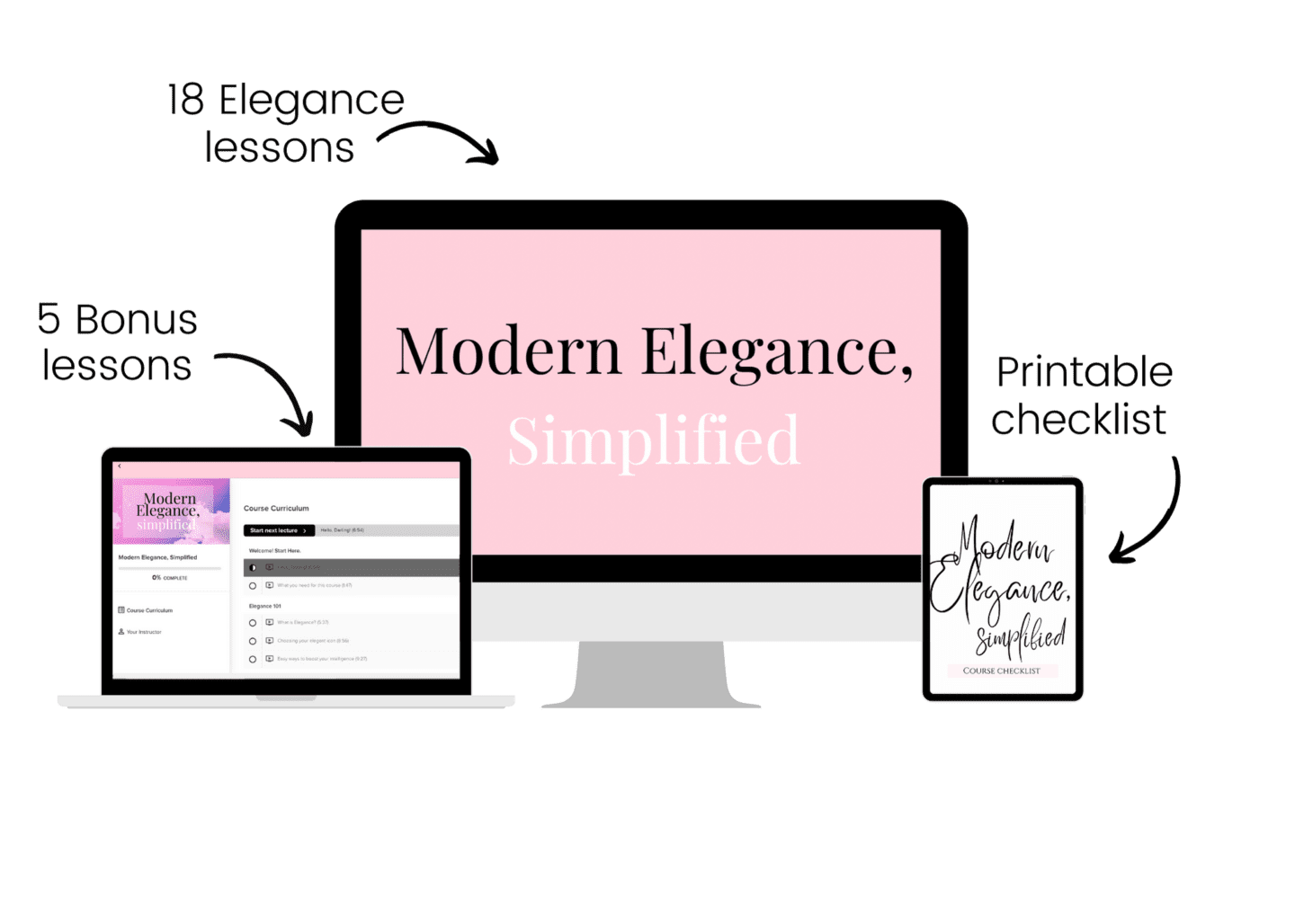 Learn all the skills necessary to become the classiest woman in the room.
20+ Etiquette rules all elegant women should know.
How to dress like an elegant woman.
Elegant tips I've learned from the Royal Family.
How to command attention in a classy way.
How to be elegant in a toxic situation.
50 Ways to be elegant each day.
7 ways to boost your intelligence.
5 ways to be more sophisticated
Hobbies of elegant women
10 ways to look polished every day
How to be graceful like a Princess
…and more!
4. Set boundaries
Setting boundaries doesn't get talked about enough. Nearly every day I see people with no boundaries fund themselves overwhelmed, stressed out, and nearly reaching their breaking point.
This is because sometimes women feel like they have to do everything and make everyone happy.
That is simply not the case.
You must take care of yourself before you can take care of others, and you take care of yourself by setting boundaries (and staying firm on them).
5. Listen to soft music for a soft life
The way I use music has changed drastically since I started my elegance journey. I used to only listen to music when I was in the car, and not really any other time.
Now music is a big part of my life, and I'm constantly looking for new playlists or creating playlists from scratch.
If you want to start living a soft life, start by doing the easiest thing you can do…listen to soft music.
I found this playlist on Spotify and I'm really enjoying it.
6. Do self care once per month
When I say self care, I mean something out of the house. A facial, a massage, acupressure, going for a long walk, manicure and pedicure, etc.
At home self care is convenient and affordable, but I'm tired of hearing everyone say that taking a bath is a form of self care. I suppose it is a form of self care, but I believe that you should also have self care outside of the home, where someone else takes care of your for an hour or so.
7. Prioritize rest & happiness
Answer this question truthfully. Do you actually prioritize happiness or rest? Will you go to bed early because you know your body needs rest even though you friends want you to go out? Do you do things that make you happy on a regular basis?
Or are you focused on taking care of everything/everyone else?
It's time to make rest and happiness a top priority.
8. Stay within your circle of control
The circle of control. One of the biggest game changers for me. I used to worry about everything. I have anxiety, and I used to have panic attics that took over my life.
I had these panic attacks because I would worry too much about things that I simply could not control.
The circle of control refers to the things that you can control vs the things you can't control.
Discovering the circle of control helped me becomes less stressed and worried about things that were completely beyond my control.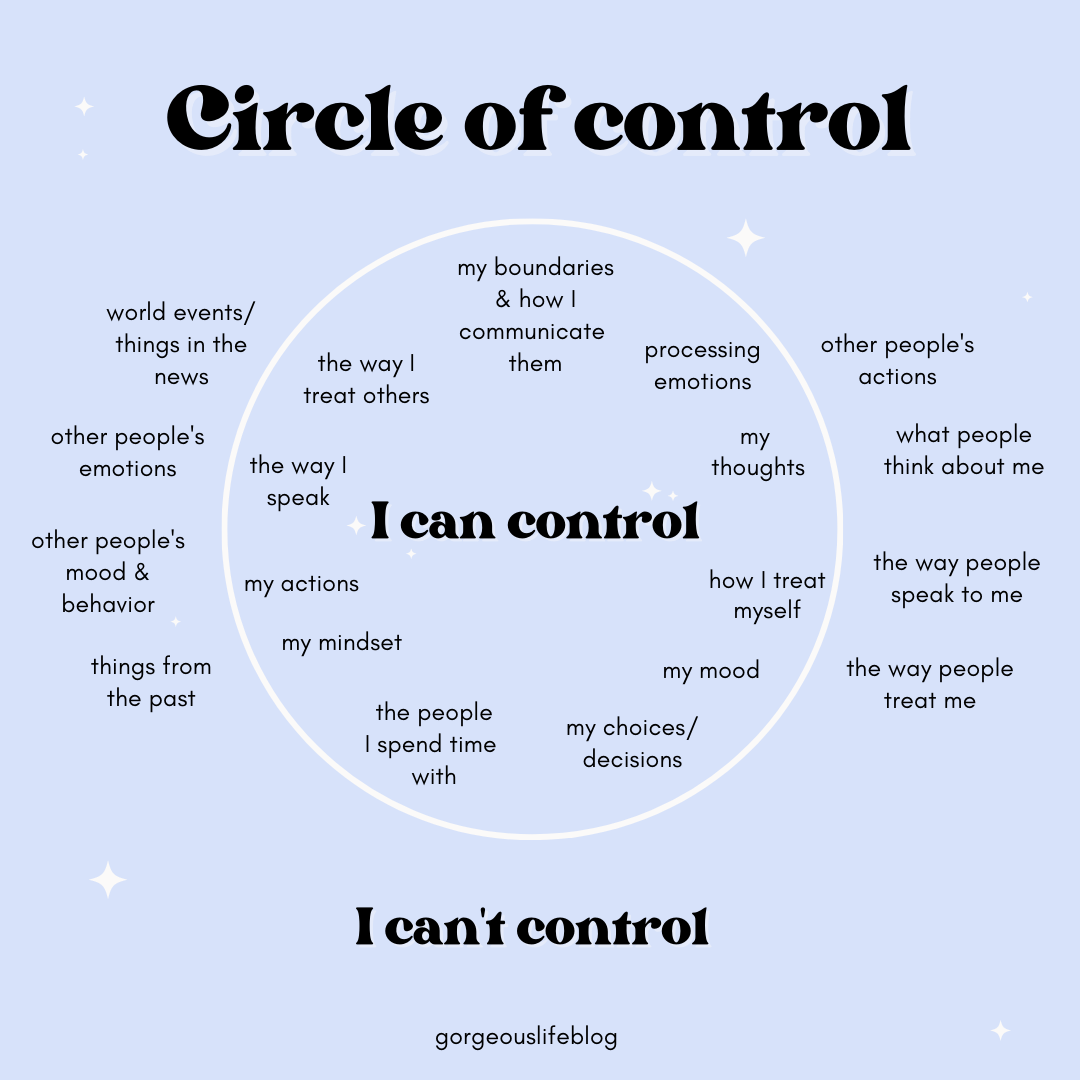 Conclusion
Creating a soft and classy life means taking active steps to reducing stress, and making yourself more of a priority. It will take some time, but the payoff is incredible.
I find that I much prefer living a soft life as opposed to the chaotic life that I used to live. I was depressed and overwhelmed in those days, I never want to feel that way again.
Action Step:
In my elegance course, each lesson has an action step that you can take to start implementing the lessons in your daily life, today I'm going to add an action step into this post.
Actually, I'll give you two action steps:
Listen to at least one song from the soft life Spotify playlist while you are cooking, cleaning, or driving. Notice how it makes you feel. Does it make you feel softer? Less stressed? More relaxed? choose one word to describe how it makes you feel.
Get a notebook and identify the sources of your stress/overwhelm.
I hope this post helps you create a softer life.
Victoria