Over the years I have fallen in love with living in alignment with the seasons. I live in Virginia, United States, and we get to experience all four seasons every year. I welcome the seasonal change and I love resetting for the new season. As winter comes to a close, it's time to hit the reset button to prepare for spring. Here are 10 things to do for a classy girl spring reset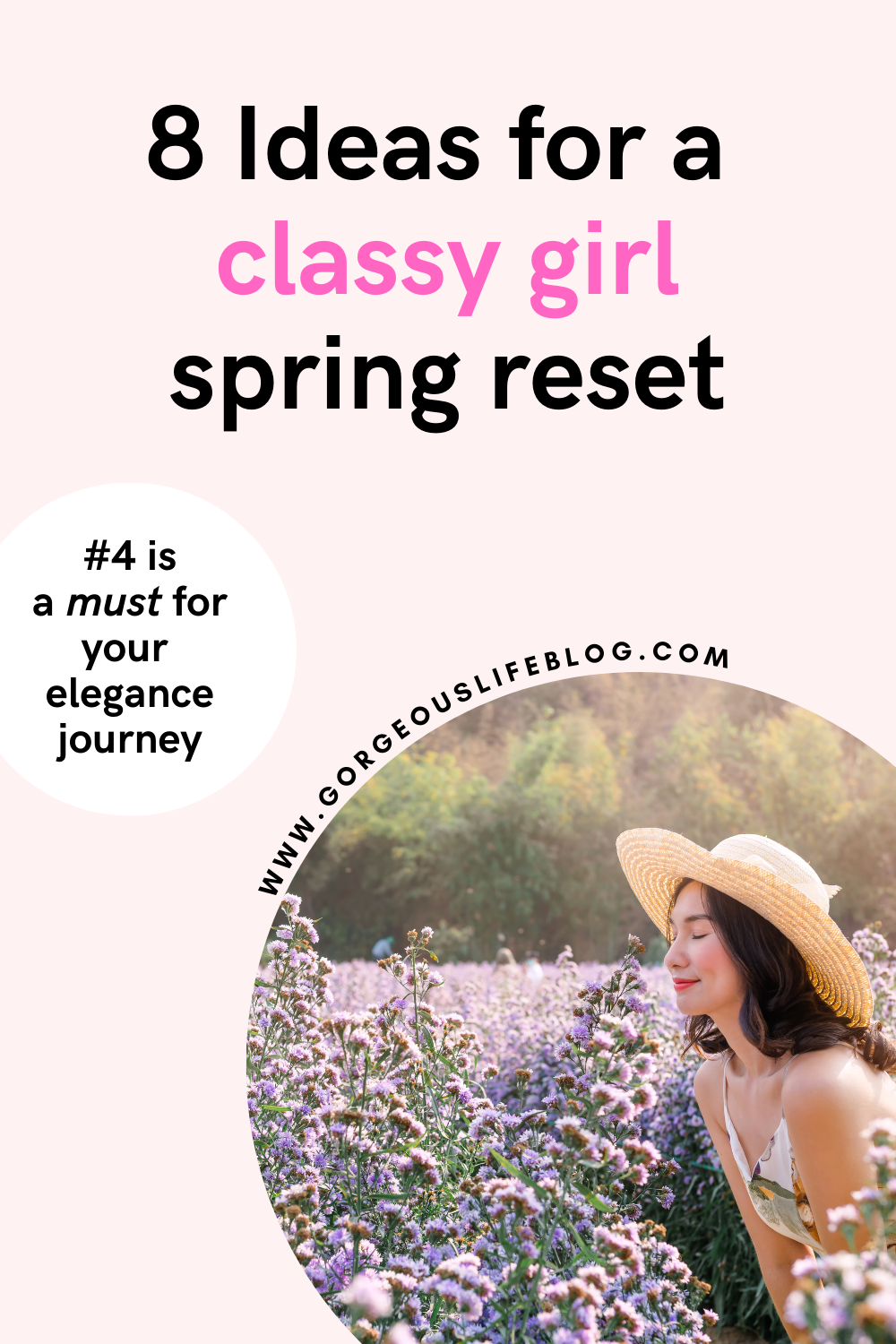 Why do a seasonal reset?
Every season brings new challenges, new memories, and clean slate to start fresh. Resetting for a new season is a fantastic way to clear the old energy and make room for beautiful things to come.
On my elegant living journey I have found that resetting also helps me clear my mind, make plans for the upcoming season, and evaluate where I am in my life so that I can make necessary changes.
The spring reset is especially important for me because during the wintertime I tend to be more relaxed, and spend a lot of time inside because it's so cold. I love preparing for the Earth to come back to life, it boosts my mood and my overall productivity.
Reset, but make it classy
Although I did a regular spring cleaning checklist (that I will share later on) I wanted to make sure I am intentional about the way I plan my reset. I wanted to have the focus on elegant living. For all my readers who are looking to level up their life, this reset is going to be perfect for you.
1.Reset your space (traditional spring cleaning)
You can't do a proper Spring reset without doing the spring cleaning. It's tedious but it's a great way to give your home and your car a fresh start.
I like to go through every area of my home (and my car), declutter, deep clean, and make room for new energy. The best way for me to do this is to separate the larger tasks into smaller tasks.
Then I put on a playlist and get to work.
You can find spring cleaning checklists on etsy but if you want something more personalized and specific to you, you can create one yourself using canva.
2.Reset your beauty routine
When was the last time you invested into the right skincare products?
When was the last time you cleaned out old makeup?
Beauty is a huge part of my life as a woman on an elegance journey, but I must admit that I don't like to spend a lot of money on beauty products and treatments.
Every Spring I reset my beauty routine and it's very refreshing.
Here are some ways to do a beauty reset.
Get your roots done.
Get your hair trimmed.
Do a deep conditioning treatment.
Get your nails done.
Whiten your teeth.
Throw out old beauty products that you no longer use.
Create a capsule makeup collection.
Get a new perfume.
Update your skincare routine.
Get a facial.
3.Reset your wellness routine
I am so happy that wellness is becoming more popular now because it is extremely important for our overall health and well being.
It's no secret that seasonal depression is real and many people struggle mentally during the winter holidays. Especially here when it gets dark outside earlier, many people spend most of their time at home and not focusing on their wellness routine.
If you haven't been thriving in the wellness department, now is the time to create a proper wellness routine that will help improve the quality of your life over these next few months.
I have written an entire blog post with step by step tips for creating the most amazing wellness routine.
4.Reset your elegance goals (or start your elegance journey)
When it comes to making major life changes and becoming more elegant, many women tell me that they either don't know where to start, or they don't have the motivation to take the first steps.
If you want to be classier and start living an elegant, leveled up lifestyle, you have to put in the work.
Now that spring is here, it's time to get serious about your journey of elegance journey. If you don't know where to start, I have an amazing elegance course that will help you create the life you've been dreaming of.
Take your life to the next level by joining my signature course, Modern Elegance, Simplified.
Learn all the skills necessary to become the classiest woman in the room.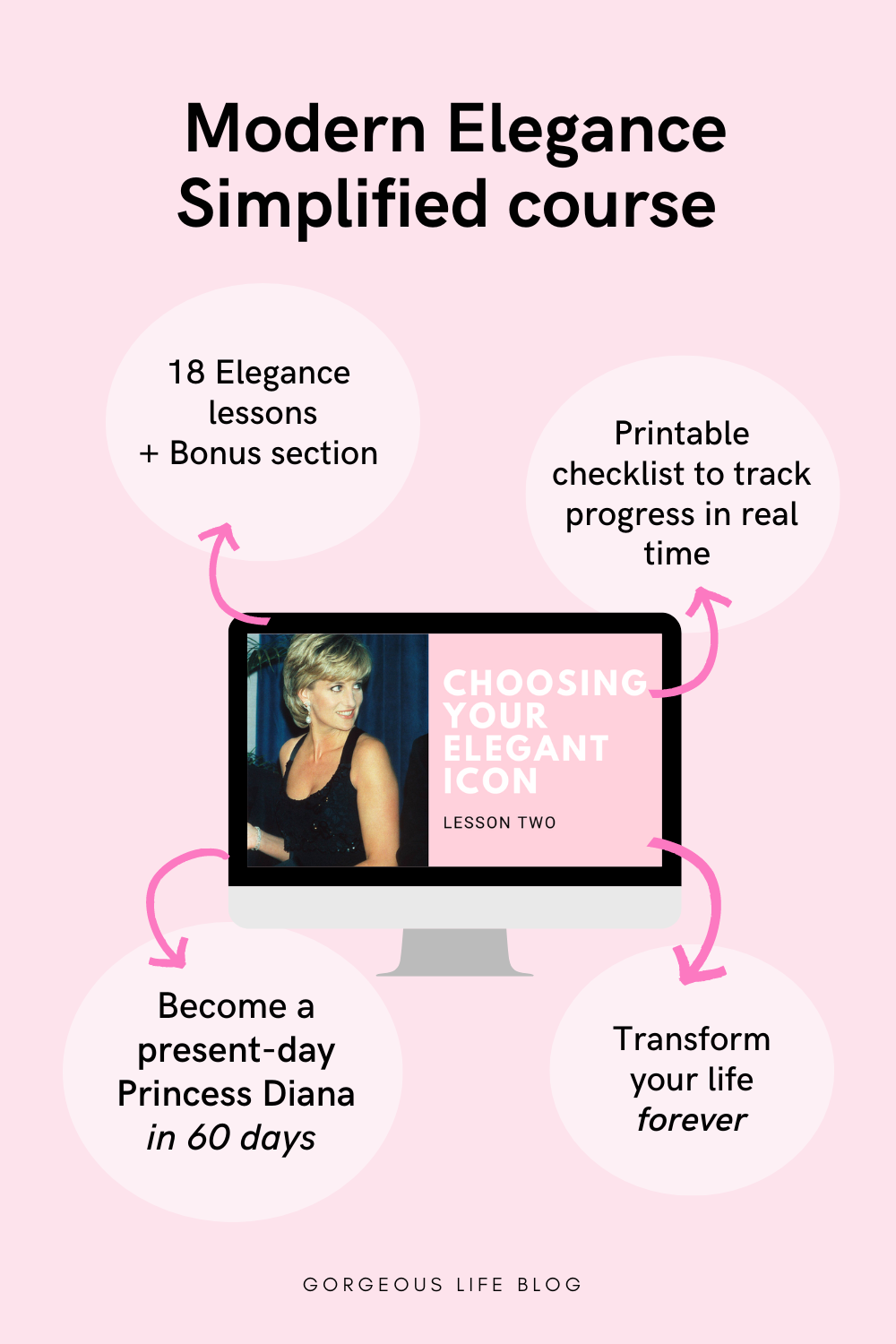 20+ Etiquette rules all elegant women should know.
How to dress like an elegant woman.
Elegant tips I've learned from the Royal Family.
How to command attention in a classy way.
How to be elegant in a toxic situation.
50 Ways to be elegant each day.
7 ways to boost your intelligence.
5 ways to be more sophisticated
Hobbies elegant women have
10 ways to look polished every day
How to be graceful like a Princess
…and more!
5.Digital Reset
With all of the technology that we use on a daily basis, its rather easy to accumulate a lot of digital clutter. Take some time during this spring reset to clean out your laptop, phone, tablet, etc.
This will save space on your devices and remove unwanted files and photos. It's also the best time to give your devices a makeover once everything is cleaned out.
Clean out downloads
Clean out 'files' on your phone
Remove old photos and screenshots
Back up files to an external hard drive
Unsubscribe from emails
Delete unwanted apps and programs
Unfollow accounts on social media that aren't serving you
Turn off notifications on your phone that you don't need
This post also has great ideas for digital cleanup
I love to listen to relaxing music while I do any kind of work on the computer. Here's my playlist of chill music!
6.Reset your mind
Am I the only one that gets overwhelmed by the thoughts in my head? Sometimes I have so many ideas, tasks, and other things going on in my head that I feel like I'm one thought away from a total system overload.
This is because our lives are so complex and then on top of that we consume a lot of content on a daily basis. Luckily, doing a mental reset is relatively easy.
Here are a few ideas:
Brain dump
Mind map
Affirmations
Meditation
7.Reset your diet
Normally in the wintertime I cook a lot and try new recipes every week. This year I was very busy work and I didn't put very much effort into my diet.
It can be hard to focus on food when you have so many other things going on. This spring I encourage you to take a look at your diet. You can do this by keeping a food journal for a couple of weeks.
This is easier said than done, and I normally just use the notes app in my phone to keep track because there is now way that I can do this with pen and paper.
Once you get an idea of your diet, you can start making necessary changes. Try committing to trying one new recipe per week until you have a collection of new meals that you enjoy.
8.Reset your playlists
Do you find that you listen to the same type of music. When I ask people what kind of music they listen to, many of them say "a little bit of everything"
And that might be true for all of us, but there is so much music out there that has the power to lift our mood, relax us at night, or give us energy for the day.
Make some new playlists for different times of the day. If you study a lot for school, make a good study playlist. If you feel like you struggle with cleaning the house, make a cleaning playlist that will make you excited to clean.
Use music to improve your life.
Final thoughts
Spring is a lovely time to refresh and reset all aspects of your life. It can seem overwhelming, but if you commit yourself to one small task per day, you will be surprised at how much you can accomplish in just one month!