Hello beautiful! It's absolutely wonderful to have you spend time with me today. If you are new here, my name is Victoria and I talk all things modern elegance and personal growth. I'm very excited to write this post today because I'm currently on a mission to become a more intelligent woman without experiencing burnout or overwhelm.
Today I'm going to tell you how intelligence and elegance go hand in hand, and my simple plan to boost my intelligence in a fun way.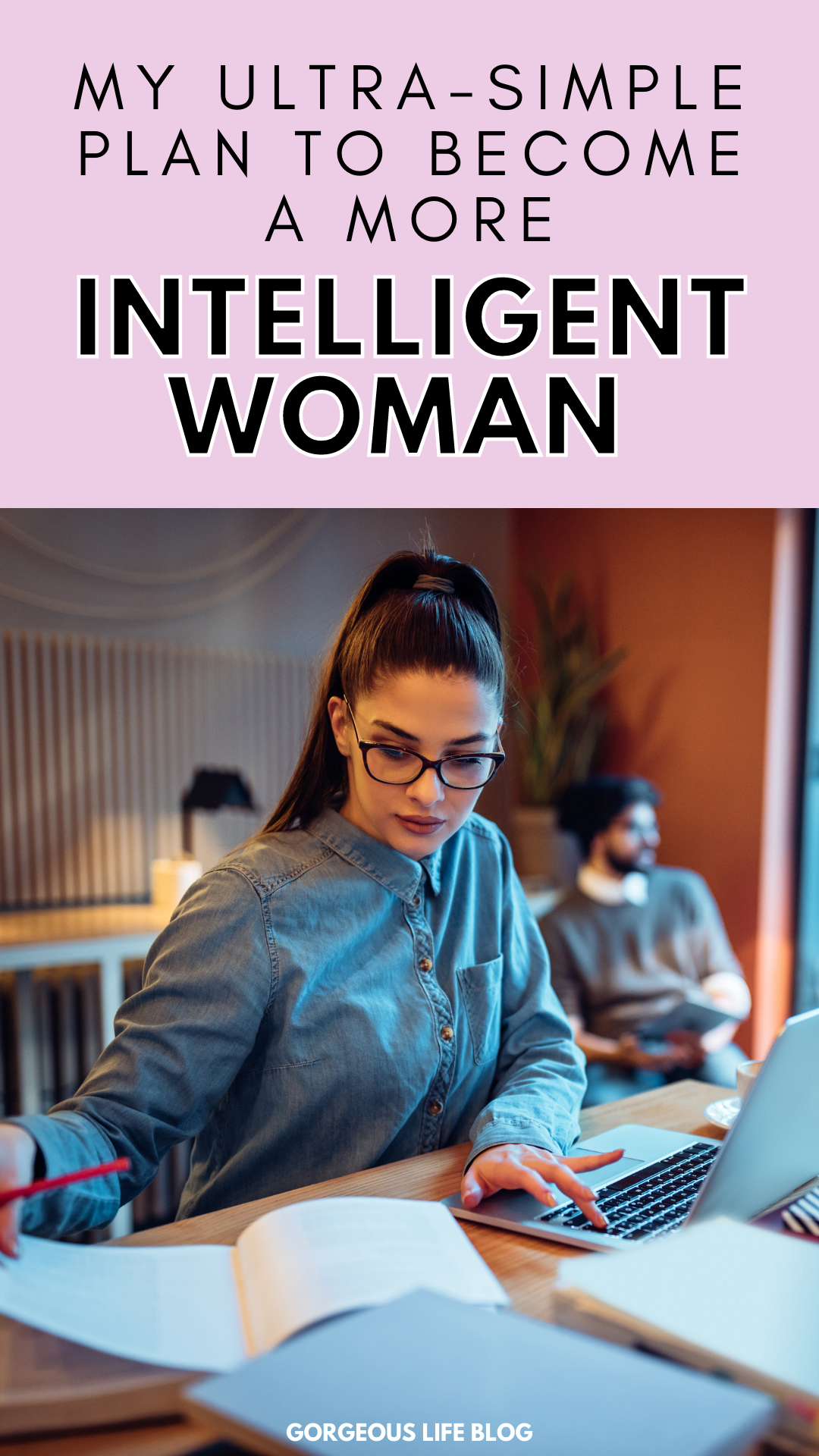 Why is intelligence a trait of elegant women?
I thought you would never ask. Many people associate money and the outward appearance with elegance. But a true elegant woman is kind, self confident, well mannered, and intelligent.
In today's society, we tend to focus more on entertainment over education. We live for a good netflix binge, spend time watching movies and watching youtube videos, but I don't think we spend enough time focusing on our brain health and learning new things.
Benefits of learning new things
Changes in the way you think – When you learn new things, you open up your mind and expand the way you think and live your life.
You become a more dynamic woman – When you study new topics, you become a well rounded person. You can expand your conversations, relate to more people, your opinions change, and you feel more comfortable in new situations.
It keeps you busy and distracted – Have you ever felt like there was nothing to do even though you have the world at your fingertips in the palm of your hand? The times when you can't find any good shows to watch or activities to do *quarantine has entered the chat*. Getting lost in your studies will bust your boredom and help pass the time in a productive and healthy way.
You are feeding your mind. – If it's one thing I've learned this year, it's that neglecting the mind is an extremely harmful practice. Think about it, we spend time going to the spa, the salon, the gym, eating at restaurants and shopping for new clothes, but when do we ever care for our mind?
"Your mind is a weapon, keep it loaded" -unknown
Click To Tweet
My plan for becoming a more intelligent woman
Are you ready for my super simple plan to boost my intelligence and become a smarter woman this year? I promise it is so easy that anyone can do it!
I'm going to study a new topic every month of the year!
I told you it was simple! It's an incredibly easy and fun way to become a more intelligent woman.
I have this problem where sometimes I get overwhelmed with all of the things that I am interested in and I have no idea how to learn more about those topics, so I just shrug them off and never visit them again. But deep down I know I want to learn more. So this time, I decided to act on it.
It was in that moment that I decided to make a list of all the things I wanted to learn about and study a new topic every month.
I know that if I want to become a more elegant woman, I need to focus on expanding my knowledge. It's crazy because when I was in college, studying was a chore and something that I didn't want to do. Now it's all I ever want to do with my free time.
Choosing study topics to boost intelligence.
It might sound intimidating to study something new each month of the year if you aren't accustomed to studying already. The best way to choose topics to study is to pull out your journal and make a list of things you are interested in. Think about all of the things that you've wanted to learn but just never had the chance. A skill you wanted to learn but you were too busy, something that you are passionate about.
Here's a look at my list
Oceanology
Interior Design
Behavioral Psychology
Outer Space / Astrology
Health & Nutrition
Art
Etiquette
French
Videography
Supermodels
The British Royal Family
Egyptology
Creating a study plan that will make you a smarter woman.
After listing all of my interests It was time to incorporate them into a study plan. I want to have something new to study each month of the year. So I took the topics that I am most excited to learn about and put those first. Once those were in, I just added the rest into the rest of the year.
Gathering study materials.
As much as I love the internet, It is far too distracting for me. If I tried to study something on the internet I wouldn't last too long. Especially on my phone, I would get a twitter notification and I would get lost scrolling through my feeds instead of studying so for most of the topics I found books.
I've had some books sitting in my house for a decade. I just haven't given them the time of day. There are some study materials that I had to purchase, some are available free of charge through my kindle unlimited plan, and a couple of them are sources from the web.
Let me give you some quick tips on choosing the right study materials.
If you are a beginner in the topic, look for books that are suitable for beginners. Getting in over your head will cause overwhelm and you won't finish your studies.
Take advantage of the library and other free resources. Becoming more intelligent shouldn't be expensive. There is so much knowledge available!
If you are reading books, choose books that you will be interested in. I always check out the book at the bookstore before ordering a copy on checking if it is available at the library. Usually I can take a quick glance at the material and determine if it's right for me.
If you are unsure what books to read, here is a general list of books for boosting intelligence. Some of these titles are already on my reading list.
Take your life to the next level…
Looking to become a more elegant woman this year? If so, Modern Elegance, Simplified is perfect for you. I created this course for women who want to take their life to the next level and become the best version of themselves. Learn more and join below!