Hi there. I'm Victoria and I run the Modern Elegance, Simplified course. I teach women how to become classy, elegant, and graceful. I'm so glad you are taking the time out of your day to read my blog. It's an honor to have you.
I've learned many things in my 20's, but one huge thing that I learned is that classy and sexy are two totally different things.
When I finished high school, I was committing major fashion crimes. Wearing my pajamas in public *cringe* Wearing shorts that were too short, among other terrible things. It wasn't until I had my kids that my outlook on fashion started to completely changed. And so did the way I wanted people to view me. I hated the term MILF, which was super popular a decade ago, I didn't want to be viewed as an object.
I tried to dress more modest but honestly my sense of fashion sucks really bad and i'm absolutely horrible at putting together outfits.
Over the years I have grown so much and I've realized that being sexy or classy is much deeper than the way you dress. It's about your entire vibe. The energy you give off, the way you treat people, the way you act when you meet someone new, it's super complex.
In the past year I've really been on a journey to become the highest version of myself. In order to figure out exactly how to make that happen, I first had to imagine what a perfect version of myself would look like (in my eyes, not anyone else's).
I realized that a perfect version of myself is super classy, elegant, but still sexy and beautiful. So I created a list of steps that I needed to take to become this person. Then I started doing some research, and I learned a few tips on how to be classy but still sexy.
Create a Classy and Sexy Wardrobe
So here's the thing… As I mentioned before, I am absolutely awful at fashion. I'm just not naturally gifted when it comes to outfits but I know that the first thing I need to do in order to be more classy is to start dressing like it. Dressing like the perfect version of myself.
I have an entire post about creating a capsule wardrobe, but when curating outfits that are sexy and classy, just remember not to show it all. The trick here is to pick one part of your body that you want to show off and focus on that.
Buy Sexy undergarments and loungewear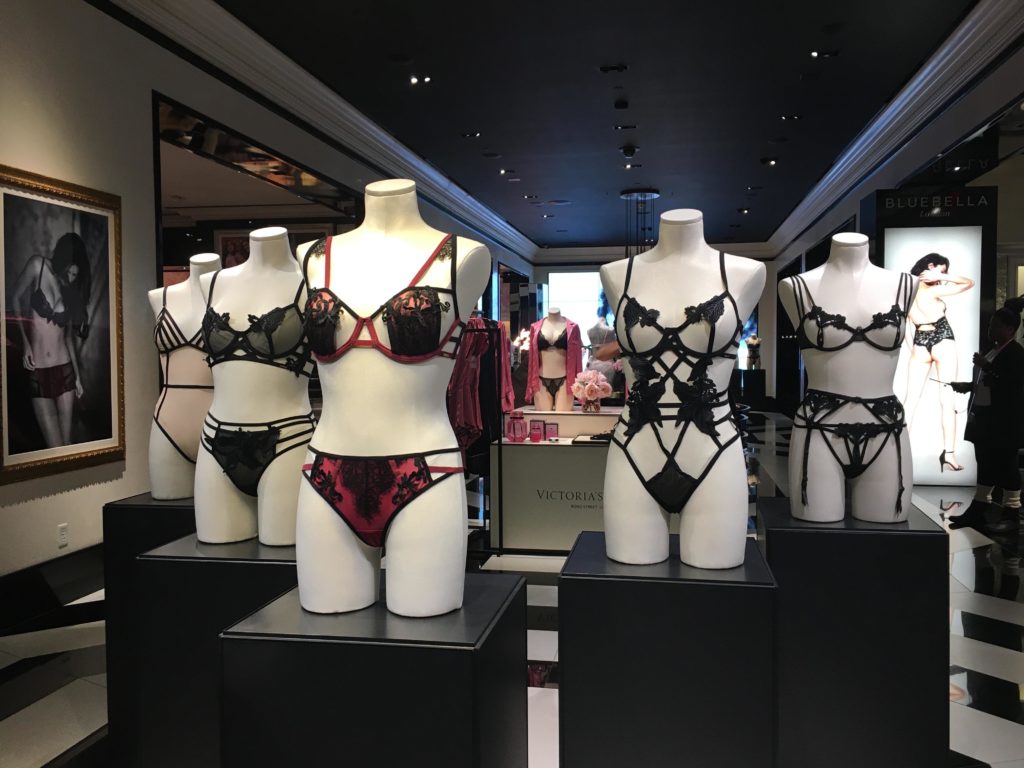 For many years my lounge wear included old high school t-shirts, and my husband's old sweatpants. But being sexy is also something you have to be for yourself, not just other people. Consider trading in your basic lounge wear for satin, sexy gowns, robes, etc. Trade in your boring skivvies for some super sexy ones. Experiment with different silhouettes, lace, mesh, and strappy bras and panties.
My go-to place for all of this is Victoria's Secret. For higher end looks you can definitely try Agent Provacateur. Look for something you've never worn or something so sexy you would never actually wear it and try it! Knowing you look like a hot stripper underneath your work clothes will boost your self confidence like crazy.

Mystery is sexy
An easy way to be ultra sexy and classy is to be a little mysterious! Seriously nothing is worse than someone who spills their entire life story at you when you first meet them. It has definitely happened to me before where I've introduced myself to someone maybe at a party or something and they have just spilled so much tea on their lives and i'm like…um okay.
A woman written in mystery is worth the curiosity trip -unknown
Click To Tweet
Everybody wants what they can't have so being mysterious is an absolute weapon these days. With everyone sharing their every thought on social media it is important to know where you should draw the line when it comes to what you share. Here are some easy ways to be mysterious
Strategic absence. You don't have to be involved in everything that is going on. By taking a step back and knowing when to skip out on certain events, you create a little bit of mystery. People wondering where you are, what you are doing, why you didn't show up, etc.
Skip the explanation. How many times have you actually explained something that you shouldn't have? Maybe you called to cancel a doctors appointment because you aren't feeling well and you get on the phone and tell the receptionist that you are sick. That isn't necessary. You don't have to explain yourself to them. All you need to do is ask if you can cancel/reschedule your appointment and call it a day. Personally I am guilty of explaining things to people who don't need an explanation and it needs to stop. Not everyone deserves an explanation.
Do not share it all on social media. In the past 2 weeks, I have seen a couple get into a public argument on facebook, someone said that it is her time of the month on instagram stories, one person explained to all of facebook all of the details of her pregnancy related trip to the hospital (which should only be shared with family in my opinion and not on facebook to everyone) One person shared that someone they know tried to commit suicide…to me things like this are just TMI. If you have a blog or youtube and this is your topic it's a little different but I just see SO much personal stuff online that is beyond unnecessary. If you are guilty of this, it's never too late to make a change.
Don't answer your phone, text messages, or other messages right away Unless it is an urgent, emergency, or business, don't rush to your phone to respond as soon as the message comes in. Take a little time.
Don't spill all the tea right away. If you are at a party or meeting new people, be present in the moment, be engaged with everyone, but be reserved at the same time. Don't overextend information that hasn't been requested.


Be classy on Social Media
Social Media is very much a large part of our every day lives, and so it is very important to be classy on there too. I see so many women falling for the basic Instagram model traps and it's just not classy. Think what would Meghan Markle or other people in the Royal Family do with their social media. Here are the top things you should stop doing to be classy on social media. I have an entire lesson on this in my Modern Elegance, Simplified course.
Intelligence is sexy
Don't ever let anyone convince you that being smart isn't sexy. I am a huge fan of constantly expanding the mind. I strongly believe that being intelligent is a weapon these days. Make sure you spend set aside some time in the day to expand your vocabulary, read an educational book. Watch a youtube video that will teach you something new, listen to an audiobook…just make sure you are always learning.
These are my best tips for being classy and sexy.