I used to be a stay at home mom. My days were filled with laughter, housekeeping, taking my girls out on the town, but most of all was time. I had an abundance of time to focus on myself and make improvements in my life.
In fact, It was during those years that Gorgeous Life Blog started to grow because modern elegance was my focus. I had the energy to complete all of the necessary steps it took to level up my life and create a reality that I wanted to live in each day.
But what if you don't have time?
What if you work full time, are raising kids, or are putting a lot of energy into higher education?
What if you find that you are always tired after work and spending time and effort on leveling up is the last thing on your mind when you get home because you are simply exhausted?
What if when you do have a day off, you have to fill that time with appointments, or catching up on chores and errands that you haven't had the time to do?
This is the reality for many women.
And it is slowly becoming my reality.
Before I increased my hours at work, I was only working Friday, Saturday and Sunday. I had 4 days of the week to relax and work on other aspects of my life. I worked the weekend schedule for one year before I decided to increase my hours.
Now I work 5 days per week.
And now I understand.
Now I see why it is such a struggle for women to improve their lives. It's because the average American woman is busy and tired.
I don't have much time for myself anymore and when I do get time, all I want to do is rest. But I keep telling myself that whatever I'm forcing myself to do now, my future self will thank me for.
In today's post, I'm sharing my tips for how to find time in your day to level up your life. Especially if you are a busy woman.
Elegance tip number 1: Habit stacking
Habit stacking has helped me so much because it made it easy for me to start new things without having to find new time in the day to do them.
Habit Stacking is the art of adding one habit on top of another. For example, you have a habit of brushing your teeth and washing your face every morning. You've had that habit all your life. Now, you can play an elegant song while you brush your teeth & wash your face.
You are able to add a piece of elegance to an otherwise ordinary habit.
You can do habit stacking with many other things as well.
Washing dishes > washing dishes and listening to an audiobook or piece of content that will boost your intelligence.
When you don't have a lot of time, every minute counts. So habit stacking will help you to sprinkle your day with elegance.
Elegance tip number 2: Give yourself 10 minutes
Sometimes it feels like we don't have enough time, but in reality I don't think we remember that it doesn't take a long time to work on yourself.
If you feel like you are always busy, try to do just 10 minutes at a time of something. 10 minutes of looking for new outfits online, or 10 minutes of planning your dream elegant life.
Something is better than nothing. Even if you put in a little effort, it really goes a long way.
Elegance tip 3: Take an elegance course
If you want to level up your life and become a classy woman, you have to have some sort of plan. When you are already working a lot of feeling tired and busy, chances are you aren't going to take time out of your day to figure out a plan on your own.
It's difficult to know to start or what to do.
Fortunately for you I created an elegance course that is designed specifically for women who are busy. Packed with 20 minute (or less) modules and a step by step checklist so you can track your growth in real time, Modern Elegance Simplified is the perfect solution for busy ladies looking to level up.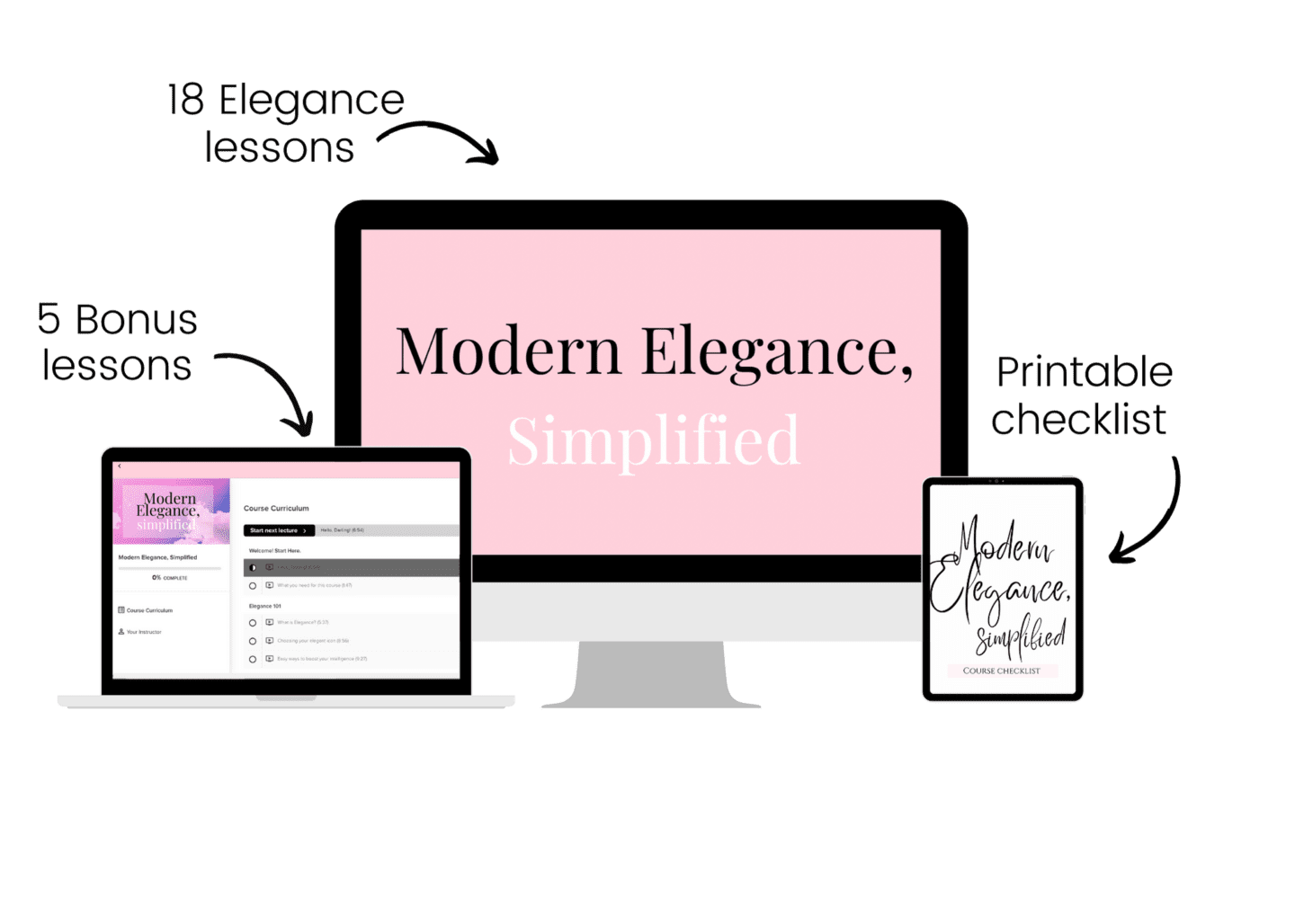 Learn all the skills necessary to become the classiest woman in the room.
20+ Etiquette rules all elegant women should know.
How to dress like an elegant woman.
Elegant tips I've learned from the Royal Family.
How to command attention in a classy way.
How to be elegant in a toxic situation.
50 Ways to be elegant each day.
7 ways to boost your intelligence.
5 ways to be more sophisticated
Hobbies elegant women have
10 ways to look polished every day
How to be graceful like a Princess
…and more!
Elegance tip 4: Create a capsule wardrobe
One of the fastest ways to jump start your elegance journey is to update your wardrobe. I learned about capsule wardrobes a couple years ago and ever since I created my capsule wardrobes my life has become much simpler.
There is a whole module in the course about capsule wardrobes and dressing like a classy lady, but if you are busy, the best way to dress elegant is to already have elegant pieces in your wardrobe.
Elegance tip 5: The 1% rule.
I can't remember when I first discovered the 1 percent rule, but it certainly changed my perspective on personal growth.
The 1 percent rule basically says that you should strive to be just 1 percent better than you were the previous day. There is no need to stress about making monumental changes in your life each day, but to become just a little bit better than you were before will generate amazing results.
Life is busy, and you aren't going to have all the time in the world to devote to your elegance journey. So if you just do one little thing each day, it is more than enough.