Every month is a beautiful new beginning. Each month is filled with endless opportunities to better yourself, live an elegant life, and make beautiful memories.
It's easy to start a new month without making any plans or hitting the reset button.
I find that when I don't take the time to properly do a monthly reset, I'm much less organized, and don't achieve as many things in the month as I could.
Of course sometimes it's nice to take a break from always planning life and letting life happen to me, but realistically, resetting for the month is one of the best ways to optimize your life.
What is a monthly reset?
A monthly reset is the art of reflecting on the past month, and setting intentions and making plans for the month ahead.
Monthly resets help reduce stress and anxiety, organize your life, and give you room to make time for all of the amazing things that you want to achieve.
The last thing you want to find yourself doing is asking yourself where did the time go at the end of the month, season, or even the year.
You want to be able to say that although time passed quickly, you were able to achieve all of the things you wanted to and possibly more.
Monthly reset for elegant living?
One of the most important traits that elegant women have is that they are organized. If you don't consider yourself an organized person, don't worry, this is something that comes with practice.
Completing a monthly reset will help you start to become more organized.
The monthly reset is going to help with your elegant living because you are mapping out your month before it starts, you can plan all of the things you need for an elegant lifestyle in advance.
This means you will be more likely to achieve your goals.
What do you need for a monthly reset?
Here are the things that I use when I am doing a proper monthly reset.
Calendar
Journal
Apps like Pinterest, IG, etc.
You don't need much to do a monthly reset, the most important thing is to make time to actually do one at the end of the month.
We lead very busy lives so it is easy to forget or procrastinate until you've missed your window of opportunity.
How to do a monthly reset
Step 1: Reflect on your previous month.
Ask yourself a few important questions that will help determine how your month was.
Step 2: Grab your calendar and mark your important dates.
I have two calendars.
I have my iCAL as well as a calendar that I keep on the fridge so that everyone in the family has access to our schedule.
Here are the things that I always put on my calendar.
Appointments: Normally I put these on my calendar the day I set the appointment, but I like to double check and I also like to make sure to put them on the physical calendar too. If I don't have an appointment scheduled and I know I need to make one, I will try to make the appointment on reset day. Typically, my reset day is a weekday.
Birthdays: There's always a birthday in my world. I do my best to mail cards to everyone on my calendar on their birthday. This means I have the actual birthdate and I also like to put in my calendar about a week before the date to remind myself to put the card in the mail.
Social events: This is why I need my phone. I like to get in the group chat with my friends and figure out what things we are doing so that I can get it in the calendar.
Work schedule: My schedule is usually 2 weeks ahead of time, so I can normally fill out a little bit of my work schedule
Major bill due dates: Because I never want to be late paying bills.
Vacations: If I'm going anywhere, I like to block out that time in the calendar.
Holidays: Holidays are usually always marked in the calendar, but I like to see what weekday the holiday falls on so I can make plans if need be.
Step 3: Check your finances.
If you don't use a budgeting app, you definitely should. I currently use simplifi money *not sponsored. I just love the app.
At the end of the month I can see exactly where I spent my money so that I can make improvements for next month.
This has helped me save money, budget better, and manage all of my bills and expenses.
Step 4: Brain dump
This is where I put everything that I want to do out on paper. I use my phone to go through my pinterest, instagram and tik tok to see the content I've saved.
Were there new recipes that I saved?
Did I find any songs that I need to add to a playlist?
Are there any crafts or projects I would like to try?
Books I would like to add to my reading list?
Elegant living brain dump
What things can you do this month to support an elegant lifestyle? How can you fit them in your schedule?
If you struggle with living an elegant lifestyle on a day to day basis, I encourage you to check out my affordable elegance course.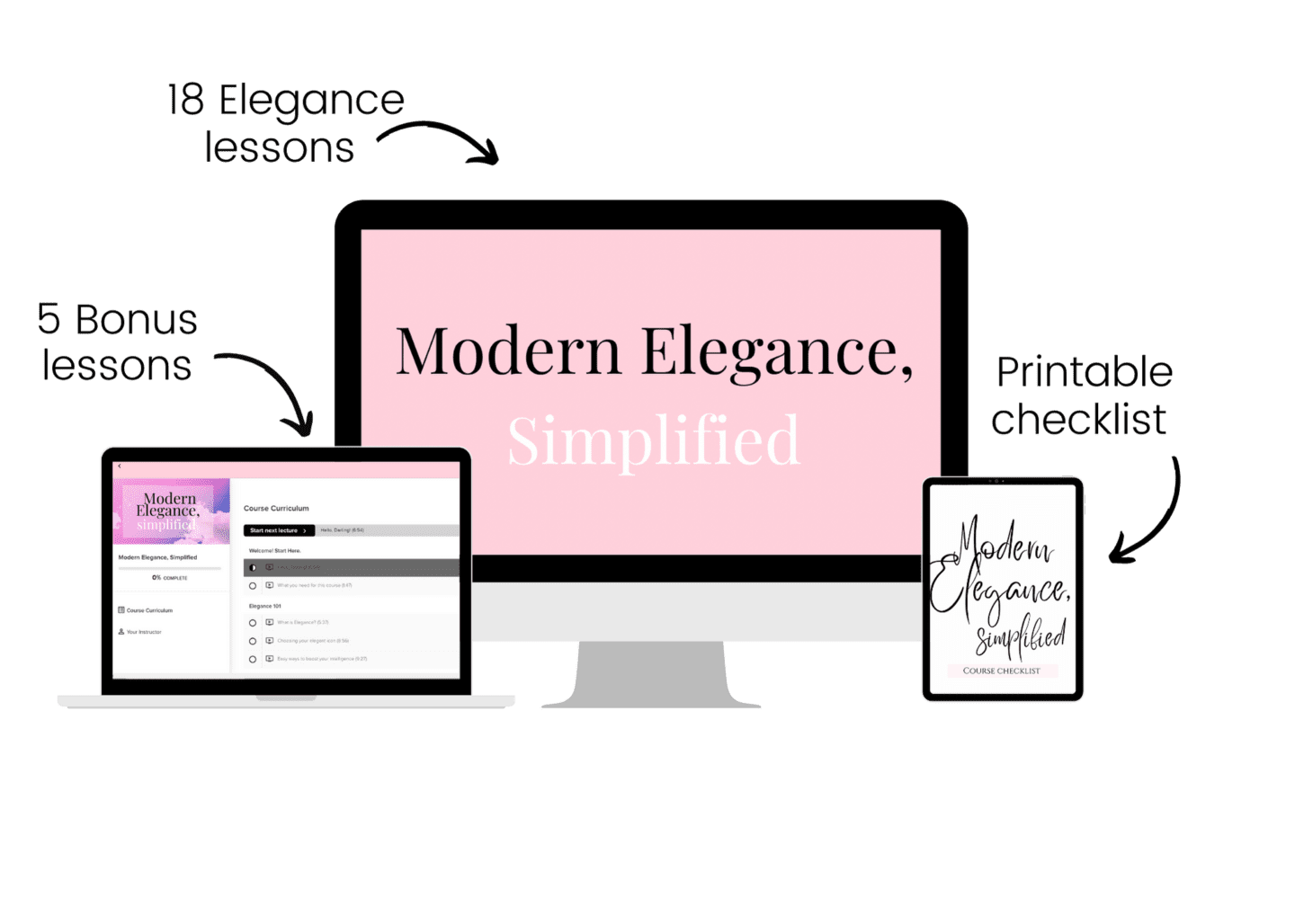 Learn all the skills necessary to become the classiest woman in the room.
20+ Etiquette rules all elegant women should know.
How to dress like an elegant woman.
Elegant tips I've learned from the Royal Family.
How to command attention in a classy way.
How to be elegant in a toxic situation.
50 Ways to be elegant each day.
7 ways to boost your intelligence.
5 ways to be more sophisticated
Hobbies elegant women have
10 ways to look polished every day
How to be graceful like a Princess
…and more!
Step 5: Make a list
This is why you need a journal. The easiest way to be consistent with monthly resets is to have it all in one place. It's time to make a list of all the things you want to do from the brain dump.
I use a bullet journal and I make a bullet list of everything I need to do. I also try to list them in order of importance.
Sometimes there are things on the list that I really don't have to worry about completing anytime soon.
Refer to your list once a week so you will stay on top of the things you want to do.
Something to remember
When doing a monthly reset, you must make plans in alignment with the woman you want to become. You aren't to make plans for the person you currently are.
Think of your next level self and what she would be doing that month.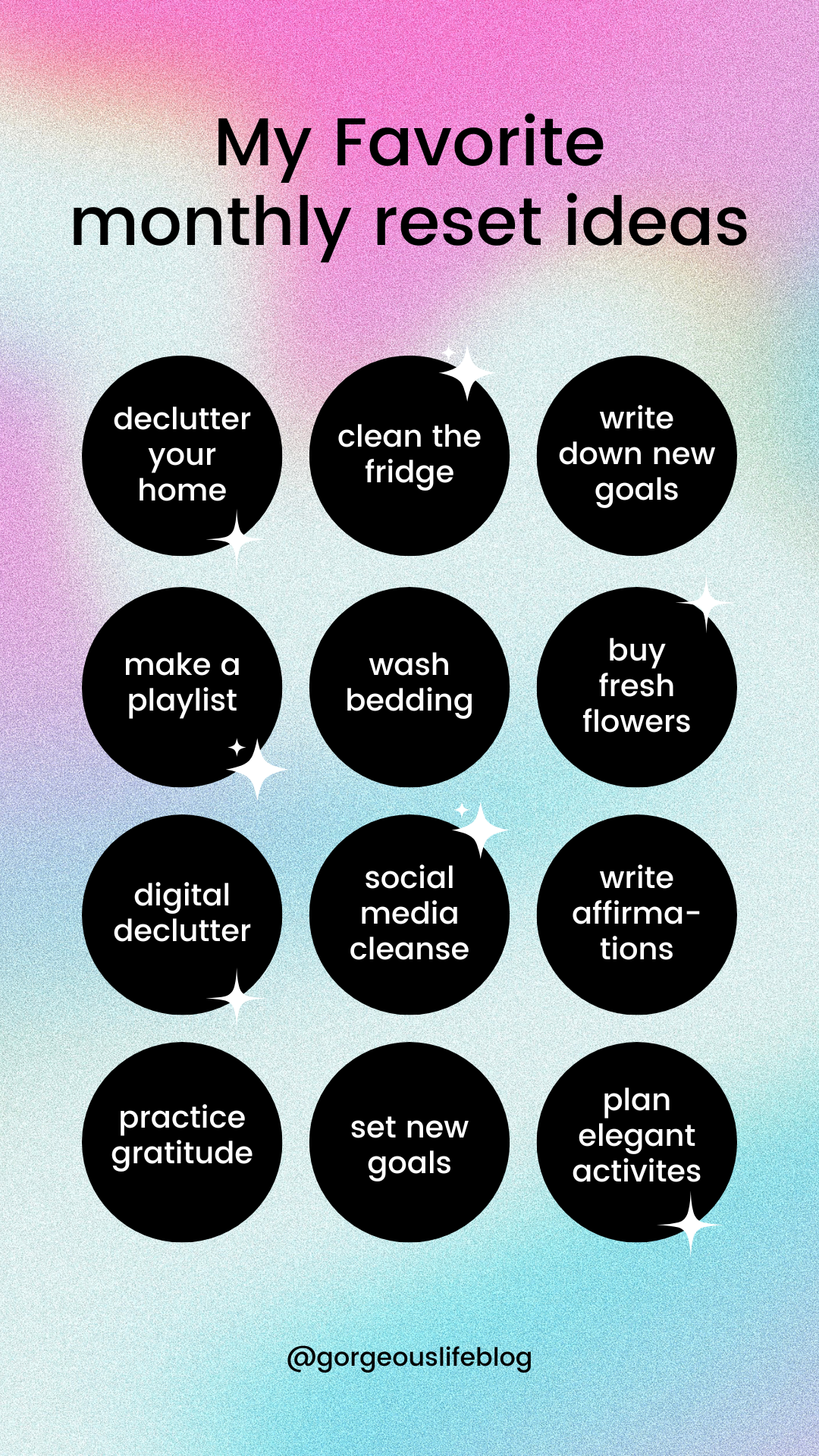 Conclusion
Make your life a little easier and stress free each month by taking a some time to do a monthly reset. Eventually you will notice that you are much more organized and more put together because you have taken the time to do the prep work for the month.