I've been journaling for a long time. I love to use bullet journals, but I don't have the time, patience, or creative talent to make different spreads, perfect my hand lettering, or collect washi tape. I started a new bullet journal at the beginning of the year and I decided to go a completely different route and make it a journal/scrapbook hybrid. It's absolutely nourishing my soul so I have to share! Today I'm sharing 5 ultra creative journal prompts that you will absolutely love!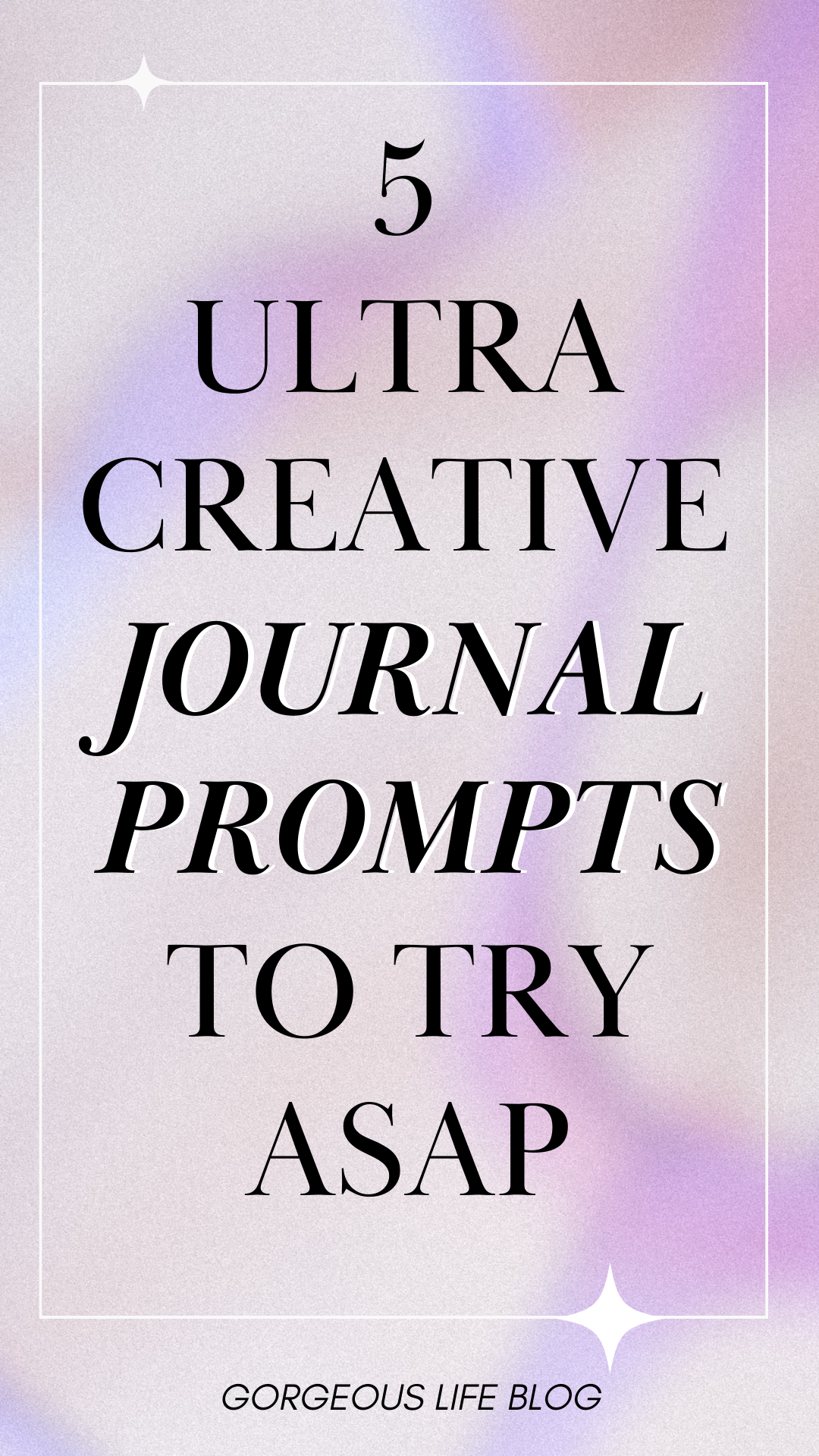 The power of creativity
When I was younger I used to make scrapbooks all the time. It was one of my favorite things to do. I was able to be creative while preserving memories, and it was also something that I was able to do with my mom and her friends. I felt like one of the gals.
I spent countless hours cutting paper, choosing photos and placing stickers. I still have those scrapbooks and I look at them all the time. It feels like only yesterday when I made them.
When I was a teenager I used to make scrapbooks from magazine cuttings, music lyrics, photos of my friends, drawings, and more. I used to spray perfume on the books and make it a multi sensory experience to read.
Over the years I thought I grew out of those scrapbooks and I threw them away! Of course now that I'm in my 30's, I miss the days when I used to be creative with my books.
For the past decade or so, my journals have been pretty plain. No images, no stickers, no magazine cut outs, mostly it's just a record of the things that I've been up to lately and my to-do lists.
I wanted to change that this year, I want to be creative again. I want to create books that will be so much fun to look back on when I get older. I want to save photos and moments of pop culture. I will probably even spray the pages with perfume again.
If you want to get creative with your journal, you will absolutely love these prompts!
The supplies
Journal: I use a bullet journal. I love it so much and its pretty big so it fits full size pieces of paper if I want to put large photos inside. You can use any type of journal you want. My advice is to find one with thick paper so the ink from your pens won't bleed through.
Photos, print-outs, stickers, etc: Instead of using real photos (because they are thick and will eventually make the journal really thick)
My printer broke recently, so I create graphics in Canva and print them out at the library. I am at the library a lot so this isn't an inconvenience to me. Plus it gives me plenty of time to create the art to print.
1. Alternate lives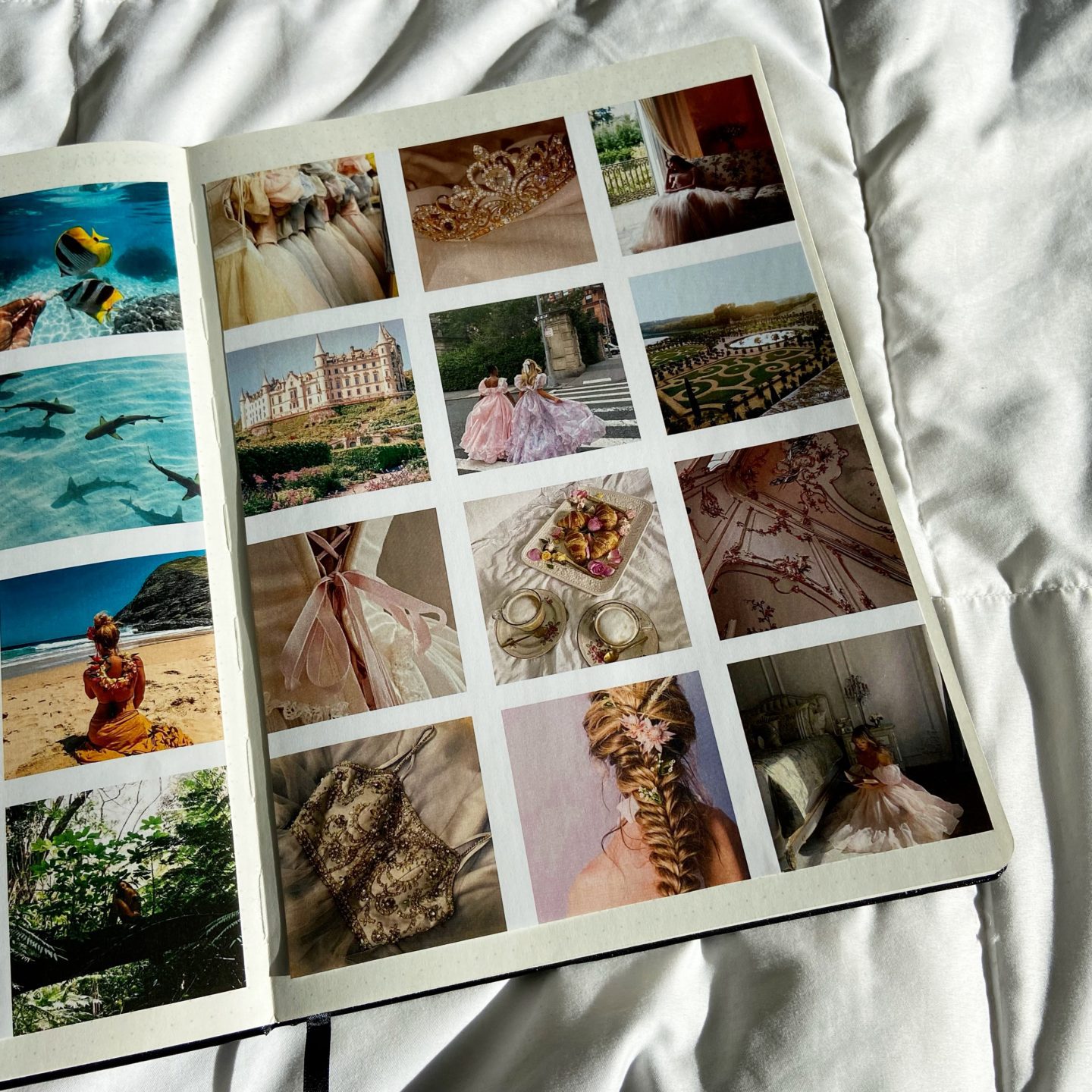 Last year I read a book called The Midnight Library by Matt Haig. The story was about a magical library where each book was a different version of your life. The main character visited the library and was able to experience multiple different versions of her life. One where she was married, where she was a musician, and so much more.
This book really inspired me to think about what my other lives would be. I always say that somewhere in another reality there is another version of me that wears ball gowns every day all day long. I would love to wear ball gowns all the time. It would make me so happy.
Here's how you can do this prompt:
Think about at least 3 alternate lives you would like to be living. I chose:
A Greek goddess
A princess living in a castle
A woman who is filthy rich and travels the world
A pirate
An island girl (real life Moana)
Search Instagram, Pinterest, and anywhere else you can think of for photos that match the vibe of your alternate lives and create a collage. Print the collages and put them into your journal!
2. Your childhood
Scan or take photos of your favorite childhood pictures. You could also print out news articles from pop culture events that happened during your childhood. I chose to go with my favorite family photos. I have a lot of photos from my childhood and I'm so happy that my mom always had a camera with her.
3. Your vision board
If you've never made a vision board before, this is your sign from the universe to make one immediately. Vision boards have drastically improved my life since I first started making them a few years ago. I used to keep them on my phone as the lock screen, but now I print the vision board and put it as the first page in my journal. I love seeing it an it really motivates me to keep working towards my goals for the year.
4. Mood boards
Moodboards are excellent for exploring your creativity. A moodboard is a collection of images that all follow the same theme. Mood boards are great if you are planning an event, or if you want to express something you like through images.
I love golden hour, so I created a golden hour moodboard filled with beautiful images of life during golden hour. You can literally create a mood board for anything you want. Here are some ideas.
Your dream wedding
Your dream vacation
Your favorite holiday
Your favorite time of day
Outfits you would love to try
What your dream house would look like
5. Pop culture/magazine cuttings
Magazines are filled with great images and inspiring ideas. Why not take some magazine cuttings and make a collage in your journal. You can take pictures of your favorite celebrities, or some articles that you find inspiring.
Magazines are also a good idea because the paper is very thin and will be seamless in your journal. There are so many things in pop culture that we don't appreciate while it is in the moment but we miss it once it's gone. That's why I love magazines, they really freeze time and I love looking back at the fashion and makeup looks as well as my favorite celebrities.
Final thoughts
Creative journal prompts have been so much fun for me and an great way for me to make a scrapbook that fits into who I am today. I'm not into the same scrapbooking style that I was when I was younger, so I love that I can make a scrapbook that is also a journal.
If you don't have a color printer it can be a little annoying having to go somewhere to print your photos, but I have come up with a routine where I just create the content, save it all to one folder and then I print it all when I wind up at the library. It works out just fine for me and one day I'll get a good quality color printer.