Hello beautiful! Welcome back to Gorgeous Life Blog. If you're new here, welcome! My name is Victoria and I talk about all things relating to elegance and personal growth. Today I'm sharing my ideas for planning an elegant year.
If you are new to elegance and you find the whole process of becoming a classy, elegant woman intimidating and overwhelming, you are not alone.
This post will help break down elegance into monthly themes so you can ease your way into a new lifestyle.
Many women in my email list often say that laziness is holding them back from becoming more elegant. They would rather sit and watch NETFLIX instead of clean their house, read a book, or plan outfits.
I think the reason is because they see it as one big step instead of what it really is.
My goal is to help women realize that they can become more elegant and it isn't as hard as they think. I've taken each month and shared my suggestions for ways to make life more elegant for every month of the year.
Everyone's life is different so this plan is simply a guideline. Something to start with. I encourage you to use this as motivation to create an elegance plan that works best for you!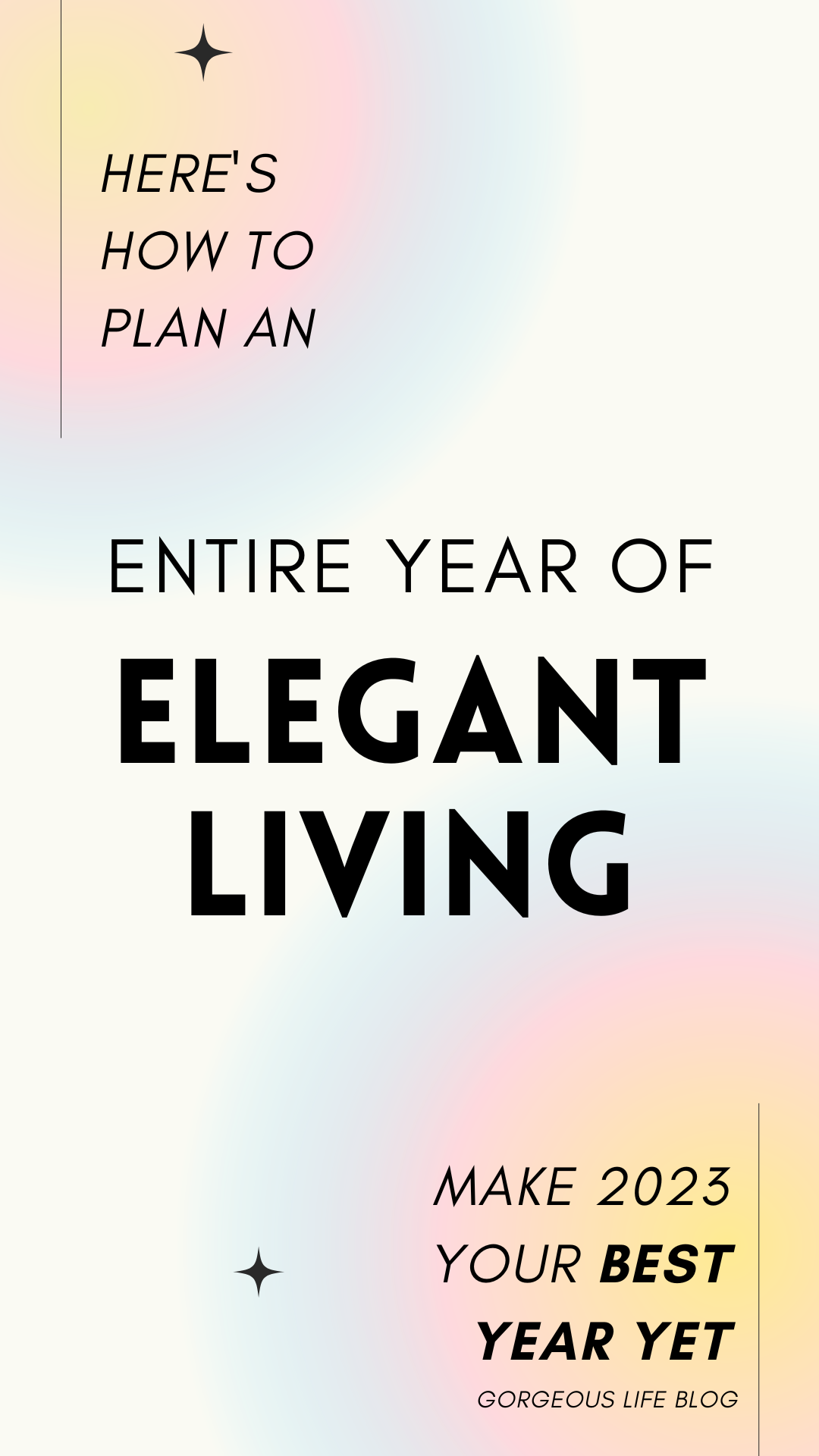 January
Start off the year right buy taking the Modern Elegance, Simplified course. If you want to live like an elegant woman, why not kick off the year with learning more about what makes a classy lady? I made this course perfect for beginners and is a great foundation for learning how to be a woman of elegance and grace
February
February is the month of love. It doesn't matter if you celebrate Valentine's day or not, but for the month of february, you should visit a fancy restaurant. A white tablecloth, suit and tie required restaurant.
I don't suggest going on Valentine's day because that is when restaurants will be extremely busy. I suggest going either at the beginning or the end of the month.
If you are unable to visit a high end restaurant because of the pandemic, I wrote this post on how to have a fancy dinner at home. I love putting in the extra effort to have an upscale dinner at home.
March
Spring is coming! Surely it's been a dark winter, and for March It's time to start putting together an elegant spring wardrobe. Add some pastel colors, some feminine prints, skirts and dresses to your outfit. Don't be afraid to step out of your comfort zone this spring!
April
Plant flowers. If you have a garden every year, you may have planted flowers in late march, if you haven't, visit your local nursery and find some flowers to plant. Being a plant mom has been really fun for me and it is the perfect activity for spring.
May
Start a new hobby. Hobbies are important for our mental well being and if you have a physical hobby, it is good for your physical health. Why not explore a passion you have always wanted to but haven't gotten around to?
June
Start a fitness journey. I suppose it might have been nice to start a fitness journey at the beginning of the year, but many people do that and they end up falling off shortly thereafter. Once you put on a swimsuit for the first time or start planning your beach vacation, it will give you motivation to work towards a killer body.
I've been on a fitness journey for a while and I've learned so much along the way. Here is a post about 15 easy ways to get started with fitness. This is exactly how I got started and I'm still doing my fitness routine after a year.
July
Host. Elegant women know their way around hosting. They know how to entertain people and create an environment that creates memories for everyone who attends the event. If entertaining a lot of people is intimidating. Start with entertaining just one of your friends for a small cookout or dinner party. Bonus points if you take advantage of the summer weather and have an elegant outdoor dinner.
August
Creating an elegant home. Fall is coming soon so it is time to start creating a more elegant space. Mamy people (myself included) struggle with purchasing furniture and calling it a day.
No art, no paint, no elegant touches. Maybe you are afraid to spend money on nice things because you don't want them to be broken.
Maybe you are like me and you are renting a house and you want to wait until you buy a horse to make your house more elegant. The time is now. Add some furniture, details, and décor that will make your home more elegant.
If needed, clean and declutter your home so you have a tidy space.
September
Study something new to boost intelligence. September is back to school! She not get a little education for yourself? Elegant women are intelligent and are always looking for ways to expand their knowledge.
I created a simple one year plan for boosting intelligence and I think you'll love it because it's something that anyone can do.
October
Prepare for the holidays. Learn how to do elegant gift wrapping, make a list of people you will be shopping for, start getting gift ideas, start planning and ordering your christmas cards.
Once October is over, November and December will fly by so it's important to get ahead on your holiday tasks so you do not feel rushed and overwhelmed during the holidays.
November
Express gratitude and put positive energy into the universe by giving back. Here in the U.S. November is the time to express your gratitude and be thankful for the blessings you have in your life. Make November all about slow living and
December
Enjoy the holidays with your friends and family. Elegant women appreciate the people they love, they know how to make holidays special, and they know not to run themselves into the ground.
Use this month to relax because you've done all of your planning in October. 
Have you unlocked all of the secrets of modern elegance yet?
Take your life to the next level by joining my signature course, Modern Elegance, Simplified.
Learn all the skills necessary to become the classiest woman in the room.
20+ Etiquette rules all elegant women should know.
How to dress like an elegant woman.
Elegant tips I've learned from the Royal Family.
How to command attention in a classy way.
How to be elegant in a toxic situation.
50 Ways to be elegant each day.
7 ways to boost your intelligence.
5 ways to be more sophisticated
Hobbies elegant women have
10 ways to look polished every day
How to be graceful like a Princess
…and more!