Hello and welcome back to my book club. I just finished an amazing book and I immediately grabbed my computer so I could write about it while it's fresh in my mind. The book in question is The Snow Child by Eowyn Ivey If you haven't read the book yet, don't worry. This review is spoiler free!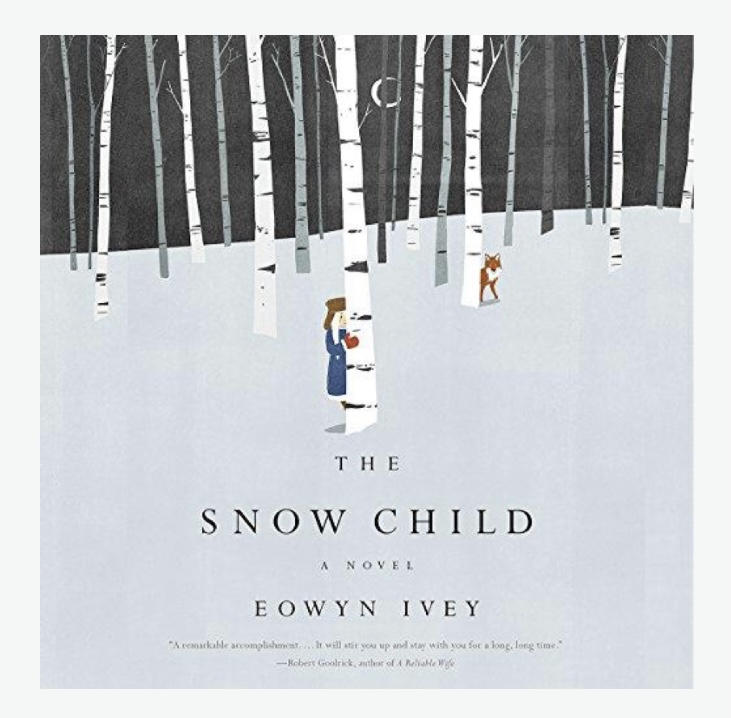 *This blog post may contain affiliate links*
Since it's the middle of December I wanted to read a book with a snowy, wintry setting and this book didn't disappoint. I absolutely loved The Snow Child. I loved the way I felt like I was actually in the story with them, I loved the setting, I loved the mystery, I loved the ending, I loved it all. So let me get into all the details.
What is The Snow Child about?
The Snow Child is about a middle aged (50 years or so) couple named Jack and Mable. For years when they were first married, they tried but were unable to have a baby. They moved to rural Alaska to a homestead to escape their family and start a new life together. The pressure and guilt of not having a baby was too much for them and they needed to get away.
One snowy afternoon, Jack and Mable made a snowman together. It was a snow child actually. They went home thinking of it.
But soon after they made the snow child, a real little girl appeared in the woods. The story follows their lives with her over many years.
What I loved about the book.
The setting.
The author did an incredible job of making me feel like I was in Alaska. The descriptions of the snowy nights in the woods, the cabin where they lived, the frigid temperatures. I've read quite a few books this year and I've never experienced them the way I experienced this book. That is the best way to describe this book. It was an experience. And because the Audible audiobook was about 10 hours long, I got lost in the atmosphere.
The mystery.
I loved that I never knew what was coming. I didn't watch any reviews on youtube before I read and I didn't read any deep descriptions of the book because I didn't want the slightest chance of ruining the experience.
Throughout the book I tried to predict what would happen and I just couldn't. There weren't any major plot twists to the story that surprised me, I just wasn't expecting it to go in the direction that it did. The little girl was very mysterious and maintained this level of mystery throughout the book. It kept me intrigued and guessin the entire time.
The magical vibes.
I felt a hint of magic in this book and that is what made the story so enjoyable to me. It truly felt like a winter fairytale and the little girl was a winter princess. I love any book that has a magical aspect to it and this one had just the right amount. It made the story seem real. Like this could happen to anyone at any time. Just a dash of magic sprinkled into everyday life.
The open ending.
I will not spoil this book for you, but I must say that the ending was beautifully done in my opinion. It was the first book to make me cry this year, just because the ending was so fascinating after such a long magical story. The ending was very much left to interpretation. It gives the reader the option to create their own theory and opinion on how the story ends even though there are some clear hints as to what really happens.
You will love this book if:
You are ok with reading something that is slow and has little action. It takes place on a homestead in rural Alaska. The only action that takes place in this story is when Jack has to hunt and kill animals for dinner.
You want a snowy setting for winter.
To be honest, I wish I had saved it for a snowy day. I live in Virginia, USA and the last time we got a lot of snow was about five years ago. Last year we didn't get much snow at all. But this book is perfect to read at home with a cup of hot chocolate or tea on a snowy day.
You like magic.
Like I mentioned before, it has just the right amount of magic. I loved it so much. I wasn't sure how I would feel going into it and I definitely wasn't expecting to cry! I think the author did an incredible job with the story and the setting. I will probably read this book again in the future.
Conclusion
The Snow Child was a book that took me by surprise this year. It was an amazing way to have a winter escape without leaving my home. It took me on a whimsical adventure while still keeping me on the edge of my seat. It's a book that I will have in my collection forever and I highly recommend you pick this up. It's the perfect winter read.