The book I chose for the month of May is a portal fantasy called The Ten Thousand Doors of January. The book was recommended to me on Audible, so I tried the sample and liked it enough to start reading.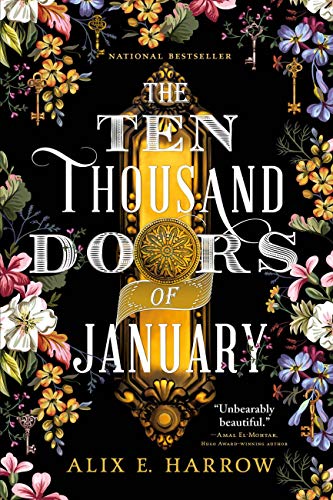 I went through the first few chapters and while I was intrigued, I wasn't having the experience that I was hoping for. If you missed my first ever book review, I mentioned that I like to get lost in a book.
I like to feel like I was transported to a different world. And if I can't get lost in a book, it's hard to keep reading it.
I gave up reading and thought it was just going to go on my DNF list (did not finish). But I kept searching for good books to read and The Ten Thousand Doors of January kept coming up.
Seeing all the reviews and recommendations made me start reading again, and I'm really glad that I did. After I finished the book, I realized that I really enjoyed it and it only makes me more hooked on portal fantasies.

What is The Ten Thousand Doors of January about?
The Ten Thousand Doors of January tells the story of a young girl named January Scaller. The story is set in the early 1900's, which I loved because history is totally my thing. Anyways, January lived with a wealthy man named Cornelius Locke.
Locke was a collector of ancient artifacts and his house was filled with them. January's father worked for Mr Locke, he traveled the world and collected all of the artifacts for him. So January spent most of her time without her father.
Mr Locke wasn't particularly nice to January and she had a little book that she read when she was younger and she realized that this book was actually a door to another world.
January realizes that there are many doors to other worlds and she also uncovers secrets about her family.
How I feel about The Ten Thousand Doors of January…
It was an incredibly well written book, and there were some awesome points in the story that made me think a little. I do feel like this book takes you on quite the adventure, but for some reason, I was not in love with it.
I wouldn't read it again is what I mean. It was a fantastic read, and I can understand why so many people really like it, but for me, I much preferred the reading The Dreamers.
Do I recommend The Ten Thousand Doors of January?
Aboslutely yes. As I stated before, It was an incredible story, especially if you love the idea of parallel universes like myself.