Hi and welcome to my blog! My name is Victoria and I'm so glad you're spending time with me today. Be sure to get to know me better before you leave, and don't forget to follow me on Twitter and Facebook. I love connecting with my readers.
*this post may contain affiliate links
I've been blogging for a couple of years now and one thing I've learned is that Blogging takes a lot more work than you might think. Creating a content plan for my blog has made my blogging journey a million times easier. No more worrying what to post, and not posting because of overwhelm. Everything is already pre-planned and ready to go.
If you are a blogger or influencer then you probably know by now that having awesome content is super important for your overall brand. Your main goal as a blogger is to create high quality and binge worthy content that will keep your audience coming back.
Choosing the perfect planner for your content.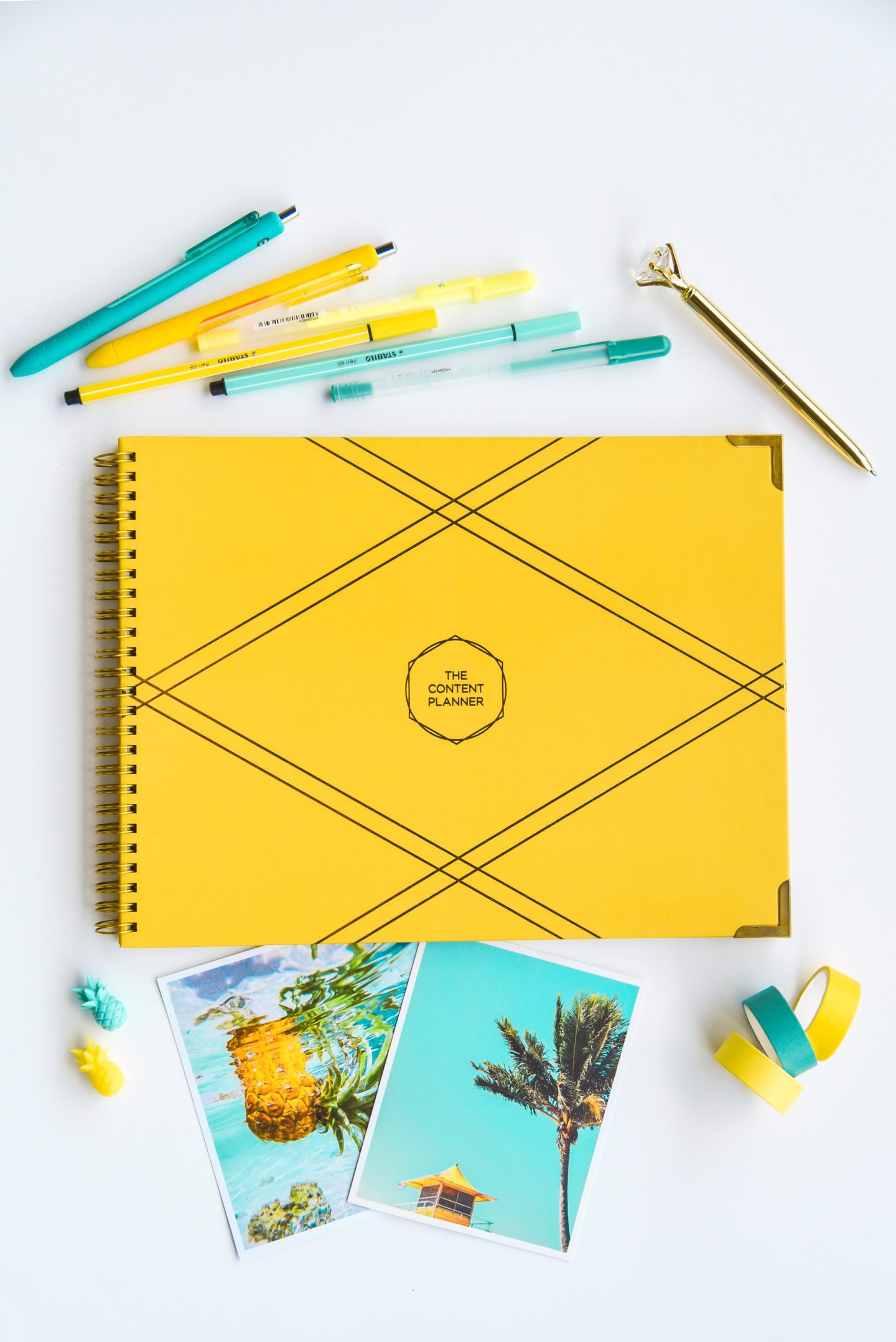 The best tool you can use for planning your content is The Content Planner. It is an amazing tool created by Instagram boss babe Kat Gaskin I have been using Kat's dreamy images for my feed for a long time, and in 2016 she launched the absolute perfect planner for bloggers and influencers who need to get a handle on all of their content.
What makes The Content Planner so special is that unlike any other planner, it is designed specifically for content.
It's fillable, so you can start the planner whenever you want (seriously brilliant)
It has space for goal setting (super important)
It has plenty of space to write out all of you content plans
It comes with social media stickers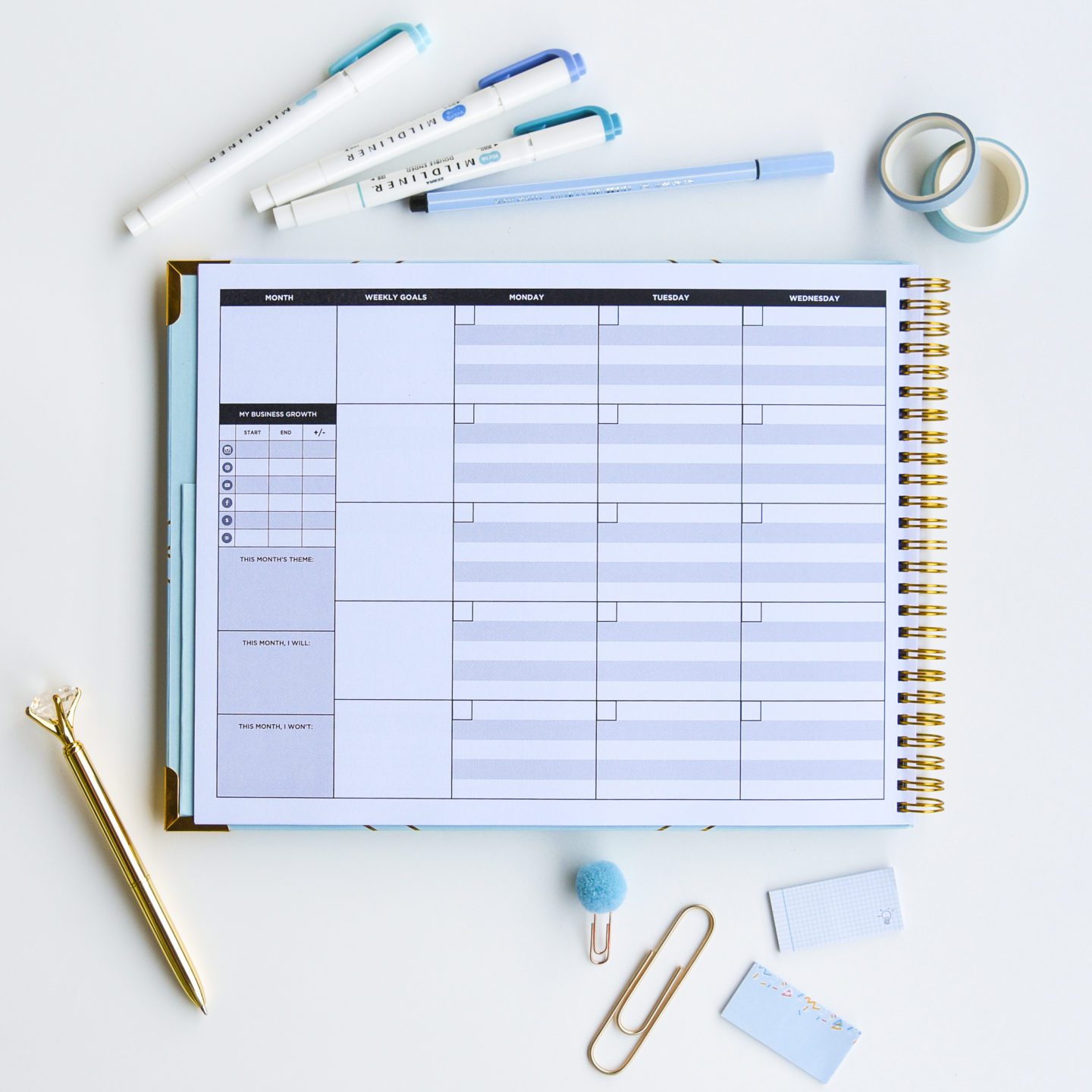 If you are serious about creating a profitable blog or becoming an influencer as your full time job, The Content Planner is one of the most important investments you can make!
Other options for content planning
If you aren't quite ready to splurge on The Content Planner, you can buy a planner at office stores and at my favorite place in the world…Target! It's important to find a planner that fits your needs so take a look at all of them before you make a decision.
If you don't want to purchase a planner at all, you can find free printable calendars on Pinterest. I used these for a while when I didn't know that actual content planning was a thing. I love looking back at them and seeing all the progress I've made over the years.
If you prefer to use a digital calendar, that is awesome too. Google Calendar is free and easy to use and there are probable some awesome paid calendars out there that make it really easy to plan your content digitally. At the end of the day it all comes down to what your style is.
Creating your Editorial Calendar
Every major publication has an editorial calendar. An editorial calendar is a guideline that breaks down the main focus for each month of publication. An editorial calendar is planned around major holidays, seasons, and huge social events. This gives you an awesome outline to start with and all you have to do is fill in the blanks
January: New Year- Goals, Intentions, etc.
February: Valentine's Day
March & April: All things Spring
May: Memorial Day and Kicking off Summer
June: Summer fashion, swimwear, pool parties
July: 4th of July, summer content
August & September: Fall content
October: Halloween
November: Thanksgiving
December: Christmas
Of course you don't have to follow the holiday content plan. You can create your own themes for each month that are more appropriate for your niche. Once you have an editorial calendar it will be so easy to create content around these subjects.
Hashtag Holidays
Hashtag Holidays are holidays that are celebrated on social media. It seems like there is a new one popping up every day, and it can really help your content plan if you know about these ahead of time, that way you can create content around these hashtags and share them with your audience. Here is a link to a complete list of Hashtag Holidays for 2020
Plan around product launches to maximize revenue
If you plan on monetizing your blog, creating and selling your own products are definitely the way to go. An awesome way to ramp up interest for your product is to do some content marketing to get your readers excited for what's to come.
Are you releasing an e-book? A new premium e-course? Are you releasing new products into your store?
You need to create juicy new blog posts that will give your audience detailed information about the products that are dropping soon. Research says that on average, a customer needs to be exposed to your product 7 times before they buy from you. Creating high quality content helps build trust with your readers and is a major key to financial success through blogging.
Creating the content
Once you have a general content plan figured out it's time to create the content! Honestly, by the time you write a post, take the images, do proper SEO, and create graphics for various social platforms, it can take a really long time. So I have a few tips to help speed up the process.
Plan your photo shoots out and batch shoot your photo content. This means that you set aside a whole day to do nothing but take and edit the photos that you are going to use all month. This way you aren't scrambling for photos last minute.
Plan out your social content in advance so it is ready to go when your blog posts go live.
Set a time for one hour at a time and work on your blog for the whole hour. Take a little break and do it all over again until your work is all done.
I like to have my favorite tv show or podcast playing while I write my blog posts. It keeps me entertained while I am working on my blog and helps the time pass quickly.
This is the strategy that I am using to create killer content and keep my blog super organised. This has taken so much stress off my back and allowed me to treat my blog like a job.