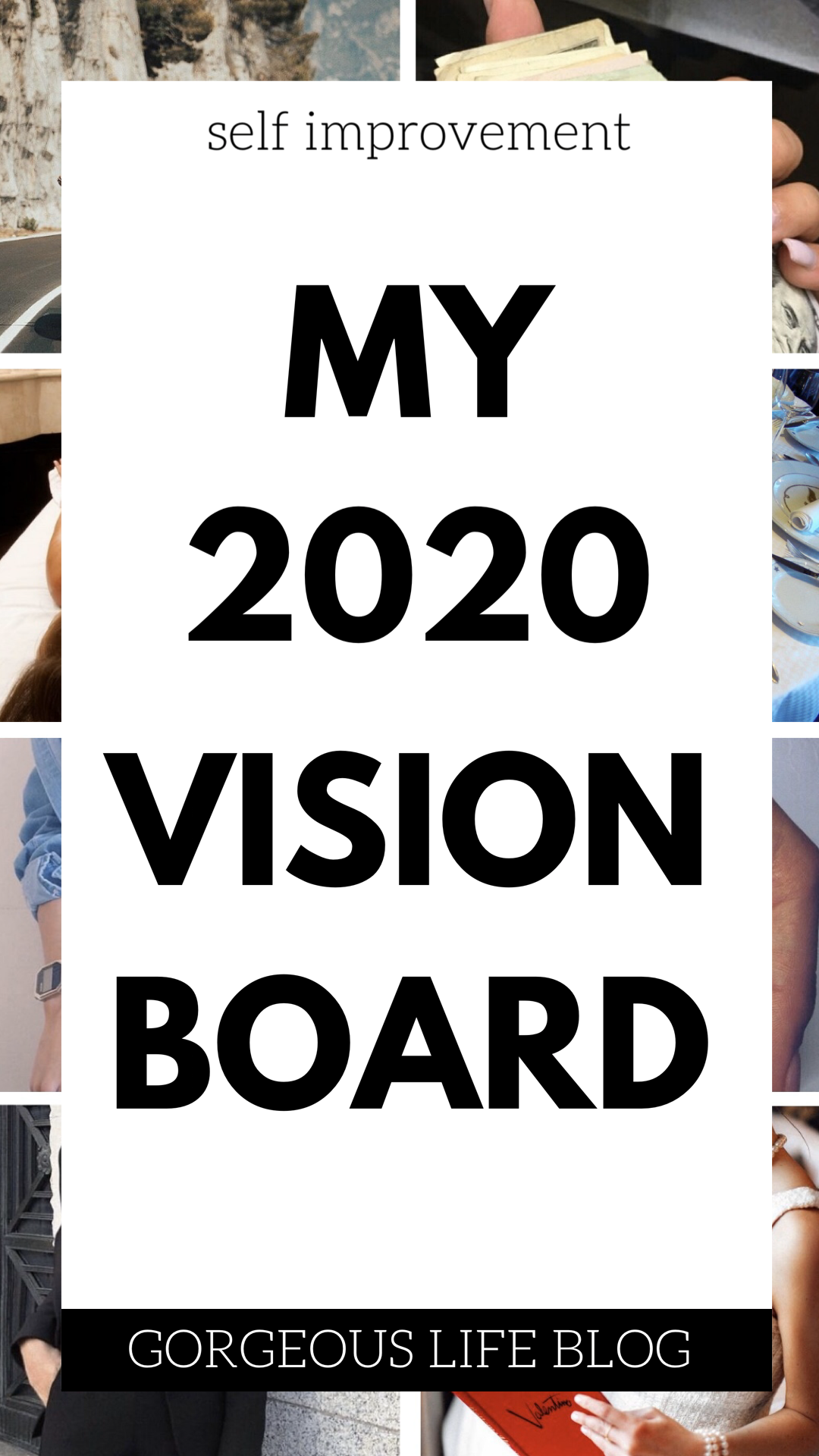 I swear by vision boards. I created my first vision board at the end of 2017 and seriously it was an absolute game changer for me. I have always been excellent at writing my goals down and making sure that I reach them but I really loved the visual aspect of vision boards. I love having something to look at when I am reviewing my goals and creating a plan for them. I have an entire post on how to make a vision board, so I highly recommend that you grab a snack and check it out after reading this post.

It took me a couple of days to create this years vision board. I wasn't sure if I was going to do a mix of long term and short term goals or what. I think that is the hardest part for me. Because I like to think in the near future and the far future. Anyway, I decided to do a one year vision board like I did last year. When I come around to it I might make a 5 year vision board.

2019 was a major year for us. We accomplished so many things.
brought our credit score up 200+ points
paid off our debt
became financially stable
started house shopping
got a credit card with miles rewards so we can start traveling
I can't begin to explain how proud I am of all the things that we accomplished in 2019. We are doing better now than ever and it is an incredible feeling knowing that we were able to accomplish everything we wanted to do. We are currently house shopping and should be buying a house in 2020 is all goes well.
Well are you ready to see what I put on my vision board for 2020?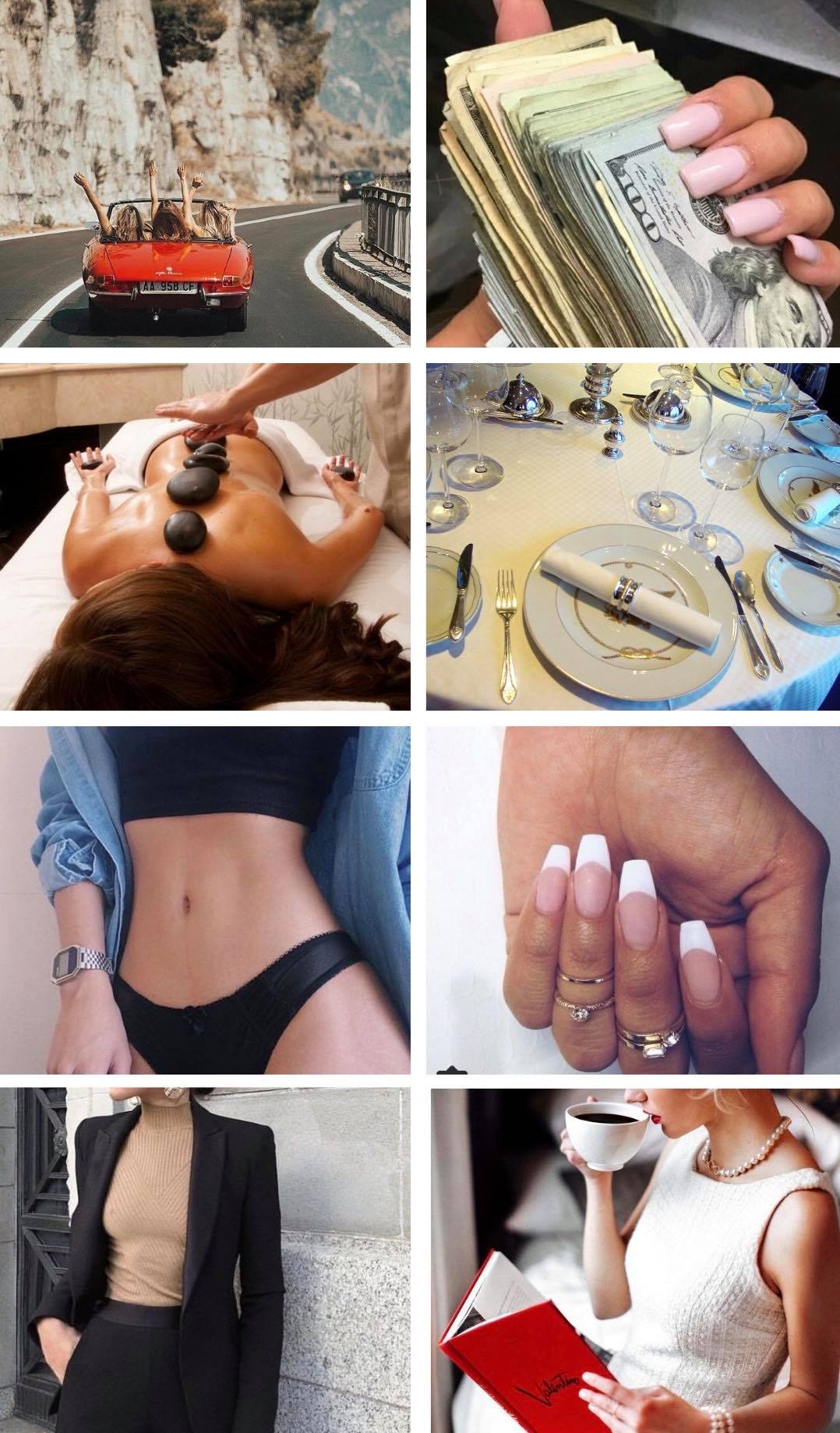 2020 is all about ME
If you couldn't tell from the images, I am basically making 2020 all about me. You see, I've never really done that before. I had my kids when I was 19 and 22 and ever since then, for the past 10 years every single day has been all about them. I think that's what most moms do when they have kids, they kind of put themselves last and if i'm being honest it's a pretty darn toxic thing to do.
Road trips
I absolutely love traveling. It is so important that I get out of my comfort zone once in a while and experience new places and things. I haven't done much traveling in the past decade, mostly because of financial reasons. And I've never been out of the country before so it's pretty fair to say that I am not an experience traveler. But all of that will change in 2020.
Just a couple weeks ago, my mom and I took my kids on our first road trip in my new car. We went to New York City for the day and it was the craziest thing ever. Looking back, I can't believe that we woke up, got in the car, and drove to NYC that's just wild to me. It really got me excited for all the road trips we are going to take next year. If you aren't able to travel internationally yet, I really think you should consider daycations. They are fun and not expensive as full on vacations.
MONEY
Like I mentioned before, this year my husband and I were able to have a nice chunk of money in our savings account and it feels so good to actually have money. We used to be so broke that we could barely pay the bills, but with hard work, discipline, and a good financial strategy we finally became financially stable. I want more money in 2020. I want to keep our savings account growing. I think that is something that we all deserve.
TOP NOTCH SELF CARE
A hot stone massage… I have never had a massage in my life. In fact, I only get my nails done once or twice per year. This year I haven't had them done at all. I don't get my hair done aside from regular trims. I don't do any kind of professional self care. I've never had a facial or anything of that nature. But that is all going to stop. I'm so done with putting self care on the back of the list and never doing it. I will be getting the best self care that I can in 2020
Massages
Facials
Laser hair removal
Mani/pedis
Float pods
If you are like me and don't prioritize your self care, let's do it together. Tweet me if you do a professional treatment like this! I'd love to hear that I've encouraged someone to take the best care of themselves.
GOOD FOOD
I love eating at restaurants and my kids do too. Over the years we have started to eat out more as a family and I honestly love it. I don't think I'm a bad cook or anything but eating out is just so much fun. I plan on eating out with my family a couple of times a month which is a big deal for us because when we were in the money saving stage of out lives we didn't eat out at all.
FITNESS
For my entire life I have never had a problem with my weight. In fact after I had children I had trouble keeping weight on while most people have trouble keeping weight off. All of that changed when I quit my job to become a stay at home mom. I guess I didn't realize how many calories I was burning when I was working as a nanny because it's been a year since I quit my job and I've gained like 25 pounds.
I don't mind the weight at all. I love it. I just want my stomach to stay flat and I want to tone everything so I've started a fitness journey and I plan to stick to it and intensify my workouts in 2020
Classy wardrobe
My wardrobe needs major help. I'm waiting for black Friday to go shopping, but I want to start dressing classier in 2020. No more jeans and t-shirts. I want to wear skirts, dresses, heels, and suits. I know I'll look so much better and I'll feel more confident as well.
Elegance
I want to be more elegant in 2020. I have written a couple posts on this topic recently because I personally believe that elegance and class will never go out of style. I'm studying etiquette, how to look polished at all times and just how to be a classier woman. I want to ditch some of my not so classy habits (like swearing) and replace them with better ones.
Elegance and class will never go out of style. -Victoria Coburn
Click To Tweet
Overall I want to become a better me in 2020. Life is so short and I don't ever want to have any regrets. It's so important that I focus on me. I know it's going to be an amazing year.
So tell me…What's on your vision board? Leave a comment below or tweet me @gorgeouslifeeee