Hi I'm Victoria! If you are new here, I run the Modern Elegance, Simplified course where I teach women just like you how to create a life of elegance and happiness.
Starting a new chapter in life is one of my favorite things to do. I love to reinvent myself and start fresh in my different stages in life.
It's so important to me to constantly evolve as a person and become better than I was yesterday
🥰Currently Listening…
A lot of people prefer to start a new chapter when New Years comes around. This is a great time to make life changes, but sometimes it can be overwhelming and it becomes easy to fall off of your routines.
You can start a new chapter in your life anytime you want.
Whenever you feel like you've outgrown your current chapter of life, it's time to write a new one.
I like to start fresh whenever I feel the need to. It could be after a life event like when I got married. It could be after I get through a rough patch in life or when I feel as though my life is stagnant.
Most of the time I start every New Years.
Over time I've done a really good job at starting new chapters and I have some awesome tips to share with you if you are looking for a fresh start.
I've learned how to make myself feel like a different person because I've created a new version of myself to go along with a new start. 
The best time for new beginnings is now
Click To Tweet
Is it time to start a new chapter?
First you have to figure out when to start a new chapter in life. If you aren't doing it on New Years like everyone else, usually big life events trigger the need for a fresh start.
Graduating
New job
Marriage
Having a baby
Moving
Birthday
Once you've selected the trigger for the new chapter, it's time to create a new you. You know how sometimes women will cut their hair after a bad breakup? Think of that, but there are many other ways to do this as well.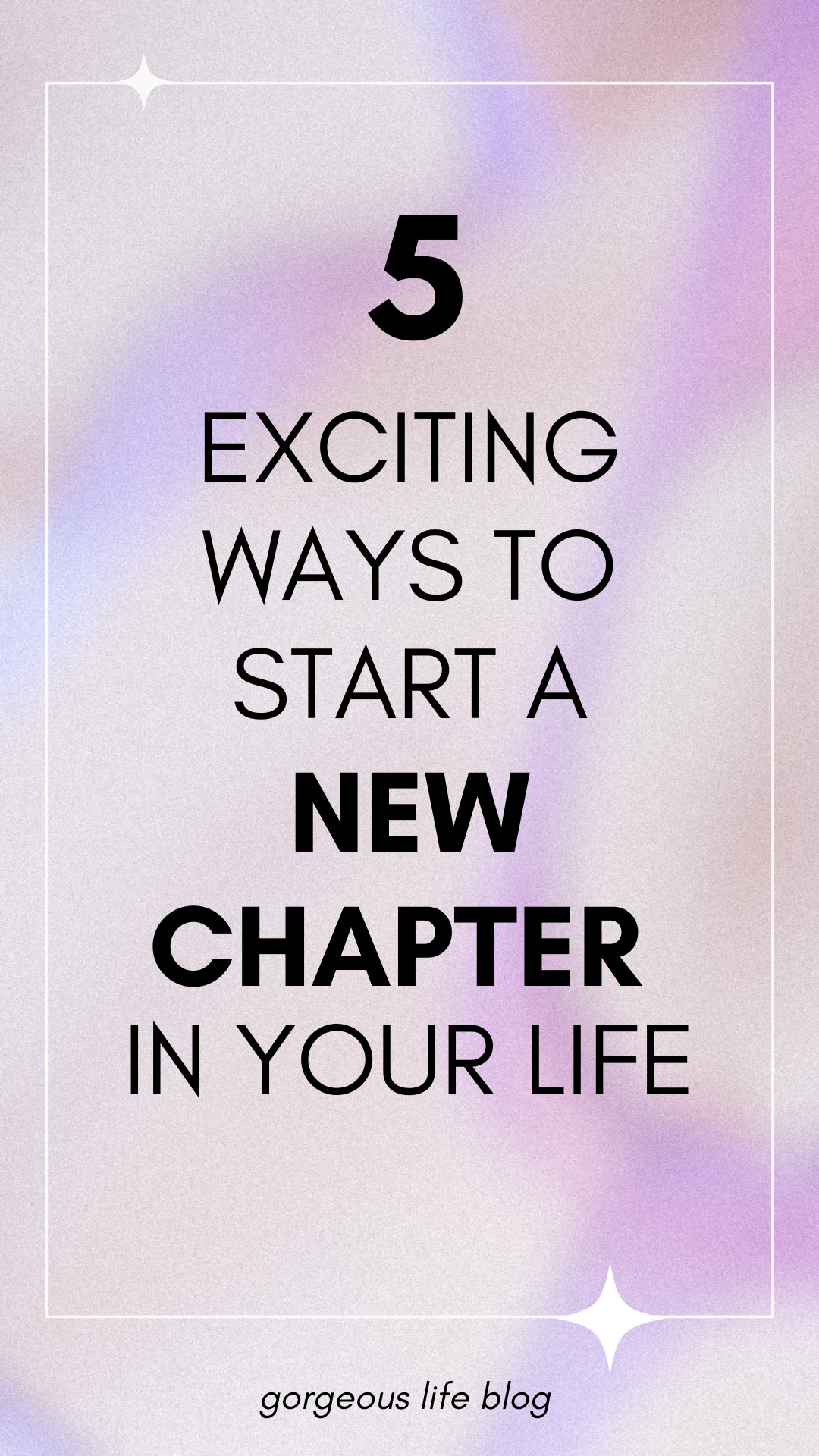 1.Update your identity
This is a very serious and potentially time consuming step. But for some people who are coming out of dark times and want to shed parts of themselves, it can be very healing. It was very healing for me.
I'm talking about getting a new Drivers License and/or passport photo.
Once upon a time I had to update my drivers license unexpectedly. I didn't have any makeup on, my hair was a mess, and I was already having a terrible day.
Needless to say, my drivers license turned out awful. It was a terrible representation of me and I absolutely hated showing it.
I knew I had to change it but I didn't want to take the time to go to DMV and wait to get it done.
Finally, after I got married and changed my name I went and updated my license. I was so happy to take on my new identity. My hair and makeup looked fantastic and the license photo turned out amazing. I'm not embarrassed by it anymore and it represented me starting a new chapter of life.
This step might not be necessary for you and that's okay. But it really helped me move on from the darker part of my life.
Once you create a new identity for you, no matter how you go about doing that, you must start acting like the new person that you want to be. It is important to make behavioral changes and mindset changes in your life. You can't change your life in large ways unless you make little changes along the way.
2.Update your digital life for a new chapter
I've said this dozens of times, but our social life is simple an extension of our real life. Most people have accounts on YouTube, Instagram, Twitter, Tik Tok, Facebook, Snapchat, and more.
With all those platforms, I can guarantee you that it's time to clean them out. You want your social platforms to reflect this new chapter of your life.
Here are several ways to update your digital life
Unfollow people and accounts that no longer serve you.
Unfollow people who ghost follow you.
Remove old, unflattering photos that do not reflect this new chapter.
Remove any old posts or tweets that do not reflect this new chapter.
Update your profile photo.
Update your bios across all platforms.
Unsubscribe from YouTube channels that aren't good for you.
3.Create a theme for this new chapter
A really easy way to start a new chapter of life and stay on track with it is to create a theme for the new chapter. Just like the chapter of a book.
You can call this chapter whatever you like, but my chapter for the year 2023 is called peace. Every decision I make for my life during this chapter must align with peace.
If it's not bringing me peace and a sense of calm, I'm not interested.
Themes help you stay on track and give you some type of structure for this new chapter of life.
4. Take the life of your dreams course
I created Life of your Dreams after I finally figured out the exact system for a total life transformation. This Ultra-affordable course delivers tons of value and will walk you through planning a new chapter of your life.
Your $10 portal to a happy and fulfilling life plan
Here's what the course covers…
An easy, step-by-step system for creating a brand new life from zero
18 Modules strategically designed to walk you through the journey of creating a new life
Printable workbook so you can complete the action steps
Lifetime access
All for just $10!
5.Create new routines
Are your routines holding you back from optimizing your life? Do you even have any routines at all?
Creating a new chapter of life means you can do anything you want! Do you want to get fit? Do you want to travel more? Connect with your friends?
You can do it all! You just have to create habits and routines that support those goals.
Here are a few ideas for habits and routines
Create a morning routine
Start a fitness journey
Start traveling
Remove toxic habits
Do a mental cleanse
Explore your passions
Connect with friends
Final thoughts
Remember there is always time to start a new chapter in life. We are allowed to evolve as people and I think that is such a beautiful thing. These are the exact things that I do when I'm formally starting a new chapter in my life and I want to help others do the exact same thing.