My husband and I are house shopping for the first time!
As it turns out, I am not excited at all. Because house shopping is HARD! We've only seen 4 properties so far and since Fall is coming, the market is slowing down and there are less options each day.
But I feel like I've learned so much from the 4 we have seen and I want to give you the details.
If you want to listen to this post, just click the play button below and I'll talk to you 🙂
[ Connect with me!
Twitter
/
Instagram
]
House #1
The first house was a new construction. I really want a new construction house. For some reason, unless it is a super old house that is a historic landmark, I want a brand new house. I don't want a house that has been lived in. I just don't. I'm totally willing to get one if I come across the perfect home but my idea of a perfect home is a brand new one.
It had the new house smell, and it was amazing.
The kitchen was beautiful. A square kitchen, and it was white with silver appliances, just like I wanted.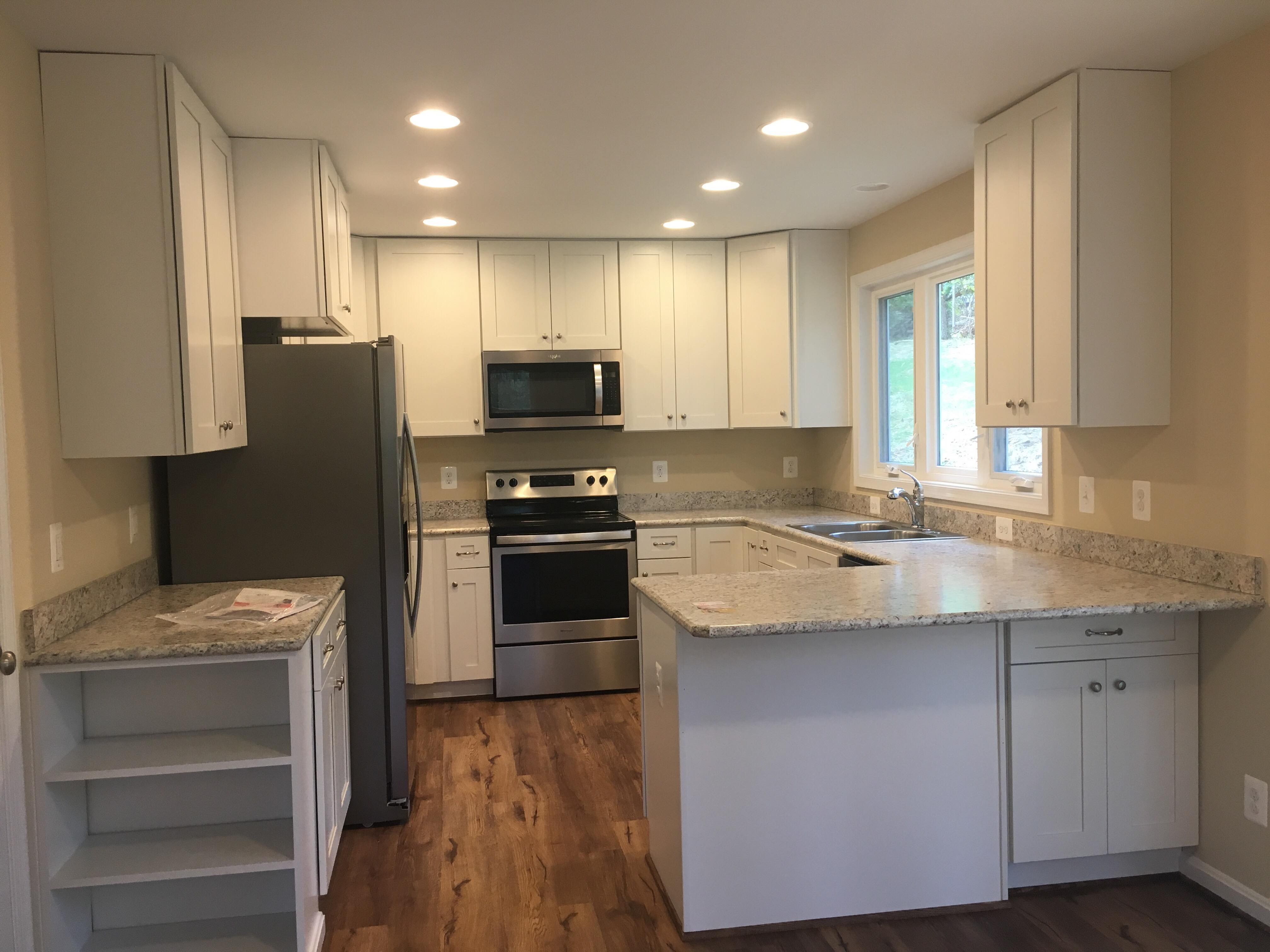 AND there was a huge pantry which is my dream.
The master bath was honestly divine. It had a gorgeous soaking tub, toilet, and shower all separated and there was so much room in there.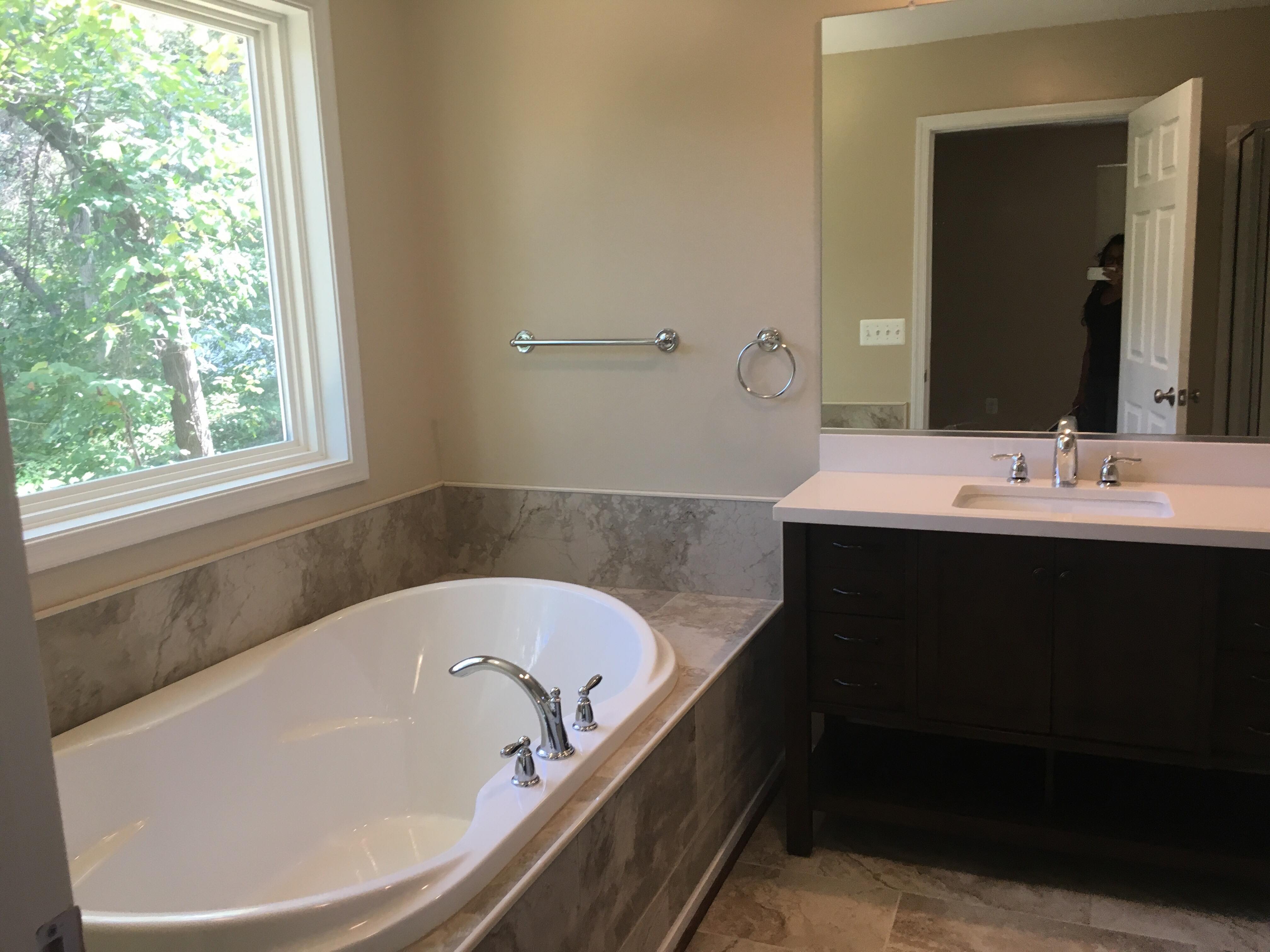 House shopping is hard AF...I'm spilling all the tea
Click To Tweet
The problem with this house, even though the kitchen and bathrooms were awesome is that there wasn't any space to put a kitchen table.
I don't know who planned this house exactly but the kitchen and living room space was very poorly planned and being that we are a family that likes to have dinner together every day of the week and 3 meals together on the average weekend, a place to put a kitchen table is kind of important to us. So this house was a no.
House #2
I don't have any pictures of house number 2 because it was a hot ass mess.
Let me explain.
This house was in a super cute, clean neighborhood only 4 minutes from where we live now. It would be perfect for my husband to commute to work and wouldn't be too much of an adjustment because it is so close to where we currently are.
The house itself wasn't bad. The problem was that whoever owned the house before didn't take care of it at all!
You could tell that they were cigarette smokers because the house had all of the odor absorbing things all over it and in certain parts of the home you could really smell cigarette smoke.
The walls were all re-painted which was nice and there appeared to be new carpet in all of the upstairs which was kind of a red flag to us.
First of all, if you are someone who smokes cigarettes religiously in your home, then carpet is a terrible idea because it holds in the smell.
Second of all, sometimes when there are serious issues with flooring in a home and someone doesn't have the money to correct the root of the problem, they will cover it up with carpet and pretend like nothing was ever wrong.
And we had no idea if these people had done that, but judging on the condition of the home, it wasn't very far fetched.
The basement window was cracked, the back deck was falling apart, there was like…spray paint graffiti on the walls that had been painted over but they didn't do enough coats of paint so we could still clearly see what was there.
The kitchen was old and outdated. There was new wood flooring put in the dining room but whoever did the job cut some of the wood too short for the room so there were small gaps between the wood and the wall…just awful
There was a huge crack in the concrete floor of the garage…just not worth the money, and not worth taking photos either. Moving on.
House #3
There isn't enough sage in the world for this house. I seriously don't know who lived here before or what went down in this house over the years but aside from a weird smell that I couldn't explain, the house had very bad energy.
We liked the layout of the upstairs. The master bedroom was on the opposite side of the house as the other bedrooms which we liked.
The living room was really big and spacious, plenty of room for me to add a coffee table (which I've always wanted but never had)
The kitchen was nice, but the owner had just re-painted the cabinets and did a really sloppy job. Looked rushed and just bad.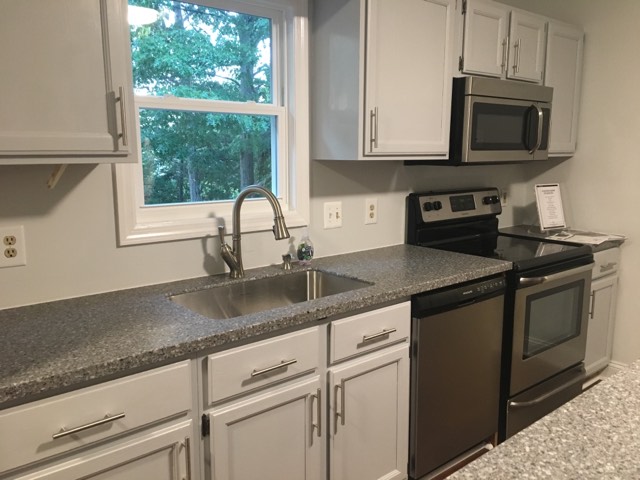 The bathrooms were weird. The owner took the time to replace the sinks but the bathtubs were old and yellow and it just didn't go with the rest of the updated stuff.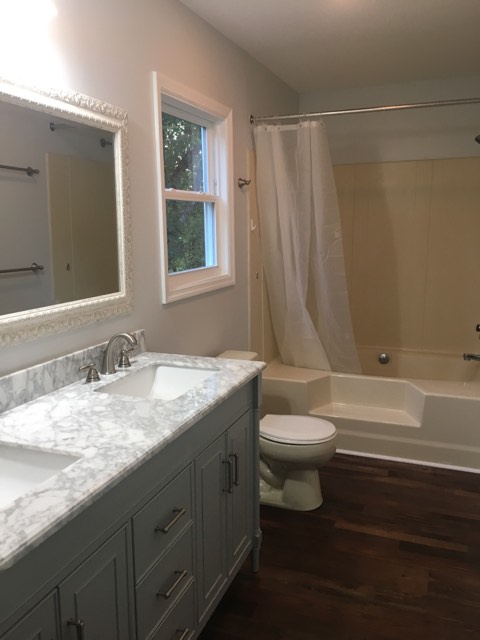 The downstairs was just awful. Old, outdated, awkward floor plans. The smell was bad. This house was just a no.
House #4
This house we liked more than the others, but still the floor plan wouldn't work for us.
It was a cute ranch style home in a neighborhood about 5 minutes from our house. Had a 2 car garage, big living room, nice real wood floors, it honestly wasn't bad.
I didn't take many pictures of this house because someone was still living there and some of their things were still in the home so I just wanted to respect that.
I did take a photo of the bathroom which was super old and outdated and really didn't go with the rest of the house.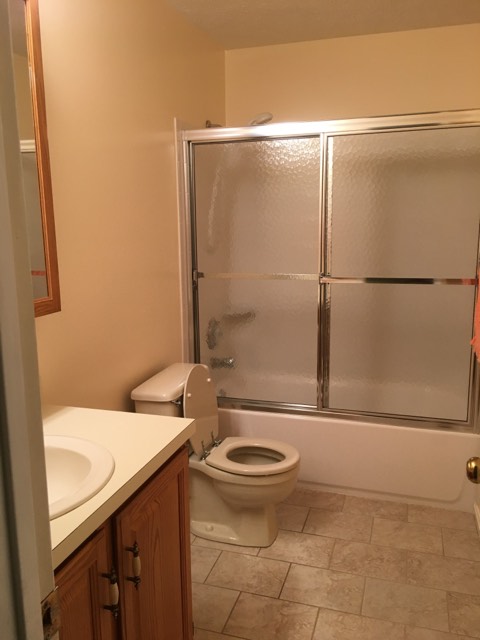 Because the house was nice. Def someplace that I would be happy living if the floor plan was just a little bit better for me.
Final thoughts
House shopping is definitely harder than I thought it would be. The photos on Zillow are strategic to show the strong points of the home, but when you actually see the home, you see flaws that were not shown on zillow.
I think it is going to take a long time for us to find the right home because we have to find a floor plan that suits all of us.
Another problem with me wanting a new construction home is because many of these builders are building cookie cutter houses. Every home looks the same and has the same floor plan.
I've seen so many houses that are brand new and cute, but have the same floor plan as the first house that we saw and it just won't work for is.
With houses that aren't band new, we have more variety when it comes to the floor plan.
This is a crazy experience and I love sharing it with you because I know that I look for this kind of stuff now that I am in this stage of the journey.
Stay tuned because I will be sharing more homes as we see them and I will keep you updated when we do find a house and I'll cover the actual purchase of the home and closing on it as well. When that time comes. 🙂