Hello Gorgeous!
My name is Victoria and I'm, so incredibly happy you are here with me today. If you are new to my blog, I run the Modern Elegance, Simplified course. I teach women how to cultivate an elegant and classy lifestyle. Today, I'm sharing 5 Secret skills that every classy woman should master.
These are skills that I believe have fallen off the radar. Some skills were never on the radar which is a shame. I believe that a classy lady has many secret weapons at her disposal and today I'm sharing a few.
1.Classy women should master etiquette & elegant living
Before you roll your eyes and say this isn't a secret skill…think again. Sorry not sorry but people don't practice good etiquette anymore. It has truly become an thing of the past.
Not only can you absolutely charm people with flawless etiquette, but you are taking yourself to the next level as a person. You are setting a high standard for yourself, how you are perceived, and how others around you should treat you.
Since I was young I have always been so intrigued by royal families and the strict etiquette rules that they follow. I assume that the movie 'The Princess Diaries' had something to do with that.
I love how feminine, graceful, and polite the royal women are.
While we don't have to take it to such extremes, I think that elegant women should be able to conduct her self with elegance and class in every day situations.
Additionally, one thing we have now days that we need to master etiquette for is the internet. I always tell my clients that we live two lives. Our real lives, and the lives we have online. These days, it's important to learn how to conduct yourself in a high value way in both of those lives.
I have a course on elegance and class. It's called Modern Elegance, Simplified and if you are looking to polish up your personality, definitely check it out.
Here's what you will learn inside the course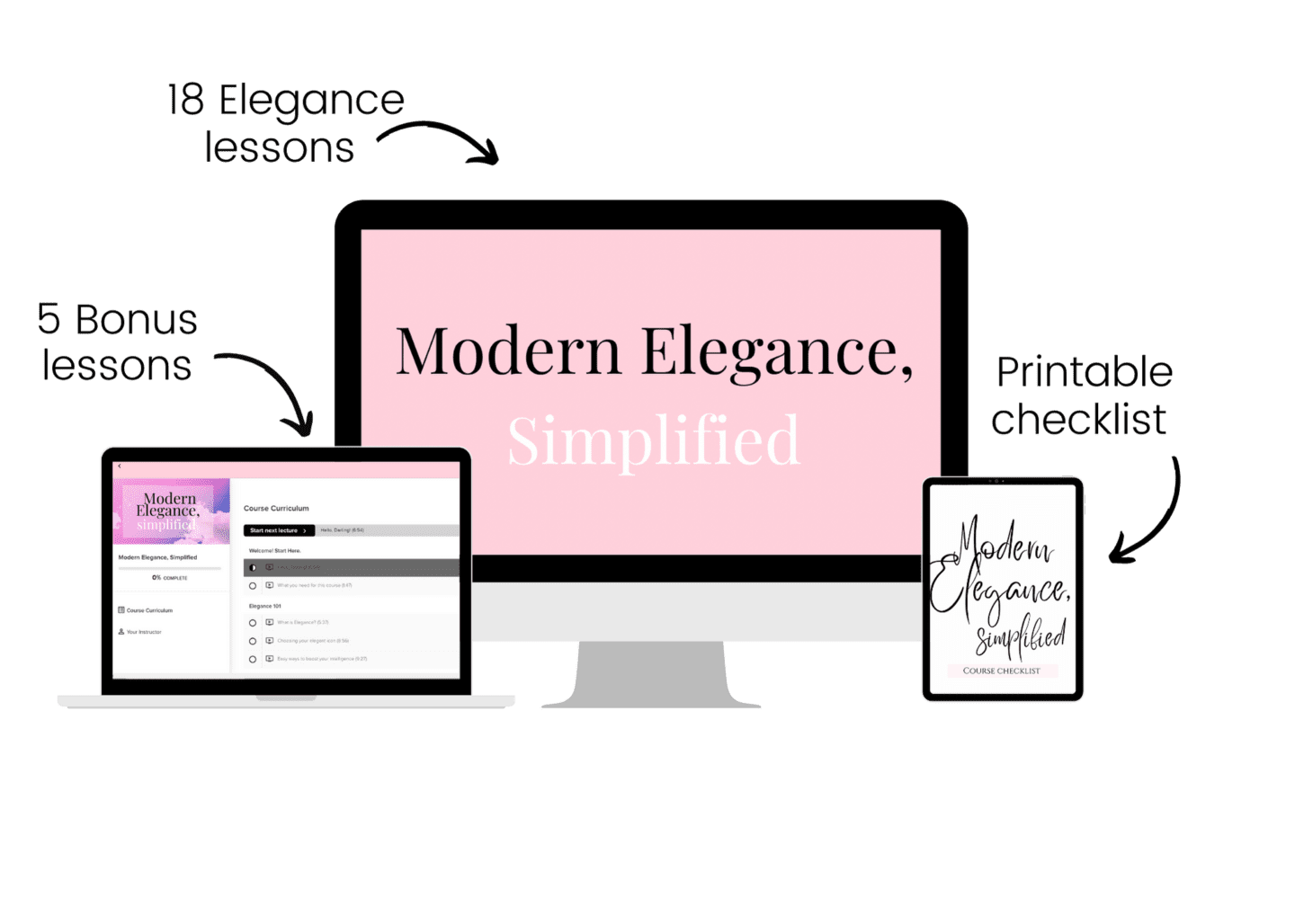 20+ Etiquette rules all elegant women should know.
How to dress like an elegant woman.
Elegant tips I've learned from the Royal Family.
How to command attention in a classy way.
H x ow to be elegant in a toxic situation.
50 Ways to be elegant each day.
7 ways to boost your intelligence.
5 ways to be more sophisticated
Hobbies elegant women have
10 ways to look polished every day
How to be graceful like a Princess
…and more!
---
Related post: The ultimate beginners guide to modern elegance
---
2.Classy women should master the art of manipulating people subconsciously with just the color of her clothing.
It's no secret that colors have a very powerful effect on our mood. I have been a huge fan of the psychology of color and how it is used in branding every single day to subconsciously manipulate our minds.
One thing I realized is that we can use this to our advantage by dressing according to how we want to make people feel while in our presence.
Picture this: You are going to a hot party. You want to stand out from the other women at the party, you want to exude confidence and power. What color dress would you wear?
If you said Red, you are totally right! Red is a power color. It demands attention, increases heart rate, It is bold and confident. It's the perfect color for standing out at a party.
Take some time to do some research about color psychology the next time you are planning an outfit for an occasion. I promise it is like a secret weapon that every classy lady needs in her arsenal.
3.Classy women should be financially educated.
When I started living on my own I didn't know anything about finance or credit scores. Because of this, I suffered in my early 20's.
Between the Youtube, books and podcasts I was able to transform my financial situation in only one year. I spend a couple of months soaking up all of the finance information I could get my hands on, and it really paid off.
4.Getting ready in 20 minutes or less.
The older we get, the busier we get. Successful women need to be able to get ready for an event and make themselves look like it took them an hour to get ready.
We all have those moments when we sleep in, forget about an obligation or have an over booked schedule and it's important to be able to make yourself look like a queen in a quick second.
To help me with this, I've created a capsule wardrobe to make choosing outfits much easier.
I teach my clients all about how to curate an elegant wardrobe in my elegance course.
I also have my makeup routine down to a science and I can create a cute day look and some basic evening looks in just 10 minutes or less. This has helped me so much because I don't like taking a long time to get ready
5.Multi tasking and time management.
Successful women often have a lot on their plate. Whether it is in business, home life, both, etc, there are always things that need to be done. I personally have learned that It's hard juggling everything that life throws at you.
The best way to do this is to have a strategy and a plan for everything. Stay organized. Use a calendar, a planner, anything and everything you need to do to stay on top of your obligations.
6.Classy women should master the art of homemaking
Keeping a home is one of the most important skills you can master. Your home is your safe space, your sanctuary from the chaos of the outside world.
It's very important to know how to keep your home clean, beautiful, and filled with positive energy. Homemaking takes time to learn, and it is best to create a routine for housekeeping. Cooking comes with time as well.
Trying new recipes one by one, and over time you will have a nice collection of dishes you can prepare without hesitation.
7. Communication skills
Every classy woman must learn how to communicate. Not just with friends and family, but to speak with grace to everyone she encounters, even if the encounter isn't pleasant.
Some people find it difficult to communicate their feeling to others while some overshare and talk too much.
When it comes to communication it's all about balance.
Final thoughts
These secret skills are perhaps not so secret but are often not taught to young women like myself. Often times they face struggles and hardships before they learn they need to master these skills.
If I had a list of these skills in my early 20's my life would've been completely different so I feel like I must share these tip with you.