Hello, Gorgeous! Welcome back to my Elegance series. I'm so happy that you are spending time with me today. If you are new here, my name is Victoria and I'm all about teaching women how to become classy and elegant.
I run the Billion Dollar Woman course, which is basically an elegance and class made easy course. It's a must have if you are looking for a little bit of self improvement!
I am currently on my own journey to becoming the highest possible version of myself, and I want to be classier and more elegant in my everyday life. I have a couple more post in my Elegance Series that you might want to check out!
Goddesses…
I have had such a fascination with them over the years. I read about them in books, see them in movies, and people worshiped them throughout history.
As I'm getting older (almost 30) I'm starting to realize that goddesses aren't otherworldly creatures that we can't ever be. I've learned so much about life in the past 2 years that my mind isn't as limited anymore and I truly believe that I am a goddess within.
Goddesses have this…aura about them that makes them so desirable to me. They are strong, powerful, wise, beautiful, confident, feminine, confident, and everything else in between.
With each day that passes, I desire to become classier and more elegant. I also want my two daughters to learn this early on.
Keep your standards high.
I can not stress this enough. No matter what you do in life, you need to keep standards high for yourself and don't accept anything less.
I have always been good with this and it is one thing that I love about myself. I live my life a certain way. I had standards for my job (I would only accept a specific income).
I have standards for the people I associate myself with and my kids with. I have standards on the area which I live. I have standards for myself.
I wake up in the morning aspiring to be the absolute best woman, wife, and mother that I can possibly be.
Be confident in your beauty- inside and out.
One thing we can all agree on is that goddesses are beautiful. And no matter what you look like, you need to understand how beautiful you are and don't let anyone else make you feel less than.
I know of so many people who are insecure about they way they look and I just want to give each one of them a hug and let them know that they are beautiful in every way.
Outer beauty is great, but inner beauty is more important. A classy, elegant woman is kind, polite, helpful and supportive of others, nonjudgmental and lifts others up.
We know that social media is prominent in society these days and the easiest way to spread your goddess vibes is to spread love on social media.
Never EVER speak negatively to anyone. If someone bothers you, walk away. They don't deserve your attention. Always practice kindness.
The same rule goes for social media. Spend your time online lifting others up, leaving kind comments, and supporting others. This goes a LONG way! It breaks my heart seeing women tearing each other down.
Keep up with these practices and your inner beauty will shine. Trust me, you might not think people notice how you act, but they do.
Identify your inner goddess strengths.
Looking back through ancient history, you will discover that there is a goddess for just about anything. And this is good for us because it makes it easier to find one that we can relate to.
I think one of my biggest strengths is that I am a lover. So I make sure that I am rocking my role as a wife and mother.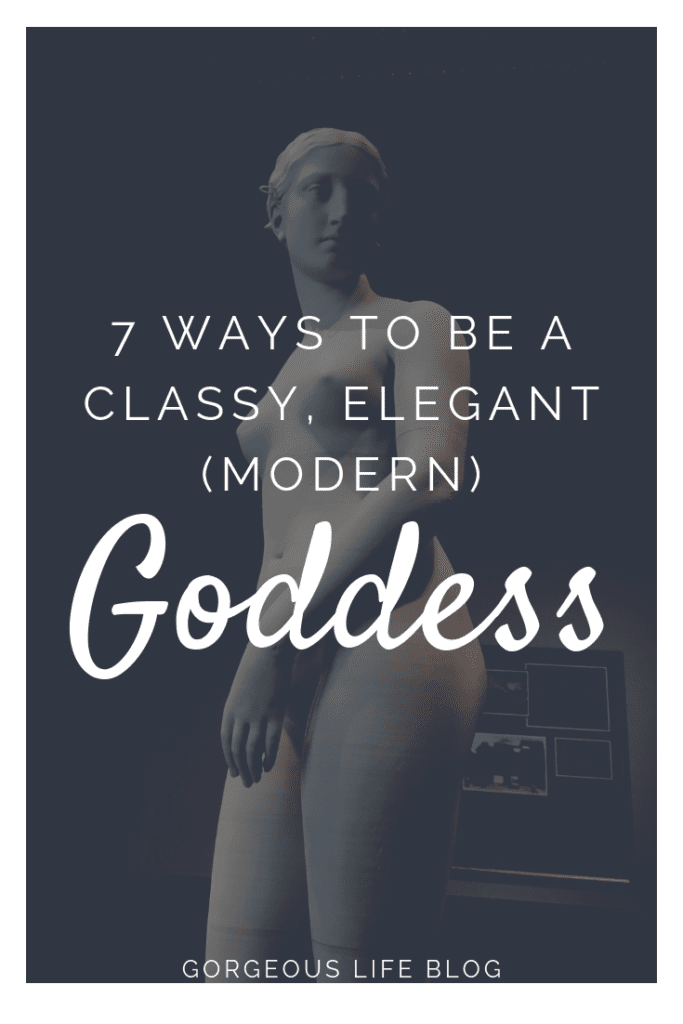 Protect your energy at all costs.
Energy. One of my favorite things ever. I am so fascinated by energy because of the feeling of it. Negative vibes and toxic people have no room in my life.
I've worked very hard to get to this point in my life where everyone I surround myself with is a good, positive person and it really does make a huge impact on day to day life.
Practice good etiquette.
The older I get, the more I appreciate and value a person with good etiquette.
You can act a certain way at home with your friends and people you are close with, but when you are out in public it is so important to practice good etiquette.
Especially when you are meeting new people. First impressions are everything and you don't want to give off negative vibes to someone when you first meet them.
Practice self-care.
Unless you've been living under a rock then you might have seen all the articles about self-care. 2015 me would never have given it any attention but present day me is all about self-care.
Sometimes we get so busy working and living life that we forget to treat ourselves like queens.
Self-care is an important way to maintain excellent mental, physical, and emotional health. Once I started practicing a regular self-care routine, I found that my anxiety symptoms reduced and I saw an overall improvement in my mental health and wellness.
My favorite things to do for self-care are working out, having a candlelight shower, going on a hike in the woods, having an at home spa day, hot stone pedicures, and going for drives on nice days.
Stay investing in yourself.
Perhaps what I am most fascinated with is that Goddesses possess infinite wisdom. This is why it is so important to constantly invest in yourself. It's so easy to get lost in the entertainment world but you must remember to put education over entertainment. It is much better for your mind and soul.
I hope these tips are helpful on your journey to creating the life of your dreams. Let me know if there is anything that I missed.
Take it to the next level with Billion Dollar Woman
I have a passion for becoming a high class woman and helping others do the same. If you are ready to take yourself to the next level, I highly suggest enrolling in Billion Dollar Woman!
Learn all the skills necessary to become the classiest woman in the room.
20+ Etiquette rules all elegant women should know.
How to dress like an elegant woman.
Elegant tips I've learned from the Royal Family.
How to command attention in a classy way.
How to be elegant in a toxic situation.
50 Ways to be elegant each day.
7 ways to boost your intelligence.
5 ways to be more sophisticated
Hobbies elegant women have
10 ways to look polished every day
How to be graceful like a Princess
…and more!