Why you need to build your email list and why I regret not building mine sooner.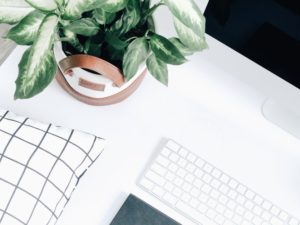 Oh hi there! Thank you so much for stopping by my blog.If you are new here, my name is Victoria and I'm so glad you are spending some time with me today. Don't forget to get to know me better before you leave and follow me on Instagram, Twitter, and Pinterest to keep up!
Unfortunately, I wish I wasn't writing this post today. I'm here to tell you about my experience completely FAILING to build and grown an email list for my blog, why I should have done it when I started, and why you NEED to be working on your email list like…yesterday.
In order to understand why I am kicking myself, I'll have to take you back to the beginning of my blogging journey. I started blogging so many years ago but I decided to go full time in December 2017. I did so much research about creating a profitable blog and of course a lot of people said that it is important to create an email list. Do you think I listened? Nope.
Its not like I purposely decided to ignore the super valuable advice, It's just that I really didn't know much about email marketing, how to keep my readers engaged, what kind of content to send them, and I didn't know much about mailchimp, convertkit, etc. So, I carried on without creating an email list.
About 6 months into it, I finally caved and started a list. I didn't put much effort into growing it at all and I only had 50 subscribers. Then I did perhaps the worst thing you can do with an email list…I never sent them any emails. *Face palm*
It's now 2019 and I am absolutely kicking myself for not working on my email list this entire time! I seriously am so disappointed! If you have read about blogging, I'm sure you have read that your email list is YOUR OWN! It doesn't matter if Facebook is down for a day, or if Instagram changes their algorithm for the one hundred millionth time, or if Pinterest's update makes it harder for your pins to be seen, you ALWAYS have direct access to your readers and followers with your email list. This is SO freaking valuable you guys!
So now that you have decided that you are going to learn from my mistakes and make an email list, there couple email hosts that you can use.
Check these out and decide which one is going to be the best for you. After you've signed up, I highly suggest you watch some video tutorials for your host because it takes a while to get used to how to create different kinds of emails, how to separate your subscribers into lists and tags and such.I still don't know how to use Mailchip and I'm always watching videos to help me. Take a couple of days to educate yourself with the platform before you just go buck wild sending emails.
Planning your email content.
Okay, if you haven't read my post about planning your blog content, you probably should read it because you will have to incorporate your emails into your blog content plan. You will plan everything together and this will make it so much less stressful when it comes to figuring what exactly to send your email list.
The one thing that you don't want to do, is just not email your list altogether (like I did. Ugh.) From the moment you get a subscriber, they should receive a welcome email and then at least a couple emails a month after that. The reason why you don't want to ghost your subscribers is because when you do finally decide to send them an email they might have forgotten about you and unsubscribe.
Once you've chosen a platform, learned how to use it, and planned some content, it is finally time to get some email subscribers! And you are probably wondering how to do that. When I first started, I really wasn't sure either. But don't worry because it's not as difficult as it seems.
Signup form on your blog.
You should always have a signup form on the home page of your blog. If you are having a first time visitor and they really love your content they need to be able to sign up with ease.
Think about the last place you gave your email. Was it for a freebie? A product discount? These are the two most popular ways to get people to sign up because they know they are getting something in return. Freebie ideas include checklists, 5-day challenges, stock photos, etc. You can easily create freebies using Canva and if you don't want to design them yourself, you can purchase opt-in freebie templates on creative market and etsy!
Once you get your first subscriber, make sure that you are keeping in contact with them. It's up to you to send them valuable information regularly so that you can build trust with them. Once a week or once every 2 weeks is awesome! At the very least, you should send an email at least twice per month. If you don't you run the risk of your contacts forgetting who you are and why they signed up for your list, and then when you finally do send them an email they could unsubscribe because they don't remember you. Planning your email content when you plan your blog content is the best way to go. You should also plan your monthly content at least 2 weeks before a new month starts so you are fully prepared to send content no matter what is going on with your life.
These are the email marketing tips that I have learned in the past couple of weeks and I hope they help you. Do you have an email list? Let me know what your tips are for engaging with your subscribers.