Oh hi there!Thank you so much for stopping by my blog.If you are new here, my name is Victoria and I'm so glad you are spending some time with me today. Don't forget to get to know me better before you leave and follow me on Instagram, Twitter, and Pinterest to keep up!
** this post may contain affiliate links
How I failed my email list…
Well well well…
Unfortunately, I wish I wasn't writing this post today. I'm here to tell you about my experience completely FAILING to start and grow an email list for my blog, why I should have done it when I started, and why you NEED to be working on your email list like…yesterday.
In order to understand why I am kicking myself, I'll have to take you back to the beginning of my blogging journey. I started blogging so many years ago but I decided to go full time in December 2017. I did so much research about creating a profitable blog and of course a lot of people said that it is important to create an email list. Do you think I listened? Nope.
Its not like I purposely decided to ignore the super valuable advice, It's just that I really didn't know much about email marketing, how to keep my readers engaged, what kind of content to send them, and I didn't know much about mailchimp, convertkit, etc. So, I carried on without creating an email list.
About 6 months into it, I finally caved and started a list. I didn't put much effort into growing it at all and I only had 50 subscribers. Then I did perhaps the worst thing you can do with an email list…I never sent them any emails. *Face palm*It's now 2019 and I am absolutely kicking myself for not working on my email list this entire time! I seriously am so disappointed! If you have read about blogging, I'm sure you have read that your email list is YOUR OWN!
It doesn't matter if Facebook is down for a day, or if Instagram changes their algorithm for the one hundred millionth time, or if Pinterest's update makes it harder for your pins to be seen, you ALWAYS have direct access to your readers and followers with your email list. This is SO freaking valuable you guys!
Starting your email list
Here is everything you will need to start an amazing email list.
A professional email address.
An email service provider
A content planner
Let's talk about the professional email address. For example, a personal email is [email protected] A professional email address is [email protected] You can usually get your personal email through your domain host. I have my wordpress blog hosted with Dreamhost, and they also host my professional email address. It's not very costly. A couple bucks billed every other month.
The reason why you need a professional email address is that if you send a ton of emails from a personal email address, there is a higher risk of it being considered spam and sent to spam folders.
Now, let's talk about ESP's (email service providers)
There are free versions like mailchimp, and there are paid versions like flodesk. Here is the difference:
Think about the average person's email inbox…Most people get flooded with emails every single day. You will need to stand out and have people waiting for your emails.
Mailchimp is very limited and honestly isn't that user friendly when it comes to building sequences and funnels (more on those later).
Flodesk is going to set your email apart from the rest. With Flodesk, you can create visually stunning emails that really stand out. I got an email from flodesk with some tips on how to create good subject lines, and look how cute it is!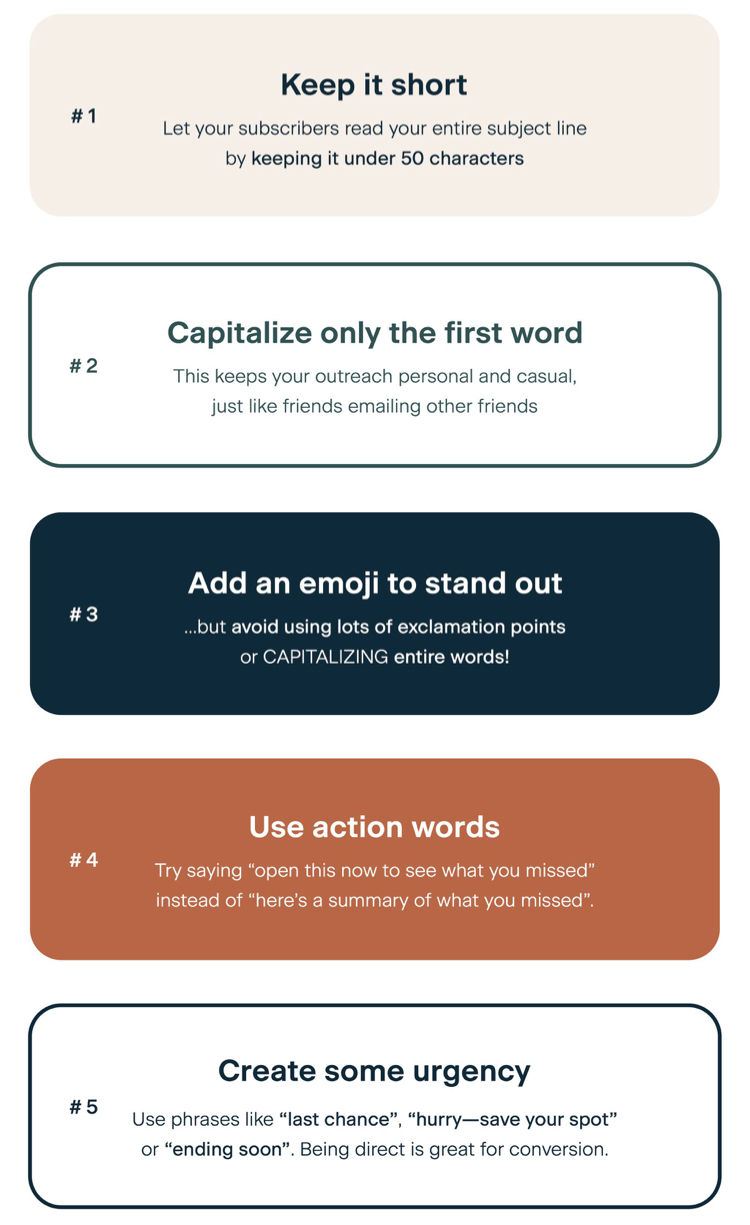 it's so easy to read and still so simple at the same time! I seriously love it. I am currently in the process of switching from mailchimp to flodesk and I'm never looking back!
Lastly, let's talk about your content planner. If you want to be successful at email marketing, it's going to require some planning from you. You can't just wake up in the morning and write a quick email. I used to do that and let me tell you it is not the way to go. You will need a strategy that is unique to your email subscribers and everyone's audience is different. The best planner around is The Content Planner.
Building your welcome sequence
Ok, so now you have set everything up and it is time to start creating your sequences. In order to plan a successful sequence, you need to reverse engineer your content. You must think of your end goal and figure out ways to get there. Do you have a product you want to sell? If you do then you need to create an email sequence jam packed with content that is going to take your subscriber through the buying journey. If you just want to welcome your new subscribers then all you need is a simple welcome series. What you do depends on your end goal.
Getting Subscribers
Ok so you've set up your email sequences, now it's time to start getting subscribers! You can always start getting subscribers while you are still building out your sequence, but it is so much easier to have everything ready to go.
You need one special ingredient if you want to grow your list rapidly…TRAFFIC!
If you are struggling to get blog traffic, don't worry I've been there and the quickest and easiest way to get blog traffic is via Pinterest. If you are already on Pinterest and you aren't seeing proper results, don't worry I've been there too. I spent 2 years trying to figure Pinterest out and nothing worked until I took an amazing course called Pinteresting strategies. If you need to get your traffic up, get Pinteresting Strategies here!
Create a freebie
Create a landing page
Add sign up forms in your blog
Use a Pop-Up form
Creating a freebie (aka lead magnet) is a super simple. You should always create a freebie that is going to be super relevant to your target audience. You can use Canva to create a beautiful freebie and if you don't want to design it yourself you can always buy freebie templates like this one from creative market. I've purchased tons of stuff for my blog from them and I'm 100% satisfied with everything!
This concludes part 1 of the Email marketing series. I'm going to have part 2 published in just a couple of days!