Hello darling. It's a pleasure to have you. If you are new to Gorgeous Life Blog, my name is Victoria and I talk all things related to modern elegance and personal growth for women. Today I'm sharing 7 tips for an elegant, cozy snow day at home.
I live in Virginia, U.S. and it has been several years since we have had a decent snowstorm before Christmas.
We normally get at least one good snow storm per winter season.
Over the years I have improved my ability to create the perfect snow day. I have so much fun during these days and I love sharing my tips.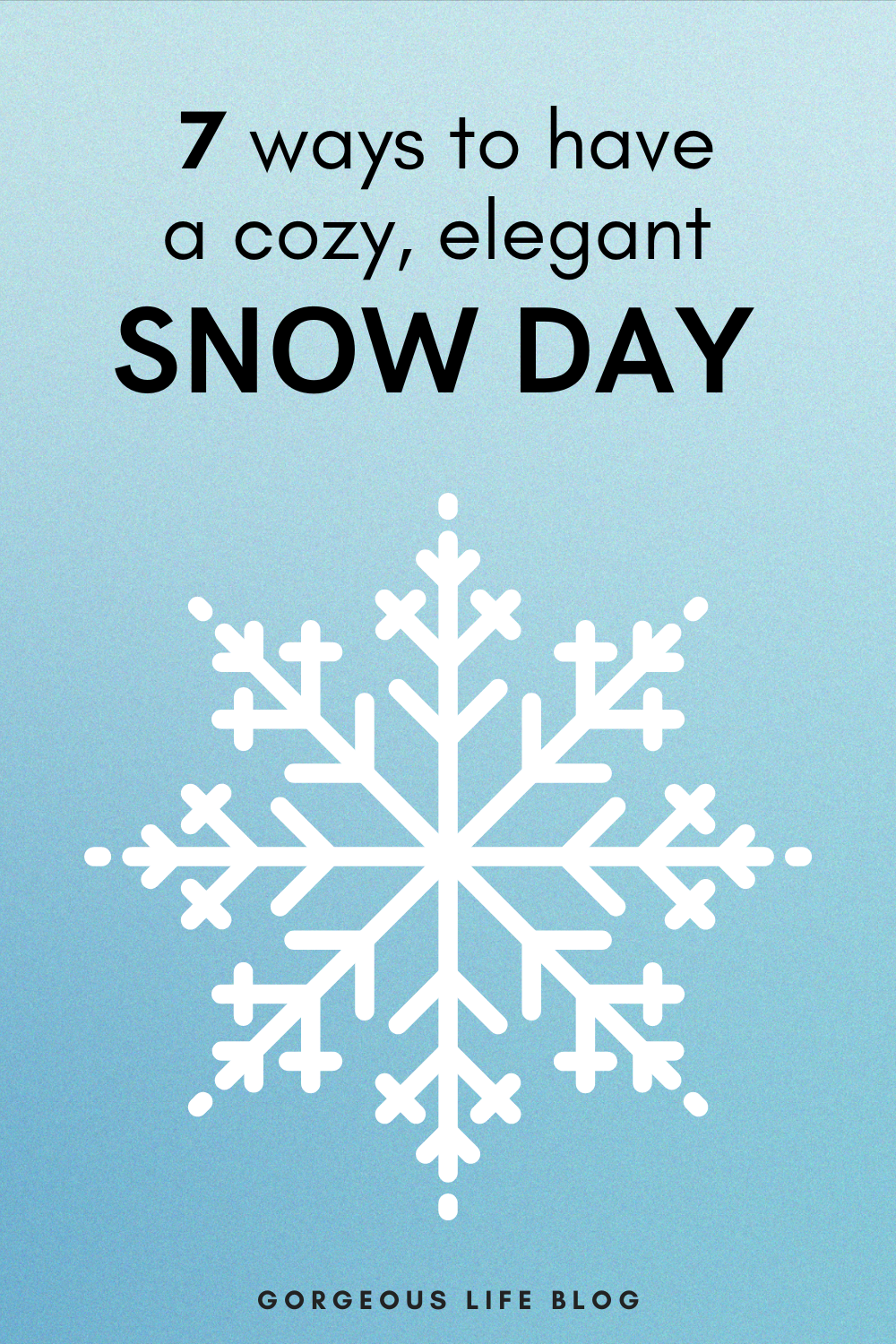 Important things to know before planning a cozy snow day.
The best way to have a proper cozy snow day at home is to be aware of the storm a couple of days in advance.
This is so that you have enough time to go to the store and get the food and supplies that you need. This time, we knew about six days in advance so we had plenty of time to plan accordingly.
Decide what kind of day you want to have.
Do you plan on having a productive day?
Do you want to do chores and get things done around the house?
Do you want to do absolutely nothing?
Do you want to make it a self-care day?
It's best if you have an idea of what kind of day you want to have before you go shopping so you will know what to get.
Since we are talking about having a cozy, elegant snow day there are things you need to have on hand to maximize your experience.
Plenty of food
Candles
Fresh Flowers
Good Books
Supplies for hobbies
Hair and face masks for a spa session
cozy loungewear
good cozy blankets
hot chocolate or tea
Bonus: Buy yourself a gift to open later!
I just started doing this now that I work at Victoria's Secret. I buy myself really cute things and then I seal the bag and write an open date. I saved one specifically for a snow day!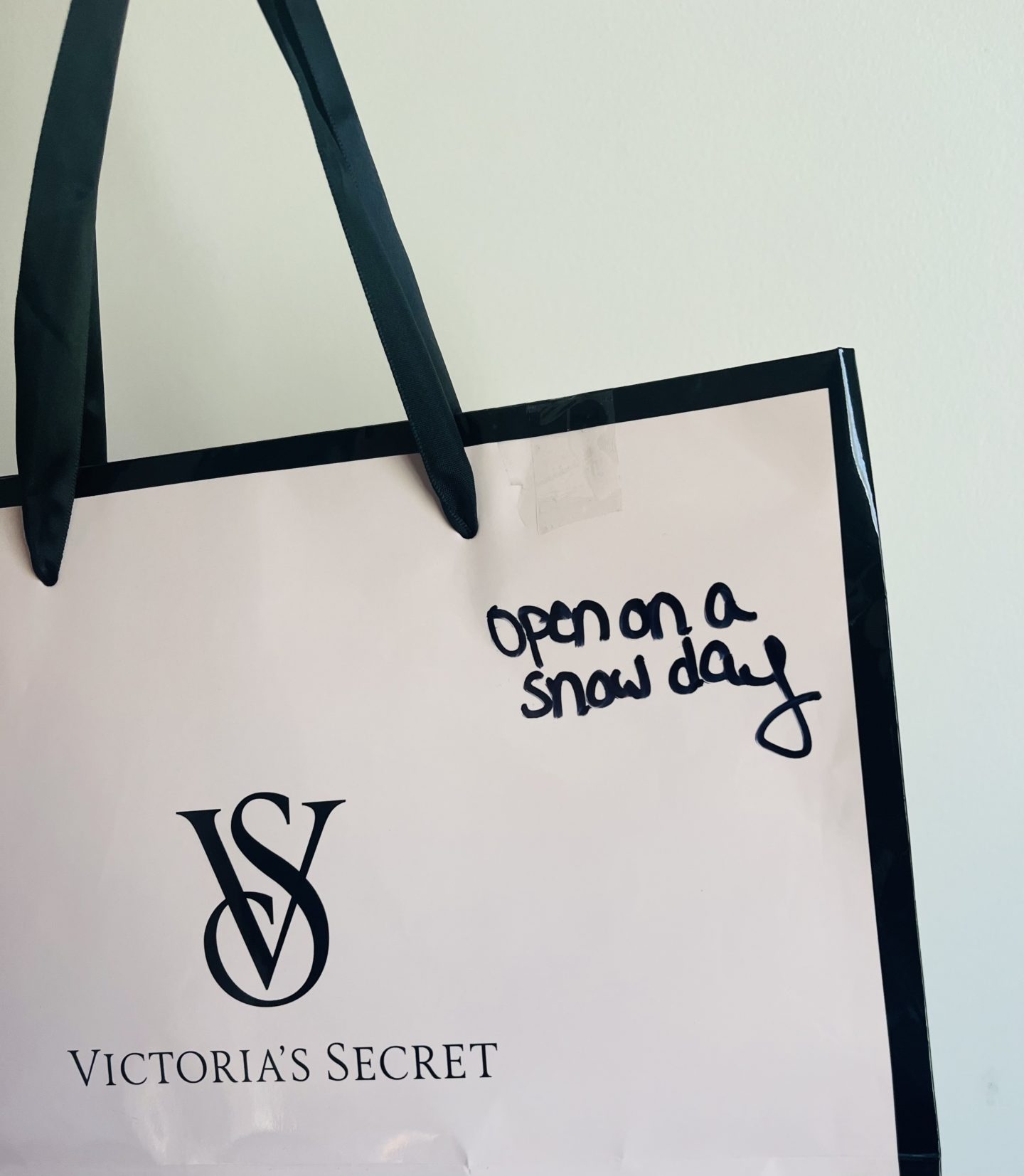 Now that you've gone shopping and are prepared for this snow storm, let's get into my favorite ways to create a cozy snow day.
1.Watch a movie or read a book with an elegant feel.
Snow days are perfect for getting cozy on the couch and watching movies. You can watch movies with elegant women or watch documentaries of your favorite elegant women.
You can also read books with an elegant aspect to them. If you don't want to watch a movie, I suggest brushing up on your etiquette skills by reading an etiquette book.
2.Pamper your skin
The older I get, the more obsessed with skincare I become. I like to stock up on face masks and creams so that when a snow day comes, I can have an at home spa day.
It's so relaxing and I'm less likely to do it any other day. I kind of see it as a chore. I recently got an awesome 24k gold face mask that I'm obsessed with. You can read all about my favorite anti-aging skin care products as well as celebrity skin care routines in this post.
3.Make a Chatbook or two
I'm officially addicted to chatbooks. Ever since my kids were little I've made dozens of attempts to make photo books for them. I tried scrapbooks and shutterfly but my oldest kid is 10 and I have yet to complete a single photo book…until now.
Chatbooks makes it SO incredibly simple to make photo books. All you have to do is download the app and you can use the photos in your camera roll. It's the easiest thing in the world.
Trust me, if I can do it, you can definitely do it! The books are great quality and also make great gifts! If you use my link you can get $10 off your first book!
4.Take a luxurious bath
Take a long bubble bath. Nothing says elegant and cozy like a relaxing bath. Take this time to listen to some relaxing spa music for ultimate relaxation. You can take it up a notch by adding rose petals and bath oil. Set your bathroom up in a way that you never have before.
I love putting flowers in my bathroom as well as rose petals in the tub. I use my favorite bath bombs and usually have a candle lit while I listen to soothing music.
5.Write a couple of notes
With the modern technology taking over, it is easy to forget how delightful it is to get letters in the mail. Grab your stationery and write thoughtful letters to those who are special to you.
Reach out to people you haven't seen in a while just to send them good vibes. We all need that positive energy in our lives.
6.Plan a new hobby
What is that one thing that you have been wanting to do for so long but haven't? What are some hobbies you enjoyed but have gotten out of touch with?
Take this time to plan ways to get into some hobbies that interest you. Being passionate about something and having hobbies is what keeps the soul alive.
7.Have an elegant dinner at home
For Valentine's Day last year, my husband and I decided to have an elegant dinner at home to avoid the rush of the holiday. Valentine's Day is one of the busiest days for restaurants because every couple under the sun is going out for a romantic dinner.
We were able to have a fun, romantic dinner at home. If you are interested in learning what we did, you can read about it in this post.
Snow gives us a chance to relax and take a day off from the craziness of the world. If you take the time to plan and prepare, you can have a stress-free, cozy snow day at home.
I hope you love these tips!
Have a wonderful winter!