Many people think it's a lame holiday and it's a waste of money. Some people even go as far to say that they hate Valentines Day. I simply don't understand this because celebrating love is so important to me! Many couples get so wrapped up in the hustle and bustle of everyday life they forget to slow down and celebrate their love.  Today I'm sharing 8 of my favorite date ideas that will take your relationship to the next level.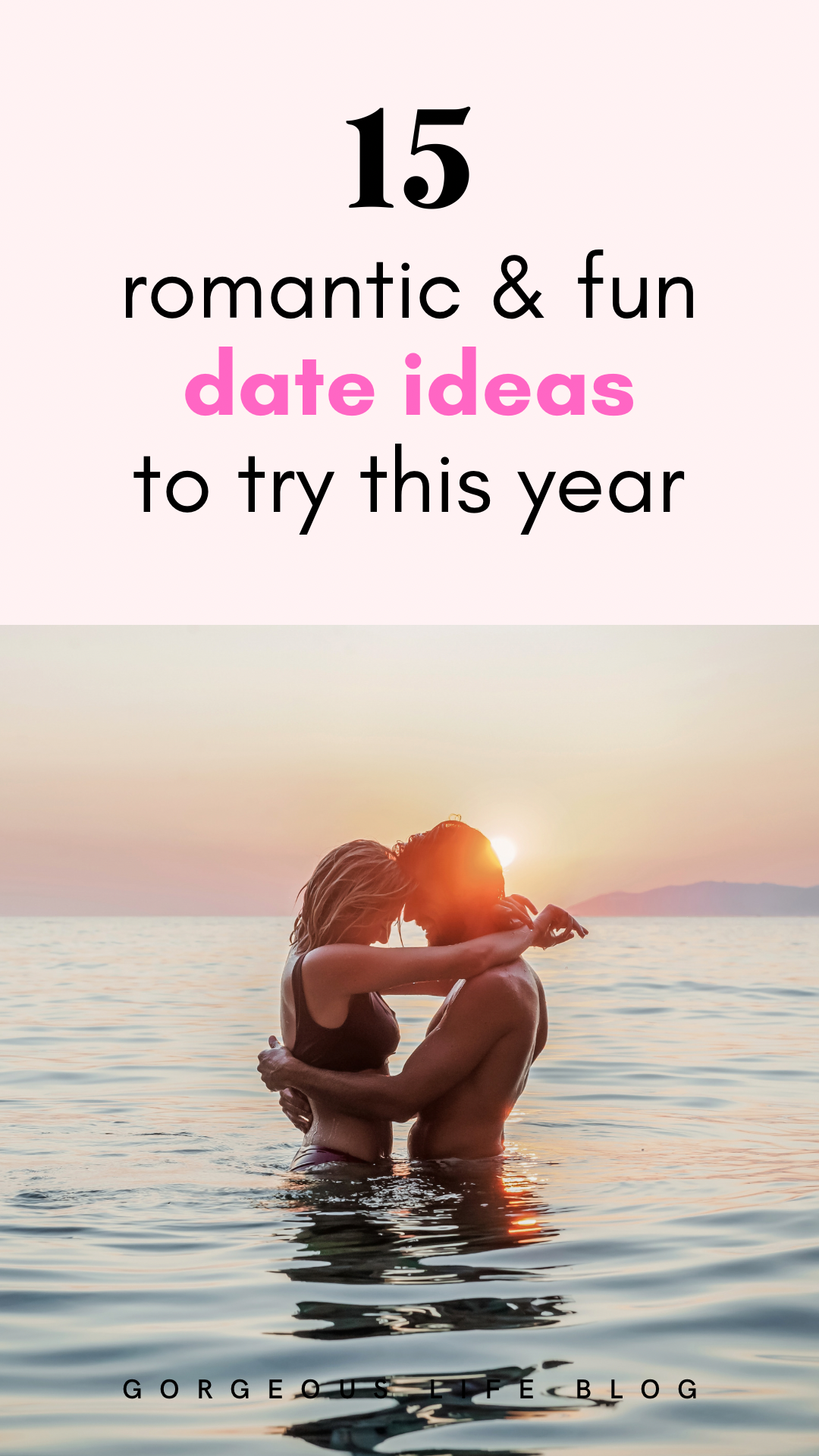 *this post may contain affiliate links*
For as long as I can remember, the stereotypical Valentine's day date is a fancy dinner, roses, and chocolate. These days, many people are ditching the tradition and celebrating Valentine's day in more unique ways.
These date ideas aren't just for Valentine's Day, you can do these anytime of year. I hope that you decide to give some of these a try even if they are outside of your comfort zone.
I've made a list of 8 Valentine's Day Date ideas you can do at home or outside if it's warm enough where you live.
1.Take a class together
Over the past year I have taken a couple of classes that I have fallen in love with. Kickboxing, Art classes and surfing lessons just to name a few. If you want to try something that it different from dinner and a movie I suggest taking a class for something that neither of you have tried before. Do something out of the box that might make you both a little uncomfortable.
2.Make art.
I love art. I think because it's so powerful and it sticks around forever. Grab a decent sized cavas, a dollar store table cloth (to protect the floor or table you are working on) some acrylic paint and brushes and start creating art together! There are plenty of art tutorials available on youtube and art supplies are relatively inexpensive at the craft store.
3.Stargaze.
After years of talking about purchasing a telescope, we finally ordered this one a couple of weeks ago . It's perfect for beginners and people who don't plan on making stargazing their full time job. After a solid week of clouds, we were able to take it outside.
Looking at the moon up close makes me feel that much more connected to the earth. It was a really fun thing to do together and the next day my husband was able to set it up inside the house so we didn't have to go outside in the cold. Now we use it mostly inside until it gets warmer out.
Using the camera attachment for the telescope is difficult because my iphone naturally wants to auto focus and use night mode, but when you remove the phone attachment and look through the regular lens, it's crystal clear and breathtaking.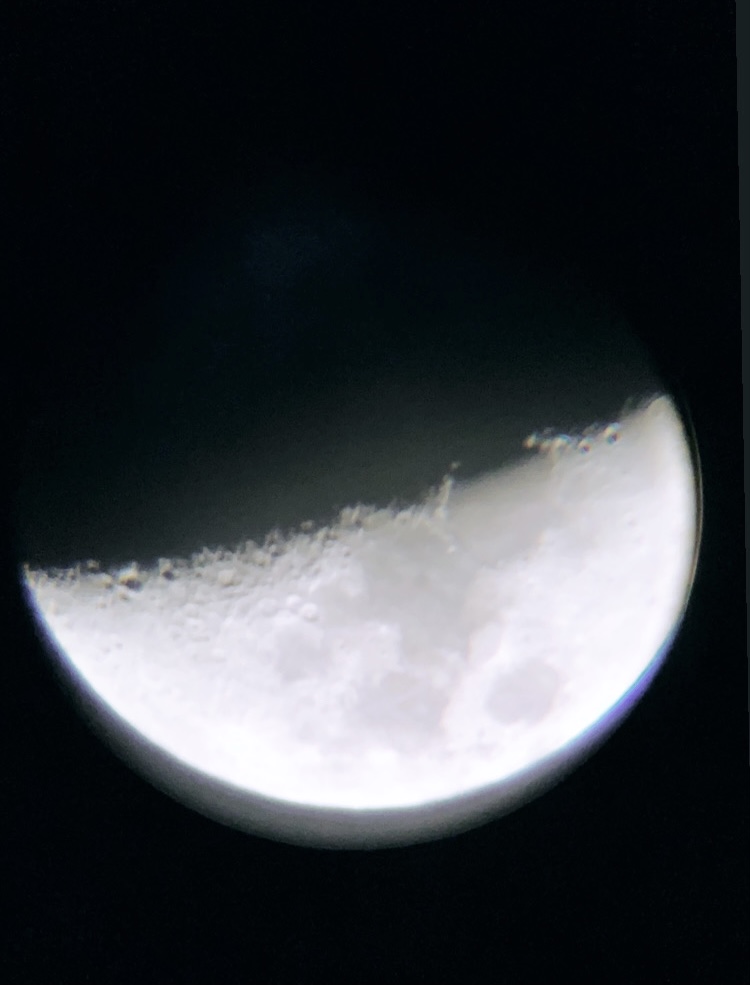 4.Try cooking a new meal at home.
It's very rare that my husband and I cook together, but when we do it is always tons of fun. Hop on Pinterest and find some awesome new recipes that you want to try and make them together! This will be an awesome way to still have a lovely dinner together without having to deal with over crowded restaurants.
5.Do a spa treatment or wellness activity together
Several years ago my husband and I tried something together that we had never tried before. We decided to try a sensory deprivation pod (float pod). These pods are becoming increasingly popular and are great for detoxing your body and helping with muscle aches and pains. Athletes use them all the time as part of their recovery process after a sporting event.
We had never tried one, so we decided to do it together. Even though we had separate rooms and pods, we were able to experience it at the same time and discuss it afterwards. It was a lot of fun and I encourage you to try something similar. Maybe a couples massage.
6.Have a romantic dinner at home.
If you want to have the traditional Valentine's Day dinner without going out, try having a romantic dinner at home. If you don't want to cook a meal together you can even order the food from your favorite restaurant and bring it home. Set a romantic scene, put on some good music, light the candles and enjoy.
7.Learn Ballroom Dancing together (or any type of dance).
Perhaps the best thing to come out of these difficult is the wide selection of online classes that are available now. Many business who offered in person classes had to transition to Zoom and On Demand classes.
Learning a new type of dance at home is great is you are self conscious about dancing in class with a bunch of strangers. It's also a great workout!
I recommend looking on youtube for some easy dance tutorials and If you are ready for something more advanced you can search on Instagram to find some on demand dance lessons.
My husband and I did traditional ballroom dancing at home and it was a lot of fun. awkward at first, but a lot of fun.
8.Have a retro day – one of my favorite date ideas.
I feel like I talk about this all the time but I love the 90's so much (I was a 90's kid) that I decided to do 90's day with my kids. We ditched all of our modern tech, got some awesome lion king and FRIENDS graphic tees, and lived like it was 1995.
I got them all the snacks that we used to eat, took them to McDonalds for lunch and we watched lots of 90's tv shows and movies from childhood. I also tried to find as many 90's crafts and toys as I could *bop it has entered the chat*. We even had them watch wrestling and crocodile hunter, really gave them the full experience.
This would be a really fun thing to do with your partner as well. Pick a decade and live it for a day!
9.Set Goals and Make Plans.
This probably sounds cheesy but it is extremely healthy for couples to make plans and set goals together in addition to their own personal goals.
Where do you want to vacation when the pandemic is managed?
What are your financial goals for the next year? 5 years?
What are some things to put on your couples bucket list?
Where do you want to be in your career in the next year?
I am a serial goal setter and I know for a fact that its is the biggest reason why I am able to get so much accomplished in my life. Once my husband got on board and started making goals with me a couple of years ago things really changed for us.
10.Be a kid again
Remember when you were 17 and you didn't have a care in the world? Your main priorities were partying and sleeping? You stayed out late all the time and did things that you are still wondering how you survived?? Well why not do that again?
Do something that your 17 year old self would do. Go to the latest showing of a movie and then go to a 14 hour restaurant right after. Throw a small get together with your friends and have some drinks like you used to. Revisit some of those good times! Just because you are getting older in age doesn't mean you have to get older in spirit.
11.Go ice skating or roller skating
Ice skating is great for wintertime but also can be refreshing on a hot summer day also. Roller skating can be awesome all year around because it's a fantastic way to get fresh air. I used to rollerblade all the time growing up so it really brings back happy childhood memories.
You could also do bikes or skateboards.
12.Volunteer together
Giving back is such an incredible feeling. The only thing better than giving back by yourself is giving back with your significant other by your side. Look around your community for some place to volunteer. Make a difference in your community together.
13.Watch a meteor shower together
Every December in Virginia we can see the Geminids meteor shower but I never knew when it was and I always missed it. In 2022 I had an app on my phone that notified me when the shower was starting and the best days to see it. My husband and I saw shooting stars on the way to the gym that night.
When I came home, I took my girls outside to sit in the car and watch. We saw 11 shooting stars in 30 minutes. It was positively magical. This takes planning, but you can find a meteor shower calendar on google each year.
If the sky is clear and you are able to watch, it makes for an unforgettable experience.
14.Take a sunset or golden hour hike
Hiking is so much fun and a great way to get fresh air and connect with nature. Find a new place to explore and spend a couple of hours on a hike together. Bonus points if it's golden hour or if you can hike somewhere to watch the sunset.
We have a place like that near our house. People go all the time with their kids, pets, with a good meal, or with a guitar to sit and watch the sunset. It's a beautiful thing.
15.Plan dates for each letter of the alphabet.
I came across a tik tok where a couple had run out of date ideas so they decided to plan dates according to the letters of the alphabet. I love that idea because it is very creative and instantly turns into 26 different dates.
Date ideas, the bottom line.
Even though Valentine's Day is slowly dying (from what I see online) I still think love should be celebrated. And even in these times there are still plenty of amazing date ideas to do with your partner that will bring you closer together and get you out of your comfort zone. I hope you have a wonderful holiday.
Do you celebrate Valentine's Day? Why or why not? Tell me in the comments below or tweet me @gorgeouslifeeee