I don't know about you, but I love to drive. I love my car and I've always loved making sur4e tht my car is clean, smells good, and has everything I need inside. Today I'm taking you inside my car and showing you all of the classy girl car essentials that I keep in there.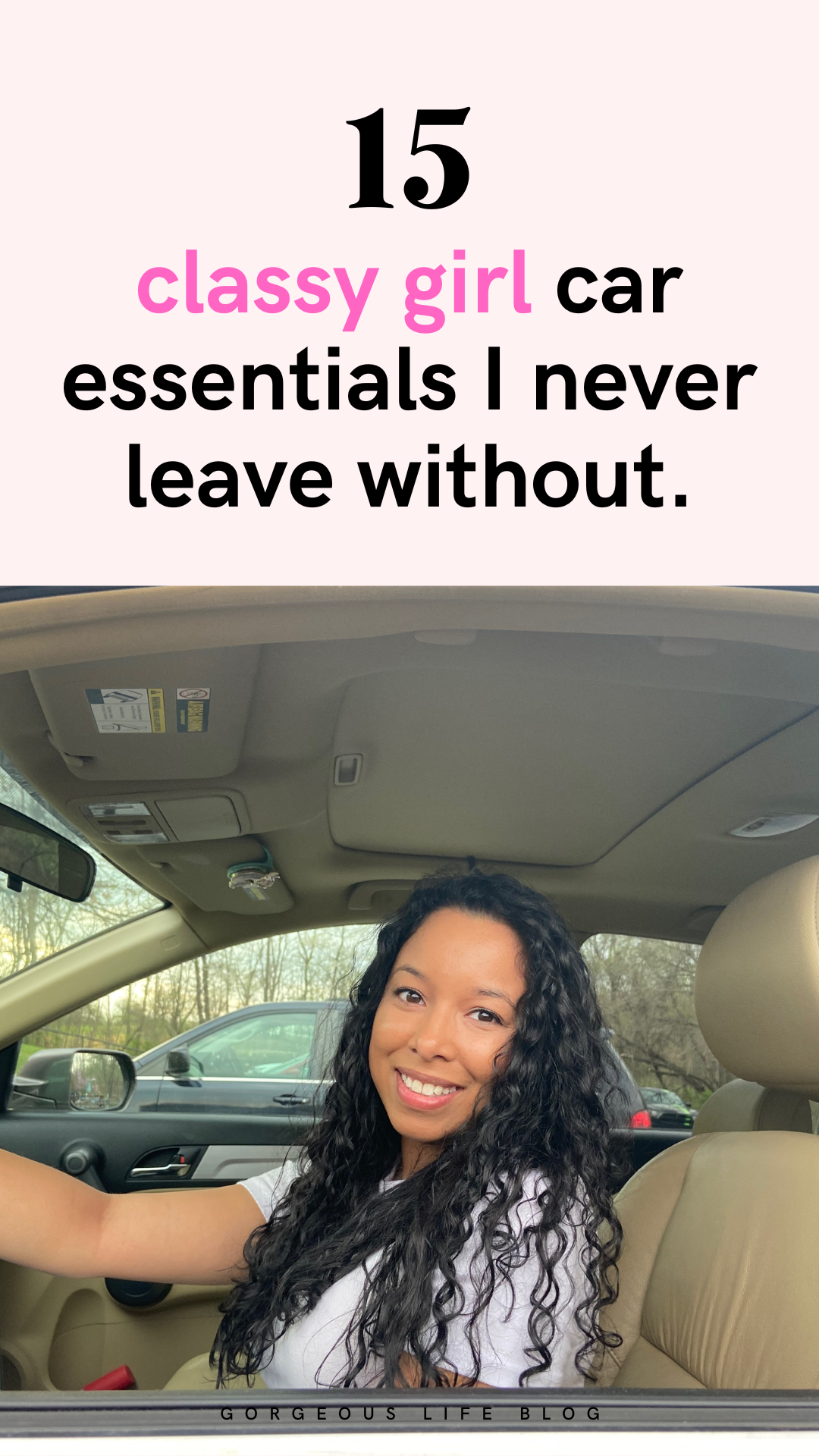 Keeping a clean, classy car isn't hard to do. But time and time again I find that people aren't treating their cars as an extension of themselves. The average American spends a lot of time in the car. Especially if you have a commute to work or find yourself giving rides to others, it's the perfect time to make your car an elegant and dreamy place to be.
I recently found myself down the tik tok rabbit hole of car organization and it made me want to share all the things that I like to keep in my car.
I have a routine for keeping my car tidy and I also spend some time stocking it with my favorite and most needed items.
Keeping your car clean
It's always easier in the warmer months to keep a clean car, but I have incorporated my car into my weekly house cleaning schedule.
Every Wednesday I clean out my car. I love doing it weekly because of how much dust my car collects. Here's my car clean out checklist.
Dust the dash
Remove all trash
Sanitize steering wheel and other surfaces
Vacuum if needed
Organize trunk
Making your car smell amazing
I am obsessed with making my car smell good. Luckily, Bath and Body works has the most amazing air freshener that clips on my visor. The refills last forever and are very inexpensive.
The way your car smells contributes to the overall experience of being in the car. I always want to have a wonderful experience driving so making the car smell like paradise is always at the top of my priority list.
Adding personal touches
It's no secret to anyone who has followed me for a while that I am addicted to red roses. And since I love spending time in my car, it only makes sense that I keep roses in there too. Roses are one of my happiness triggers. Having it in the car with me brings me instant happiness.
I picked up this tiny vase from amazon and it has been one of my best purchases to date. I can't keep roses in the car all the time, the extreme heat in the summer kills the flower almost immediately. But during the colder months I'm able to keep a car flower.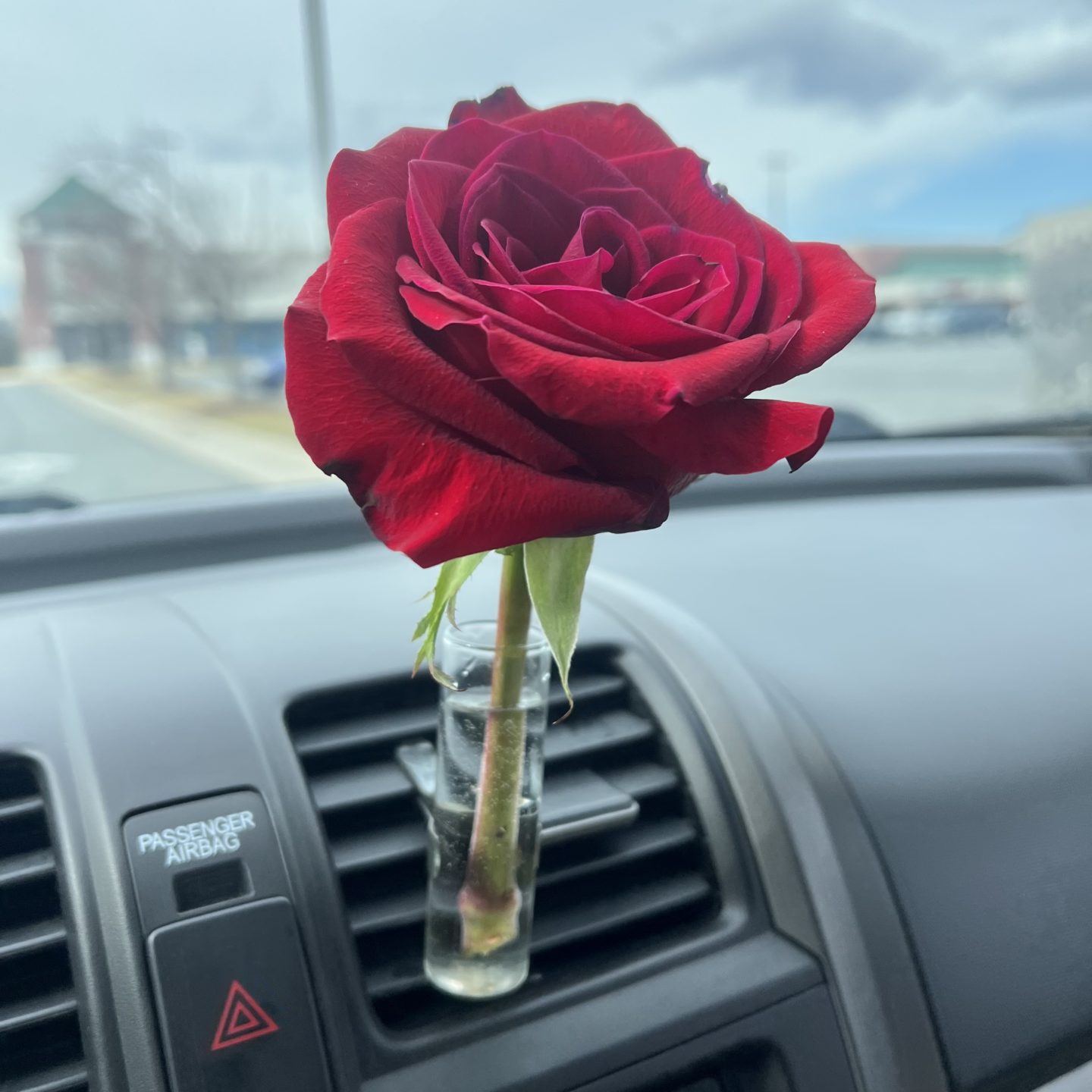 What's in my center console
The center console is where I keep all of the things that I need on a regular basis. Many years ago I decided to downsize to a tiny purse, so I keep only the essentials in my purse and the rest of the things that I might need I keep in the center console.
Here are 15 things that I always keep in the center console
Chapstick
Tissues
Lotion
Hair ties
Feminine products
Tylenol/medicines
Lens wipes (glasses and phones)
Sunglasses
Mini purfume
Dental Floss
Sunscreen
Mini Lysol
Tide pen (for stain removal)
Pens
Packing tape (for mailing packages)
I like to keep these things in the center console because I find that I am reaching for these items all the time. I love having everything I could possibly need right next to me at all times.
What's in my trunk
For all of the things that I don't need on a regular basis, I like to keep my trunk organized with items that are for emergencies or not so common occasions. This ensures that I always have things that I need.
Over the years I've learned what items to keep in my car according to my lifestyle and I can't tell you how many times having these things has saved the day in a time of need.
Here's what I keep in my trunk all the time:
First aid kit
Paper plates
Cuttlery
Reusable shopping bags
Umbrella
Roll of paper towels
A couple of grocery bags (for trash)
Jumper cable
Flashlight
I also keep a few things in my car during certain times of the year.
Summertime
Towel (i've been caught in thunderstorms before with no umbrella)
Large bottle of sunscreen
Bottle of water
Mini Cooler
Extra bathing suit (in case I accidentally end up at the pool)
Wintertime
Blankets
Ice scraper
Cough medicine
Extra disinfectant
Bonus:
Upgrade your keychain!
Before I started working at Victoria's Secret I didn't pay too much attention to the way my keychain looked. I didn't really think it mattered.
Then I found the cutest sparkly keychain and I had to get it.
I took the opportunity to update my keychain as well and it looks so much better now.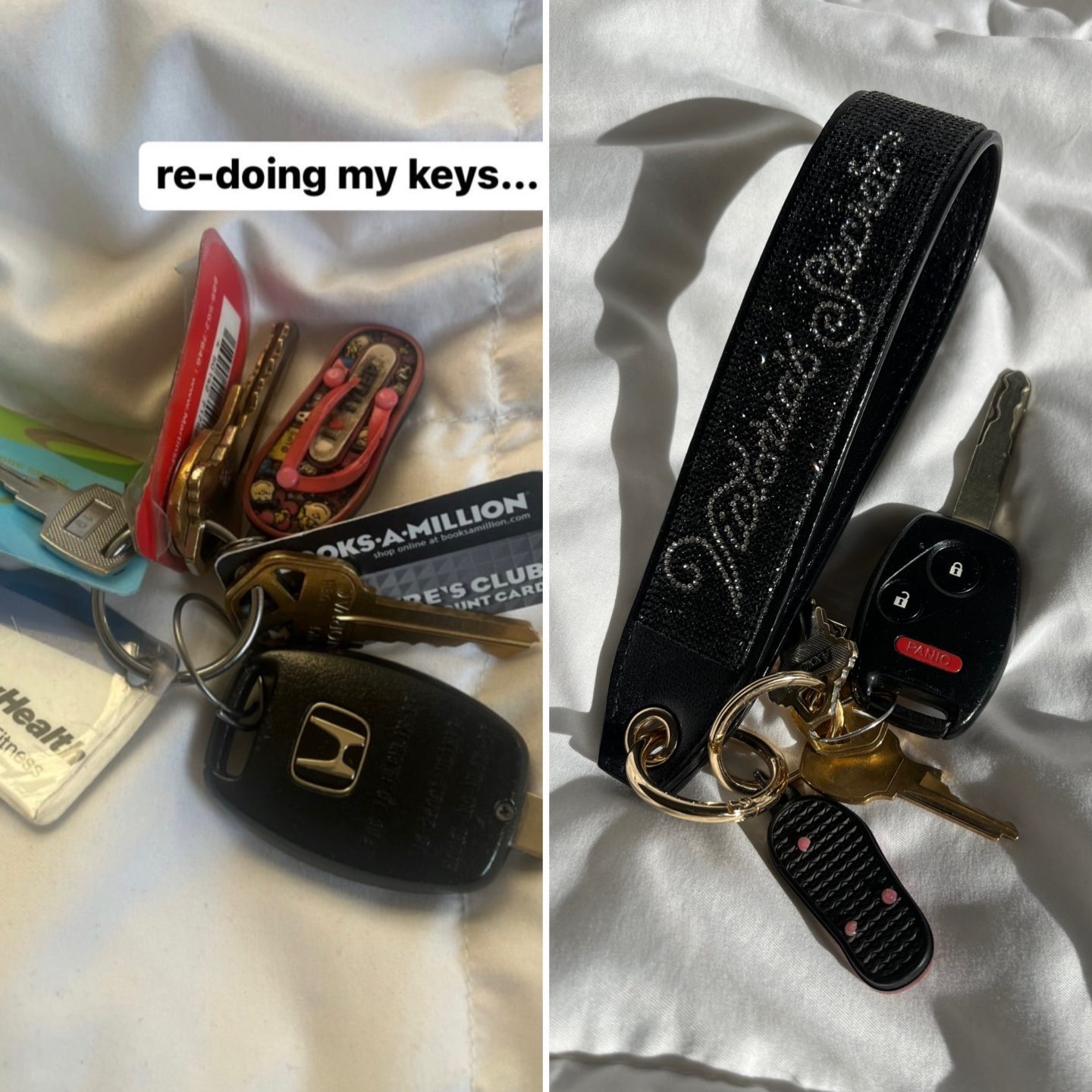 Take action:
Now it's time for you to make your car clean, elegant and well stocked. Go shopping for all of the things that you need to stock your car.
Put on your favorite playlist, give your car a deep clean. Then fill it with all of the essentials.
Don't forget the air fresheners from Bath and Body Works.
I hope you loved this post! Thank you for reading!