Hello and welcome to the blog! It is truly a pleasure to have you. If you are new here, my name is Victoria and I talk all things modern elegance and personal growth. Today I want to share a list of feminine spring activities
Winter 2020-2021 was an absolute blast. Normally, we don't get much snow where I live in Northern Virginia. This past winter it never stopped snowing. We spent the winter sledding, ice skating, staying inside and watching the snow fall, and I did a lot of reading.
Spring is almost here and I am very excited to pack away the winter gear and make memories with my family this spring. The weather has been amazing over the past two weeks and everyone is getting outside.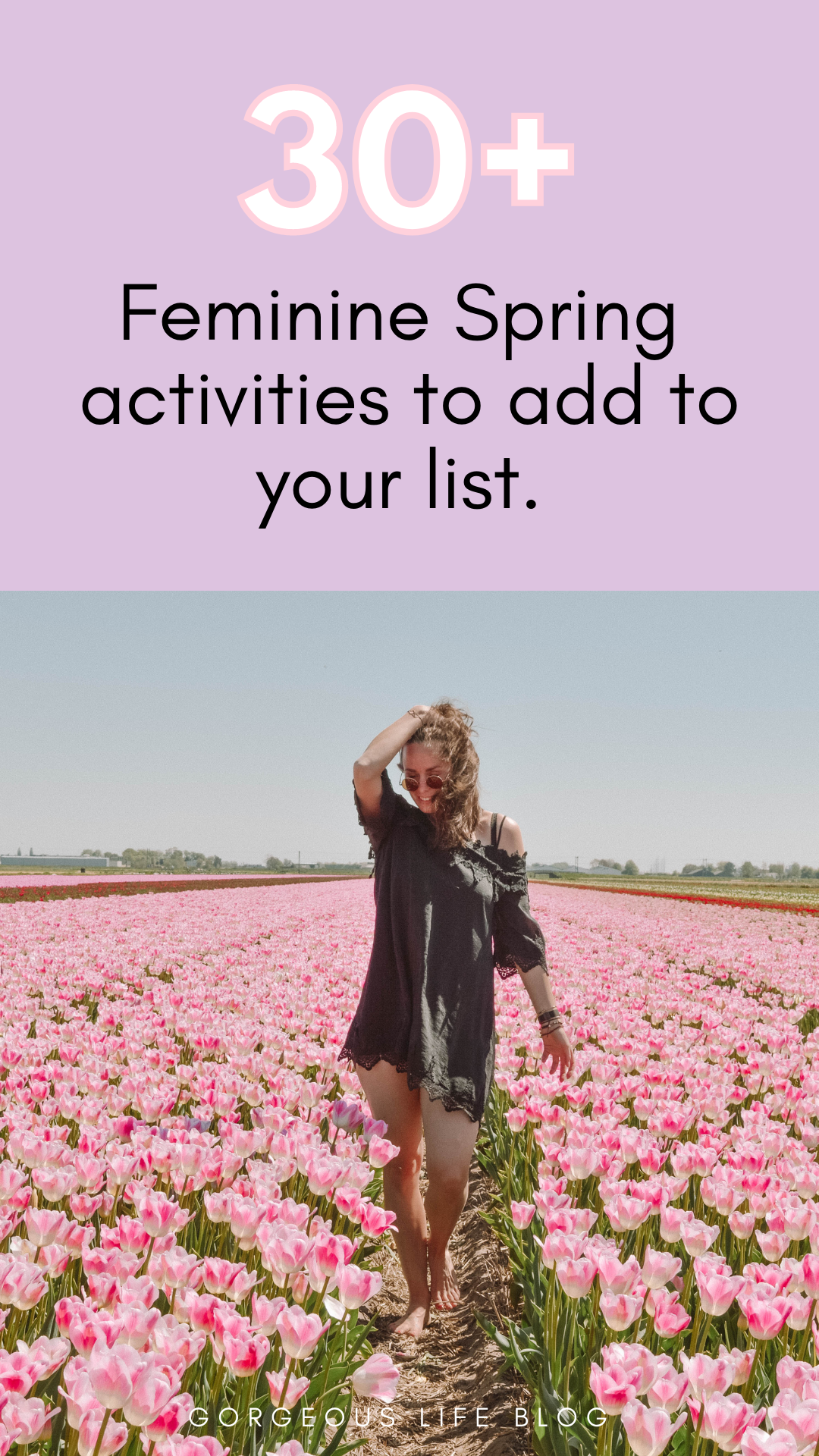 Every season I write out a bucket list of all the things that I want to do. I don't want to get too busy and forget to do something that I was waiting all winter to do.
This year specifically, I want to do 2 things. 1. Channel my feminine energy and do as many girly things that I possibly can. I'm finally embracing the fact that I am a girly girl. 2. I want to step outside of my comfort zone and try new things.
Stepping outside of my comfort zone has allowed me to learn so much about myself and now that I've done it a couple of times, I'm never going back.
I've done my best to compile a list with tons of feminine things to do in the spring, in case you are looking for ideas to add to your bucket list!
Tie Dye your old white clothes
Plant seeds
Spring clean your home
Organize your computer files
Take a road trip
Visit a tulip field
Create a spring capsule wardrobe
Go on a hike
Spend a day without your phone
Try a new makeup look
Outdoor yoga
Smell flowers
Press flowers
Get a facial
Decorate Easter Eggs
Visit the farmers market
Go to the Zoo
Cook something new
Make a flower crown
Try a new workout routine
Visit a brewery or winery
Go on a date with your lover
Redecorate your home for spring
Clean your car and get it washed
Host a party
Visit a tea room or have tea at home
Learn the art of flower arranging
Have a picnic at a beautiful place
Paint outside like a true artist
Enjoy outdoor dining at your favorite restaurant
Observe birds, bees, and other wildlife
Read outside
Pick berries
Visit somewhere new
Wear lots of dressed and girly colors
Did I forget anything? Sometimes I think of things randomly when I'm not at my computer so I'm sure I'll be adding new ideas later. I'm so excited for spring. I love winter, but it's nice having more sunshine during the day and being able to go outside when all the flowers are blooming.