Is your purse filled with receipts, gum rappers, things that you aren't even sure how they got in there? Is it unorganized? Does it feel like a bottomless pit?
I can totally relate because that's how my purse used to be. But I finally decided to make the switch to a tiny purse and let me tell you…it's incredible!
Today I'm going to tell you about my history with large purses, why I switched to a tiny purse, and how I feel about it. Hopefully it will inspire you to downsize your purse as well. Let's go back in time, shall we?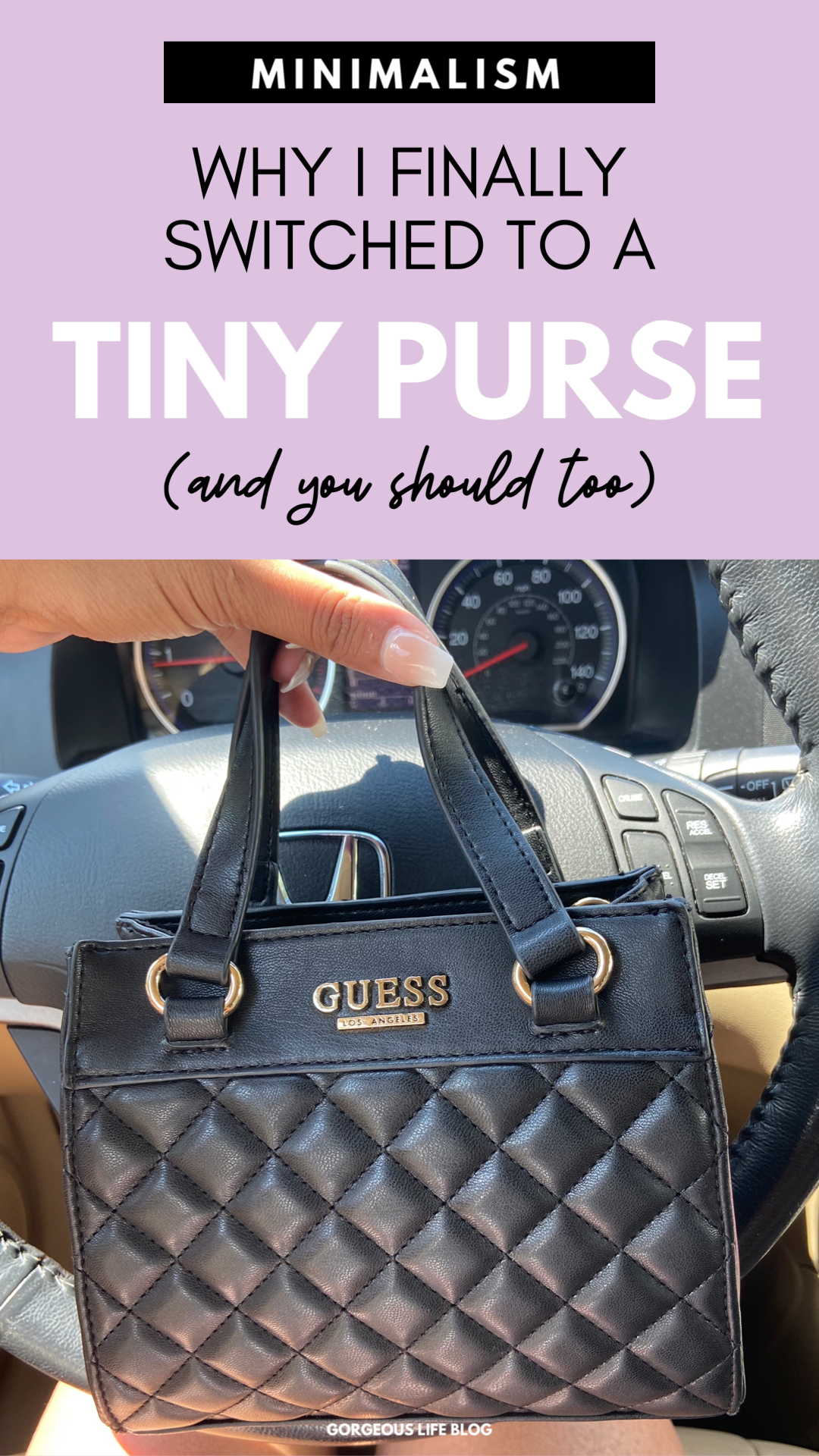 2006
It's 2006. The Motorola Razr and the Blackberry are the most popular phones. People are still using traditional planners. Low rise jeans are in fashion and everyone has a Juicy Couture track suit.
In 2006, I was 16 and that's when I bought my first large handbag. It was from Coach outlet, a purple suede tote bag. It was very pretty actually and I loved the color of it. Not many people had a purple handbag.
It was huge and had plenty of room for my camera, planner, phone, pens, checkbook wallet, and everything else I kept in there. It was nice for a while. The purse held everything I could possibly need.
But after carrying it for a while I noticed that it would cause neck and shoulder pain. Carrying it was a pain. It was heavy, and every valuable item that I owned was in there. If I ever lost it, I would lose everything.
2009
Lady Gaga is the hottest new artist, Jersey Shore has taken the country by storm, Barack Obama is president, and I'm a mother at just 19 years old. I've traded my large purse for an even larger diaper bag. I am not carrying things for myself and my daughter. It's even heavier and hurts my neck and shoulders even more than my purse, but most of the time I can just shove it in the stroller.
I now work at the Coach store. In addition to the super chic pink Coach Diaper bag, I purchased a new handbag because I loved the shape of it. It was the 'Bleeker' tote and It became an extension of me for a long time.
I always had a large handbag.
2014
I now have 2 kids. My youngest is 2, and I am officially done with diaper bags forever. I still need to have snacks stashed in my purse sometimes, but I don't need to have nearly as much as I did when they were little babies. I still have the bleeker tote and I know I need a new handbag, but I don't really have the money to invest in one.
2016
Work by Rihanna is seemingly the only song on the radio, Kevin Hart and the Rock have teamed up for Central Intelligence, The Kardashians run the world, and I got a new handbag at last! But guess what? It's still a very large tote. It's black which is better than the purple coach bag and the gold signature Bleeker tote I used to have. At least it would match all of my outfits. I've also switched from Coach to Kate Spade.
This bag was perfect for sneaking snacks into the movie theaters, but now that I had a smart phone, I wasn't carrying a planner, or a camera with me, everything was on the phone.
In 2017 I had a dramatic shift in my life. I realized that I only had 3 years until I turned 30 and I was super unhappy with my life. I didn't want to continue living life the way I was in my 30's. I wanted to be an entirely different person in just 3 years time.
So over the next 2 years, I would completely change my life. I made my wildest dreams come true (and it's only the beginning).
I teach other women how to the same in my Life of your Dreams course, which is perfect for you if you are feeling unfulfilled in life or are stuck and are not sure how to identify and accomplish you goals.
The way I was able to create a life of happiness and abundance was by making tons of tiny little shifts in my mind, and in my daily life.
Minimalism was one of them.
Minimalism was totally a trend and I stumbled on it when I was scrolling through Pinterest one day. I was fascinated that there were people who lived with virtually no things. Getting rid of one item every time you purchase a new item? Fascinating.
A couple of videos on you tube later and I was de-cluttering my closet, bookshelf, bathroom, everything. And then I realized that it was time to FINALLY ditch my huge purse.
So I said goodbye to my Kate Spade tote and did something I never thought I would do…I bought a purse from target. I always had designer handbags even if they were from the outlet stores.
The target bag was cute and very small. It has zipper compartments which were perfect for little things and it was black so it would match my outfits. Plus it was really inexpensive compated to Coach and Kate Spade.
Having a small purse was absolutely incredible. No more shoulder pain. No more stuffing tons of things in my purse, no more clutter, and it was much cuter than the larger ones.
I am ashamed to day that I had that purse for like 4 years. It was ridiculous. I didn't even realize that I had it that long until I was looking through old pictures. It was a actually great quality for the price. But finally after 4 years, it started to rip.
I needed a new purse!
I looked everywhere. I went online, I went to every store in the malls, I looked at target, and I couldn't find anything. I went to TJ Maxx and Ross and Nordstrom Rack and nothing stood out to me. I was sad because it was definitely time for a new purse but I wasn't in love with anything.
Until one day I stumbled into Guess Factory Store at the outlet mall I used to work at when I was Teenager. And that's when I found my tiny purse.
Seriously it is so tiny. It has no zipper compartments in the inside, and its basically as wide as my iphone when it's horizontal. The only thing I could fit in there was my iphone, my card case, and my car keys.
And guess what?
It's absolutely my favorite purse. I get compliments on it all the time. I love it so much that I went and bought another one so that when this one wears out I have a brand new one waiting for me.
It's so small that I actually hang it on my my key rack with our house keys
When I need to take extra stuff like my lipstick or some thing it will definitely fit, but I just can't hold nearly as much as any of my other handbags.
Here are some of the reasons why I love having a tiny purse.
No neck/shoulder pain
Forces me to not have too much stuff
Stays clean and organized
Affordable and super cute
De-cluttering my life felt like a weight was lifted
Conclusion:
If you are carrying around a giant purse and it is causing you pain and if it's cluttered and messy…it's time for a tiny purse. I promise you will feel so much better not having to carry around all that stuff.